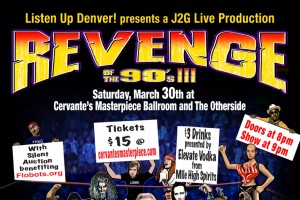 Why You Should Go: As the hair bands of the 80's receded into the mist of Seattle's Grunge scene, Hip-Hop, dancing divas and boy bands hit the mainstream.  No matter your flavor, the music of the 90's offered a little something for everyone and now it's time to relive it all!
Two years ago J2G Live decided that the music of the 90′s needed to be celebrated, and "Foolin' Around in the 90′s" was born. The first event was such a success that they decided to do it again the following year. Listen Up Denver! jumped on board to help spread the word, and "Revenge of the 90's" brought 1,000 people to Stoney's Bar and Grill. This year "Revenge of the 90's" is moving across town to Cervantes' and the party is going to be bigger and better than ever.  "Revenge of the 90′s III" will feature over 40 musicians from more than a dozen local bands, and they will be covering all types of music from the decade.
Since there are 10 years and countless genres to choose from, "Revenge of The 90′s III" won't be just a repeat of a great party, but an entirely new experience with a brand new soundtrack. The great thing about these songs is their ability to evoke emotion. They will make you think of your senior prom, the best spring break you ever had, the first person who broke your heart, or the best day you ever had ditching school. The 90′s don't seem all that long ago, but some of the songs have had over 20 years to root themselves in our collective consciousness.
Having both sides of Cervantes' to work with this year has turned this event into an extravaganza.  The Whales will be kicking the night off with  a 90's Unplugged set on The Other Side and Mikey Thunder will be dropping special VJ sets in the Ballroom. The main event will feature members of Kyle Hollingsworth Band,  The Motet, Rose Hill Drive, YAMN, Fox Street Allstars, The MTHDS, Kinetix,  Octopus Nebula, The Whales,  Tiger Party,  Ableminds, Mountain Standard Time, Broken Tongues, Filthy Children,  DJ Russo, Robbie Peoples, and many more….
Venue: Cervantes' Masterpiece, 2637 Welton Street, Denver, CO 80205 – 303/297-1772
Doors: 8:00 pm. Show starts at 9:00 pm.
*Price: $15.00 ADV, $20 DoS
Purchase Tickets
*All prices are gathered from other sources and we are not responsible for mistakes or inconsistencies. They are intended only as guidelines. Please, always call the venue if you desire the most accurate information possible.