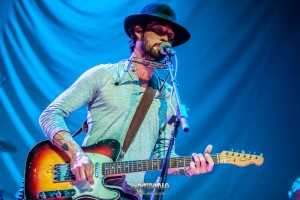 Photos by Jim Mimna
The Scene: Picnicers dotted the park surrounding the historic Chautauqua Auditorium last Friday night before Americana rocker Ryan Bingham brought a surprisingly rowdy show to the historic barn of a venue. It felt like one of the first true nights of summer to me, with a huge orange moon peeking through the trees and a perfect temperature for jeans and a t-shirt. The staff guided the flow of picnic and beer patio patrons into the venue which filled to around three-quarters capacity. The crowd was a good mix of late twenties to sixty year olds, who were asked to leave their beers at door or smuggle them in their stomachs to protect the historic furnishings beyond.
Ryan Bingham: After hearing rave reviews about the energy Ryan Bingham's live show I was very surprised he was booked at the normally docile Chautauqua Auditorium.  With the roar of fans and swell of electric guitar on Bingham's opening song "Beg for Broken Legs," I knew this was going to be a different type of evening than I'd seen in the barn before. Bingham's voice is what happens with you take a folker's croon and push the volume just past the breaking point. In the lower register it's gravely and gets smoother for the high notes. It's raw, it's gritty, and it makes his songs believable.  Fans stood in front of their fancy wooden backed chairs the entire show, dancing, reaching for the ancient wooden framework overhead. There was a lot of "woo's" and yelling to accompany Bingham. The wooden framework and concrete floors did create some harsh sound at times, but the sound crew kept it very manageable.
"Country Roads" and "Tell My Mother I Miss Her So" were crowd pleasers early on but the evening wasn't all hollerin' and stomping as Bingham held down the stage solo with his acoustic guitar for "Yesterday's Blues," the calm in his Country-Folk-Rock hail storm. My personal favorite "Hallelujah" was followed by the rowdy "Guess Who's Knockin'." The main set ended with "Southside of Heaven" and the crowd cheered loudly when Bingham threw in a lyric about Colorado.
The encore began with "Bluebird" to a surprisingly still crowd that regained their vigor with the haphazard slide playing on "Sunshine." The fiddle player sawed away wildly but the sound was lost in the mix, as it had been much of the night.  Bingham ended the evening with "Bread & Water" and an extended jam.
Ryan Bingham played an incredibly intense, foot stomping show – the perfect Friday night type of show to let loose at. The venue may not have suited his style, but nobody seemed to mind one bit.
Energy: A
Musicianship: A
Sound: B-
Stage Presence: B+
Set/Light Show: C+
Overall: B+