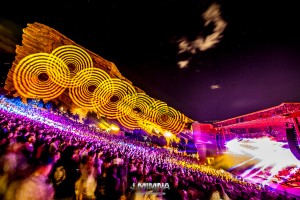 Photos by Jim Mimna
The Scene:  Red Rocks was awash with Bears and Blackhawks gear as Chicago's favorite jamband sons, Umphrey's McGee, came to town for their annual romp on the rocks.   With the Blackhawks on the verge of going to another Stanley Cup final and the specter of Jay Cutler always looming in Denver, it was a site any Chicago transplant would love to see.  Aside from the beautiful display of Chicago sports gear, one thing I immediately asked myself once we got settled into our seats was "When the hell did beautiful girls start coming to Umphrey's McGee shows?"   Don't get me wrong.   This is a great thing and is a welcome change from the sausage fest that these shows used to be back in the late 90s and early 2000s.  I think the bands shift from non-stop Prog-Rock shredding and abrupt time signature changes to mixing in some more danceable and user friendly grooves is to be credited for this welcome change in demographics.
Opener: Dr. Dog.  Upon first glance, or listen, Philadelphia would be the last place you would think a band like Dr. Dog would hail from and honesty I was a bit worried that they were a poor choice to open for a band like Umphrey's McGee.   I first heard them last summer when they opened for Wilco, a band much more in line stylistically speaking, and I was interested to see how they would be received by the Umphrey's crowd.   That said the group delivered an energetic effort and their excellent harmonies and almost eerie songwriting seemed to really connect with the crowd.     Dr. Dog combined an almost a Beatle-esq approach with a splash of Southern sensibility you wouldn't normally connect with a band born from the East Coast.    It was great to see the crowd react like they did and bass player Toby Leaman's constant energy definitely echoed through the audience.   It's easy to spot a band on the cusp of blowing up and as they left the stage it was obvious that we would see these guys again soon.
Umphrey's McGee: The band made a triumphant entrance to the stage with Edvard Griegs' epic "Hall of The Mountain King"  blaring on the PA.    With drummer Kris Meyers adding some thunder to the backing track and bassist Ryan Stasik  pumping up the crowd with the two handed rock lock (for those unfamiliar try making the sign of the devil with both your pinkies extended and hands raised high over your head)  the crowd quickly whipped into a frenzy and the band dropped into "Divisions."   This was a perfect way to get things going and the syncopated fireworks displayed by guitar players Jake Cinniger and Brendon Bayliss were a sign of things to come.
The second half of the first set brought on some crowd favorites like "40s Theme" and "In The Kitchen" with the lyrics "it was cold in the kitchen and the lights were low as winter wraps around Chicagooooo"  receiving an electric cheer.   I smiled thinking how smart myself and fellow Chicago transplants are for escaping the dreary winters and concrete jungle outdoor venues (anyone remember the World Music Theater?)  for the sunshine and beauty of Denver and Red Rocks.
As the set drew to a close the band showed off their prowess perfectly executing one of their patented "mash ups."  As a man born in the 80s, raised in the 90s, and a fan of all the classics that proceeded both decades,  the "Frankie Says Relax ->Thunderkiss '65->Have a Cigar" mash-up had me and most others in attendance head banging and laughing at the same time.   Any band with the balls to throw a White Zombie cover in their set at Red Rocks has earned my respect and then some.   Another UM classic, "Miss Tinkles Overture," closed out what was one of the rowdiest and most fun first sets that I have seen in a while by any band.
The second set picked up where the first one ended as the thumping beats of "Triple Wide" echoed through the venue.    As I said, over the last few years Umprhey's has become more and more of a dance party band and this UM classic truly puts their new found grooves on display.   "Triple Wide" segued nicely into the aggressive "1348" that showcased the bands propensity for tightly wound, syncopated guitar wizardry.   You can't go too long at an Umphrey's show without wanting to head bang and let out a good old fashion, James Hetfield-esq  grunt.  " Push the Pig," another longtime Umph staple followed and smoothly transitioned into an new song, " Comma Later," which invoked some serious Steely Dan vibes.
The band and the crowd seemed to catch their breath a bit and in that silence Jake The Snake tickled the first few notes of maybe my favorite Umphrey's McGee tune,   the epic, and aptly named, "Glory."  On top of the usual pyrotechnics that Jake puts on display during this slow building rocker,  the lighting director,  Jefferson Waful,  brought some of his own.   Widely renowned as one of the best in the biz, Waful brought some extra tricks with him to Red Rocks and lit up the stage with 12 foot high Fire Balls across the backdrop.    While pyrotechnics like this are usually regarded as cheesy and reserved for old timers like KISS, the second set was full of them and it added a perfect feel to a band long known to embrace the cheesy side of rock and roll.
As the show drew to a close with more fireworks, from the band and the stage,  things closed out with a perfectly placed "August>Big Heart  (The Lounge Lizards Cover)>August ."     After all the pyrotechnics and Umphrey's reputation for playing huge,  kick-ass covers to end big shows like these,  all in attendance were eager to see how things would come to a close.   The band did not disappoint dropping into a ripping rendition of the AC/DC classic "Thunderstruck."   After a night filled with fireballs, sheets of sparkles dropping from the sky, and shredding guitars, this was the perfect way to close out the set.    As the band took a short break before returning to the stage for "Mantis," the video screen flashed an invitation that delighted most in attendance.   In elegant calligraphy we all read that Umphrey's McGee will be back in December for a 3 night New Year's run at the Fillmore.
I first saw Umphrey's McGee in a cornfield in Noblesville, IN after a Phish show back in 1999 and it's been amazing to see what they have done since. More importantly though it's been how they have done it.  They have worked their asses off touring and refining their sound all the while holding the hopes and interests of their fans at heart.    It's truly great to see a band climb the ranks as they have and for both the band and fans alike there are certainly more fireworks to come.
Energy: B+
Musicianship: A
Sound: A
Stage Presence: B
Set/Light Show" A+
Overall:  A
Gary is a lifelong music fan raised in Chicago. He is the "G" of J2G Live, a Denver based music production company that brings you "Dance Party Time Machine," "Revenge of the 90's" among other great events.