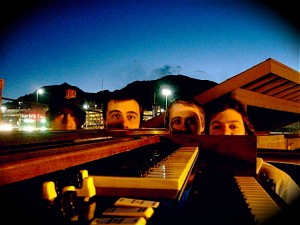 After 10 weeks of voting the Telluride Jazz Celebration has revealed the winner of their coveted band contest.  With only 213 votes separating  1st and 2nd place, Boulder's Springdale Quartet has won the contest and earned a spot for themselves in the festival.  The results were as follows:
Springdale Quartet – 7,934
Nosotros – 7,721
Jon Wirtz & The Debut – 6,482
The Telluride Jazz Celebration would like to extend their thanks to all of the bands that participated in this year's contest. Please continue to follow these bands on their rise to stardom. Once again, here are their websites:
Bop Skizzum – receive a free EP of Beauty Queen on their site
Arielle Verinis – receive a free EP on Arielle's site
Nosotros – free streaming music on the Nosotros Music Player
The Groove Patrol – free MP3 downloads on site
Todd Clouser's A Love Electric – lots of free music from Berklee schooled Clouser
Springdale Quartet – Check out their new CD Noisefactory
Jon Wirtz & The Debut – Listen to live performances for free
Frogs Gone Fishin' – Cast a vote for FGF in the Westword Music Showcase
Filthy Children – free videos on their youtube site

Music has always been a part of my life. It probably all started listening to old Grateful Dead, Peter Paul & Mary, and Simon & Garfunkel records that my parents had, but it wasn't long before they were taking me to concerts like Starship, Crosby, Stills & Nash, and Huey Lewis & The News. I got the bug to write about music after reviewing an Eric Clapton concert for a creative writing project in high school but didn't really take it up seriously until 2002. Since then I have published countless articles in The Marquee Magazine and done some work for Jambase.com, SPIN Magazine, and various other outlets. I started Listen Up Denver! as a way to share the music information that is constantly spilling out of my head with people who care. Please enjoy!