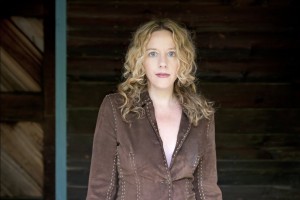 Amy Helm grew up surrounded by music. One could assume that since Helm is currently a musician, and comes from such rhythmic blood lines, that she simply walked right onto the music scene with doors opening before she even approached them. Not so. Helm has blazed her own trail which meandered on and off stages but she was eventually led home. Home to Levon Helm Studios in Woodstock, NY (aka "The Barn"). Home to her family. Home to her roots. That return home has given Helm much to sing about.
Growing up in Woodstock, NY Helm's youth was spent surrounded by the greats who were peers of her parents. Amy's father, the late Levon Helm, was arguably the greatest drummer of our time. His work with The Band changed the face and direction of American music, his work as a solo artist landed him three Grammy Awards and he is a member of the Rock and Roll Hall of Fame. Amy's mother, Libby Titus, is an accomplished songwriter, singer and concert producer. Helm's childhood was music. Her high school days were spent living with her mother in New York City and attending private school before heading off for a traditional college experience. With a degree in psychology, Helm went on to work in many fields before she realized music was the only thing that made her feel at home with herself. "I got depressed when I wasn't playing" said Helm in a recent interview with Listen Up Denver!. "I realized even if it doesn't pay the bills, I had to do it."
Helm had a short stint with her father in his band The Barnburners but then went on to form and focus on her Americana/Gospel/Folk band Ollabelle for over a decade. The group recorded multiple albums and had success on the road while still allowing their personal lives to flourish. Helm had both her children while Ollabelle was moving along and other members of the band started families as well. At the same time Helm was still making music with her father. When Amy's father decided to start his famed Midnight Rambles at The Barn, Amy was right there alongside of him in The Levon Helm Band while still pursuing her own creative outlets. The Midnight Rambles were, and still are, a very special musical experience. Levon Helm would host 200 lucky listeners for hours of great music nearly every Saturday night and it all happened in his home and studio. Crackling fires, the smell of freshly made popcorn and stone quarried from the surrounding property set the scene for the magic Levon Helm was able to create…with his daughter on stage with him. It was like being invited into the family as Amy, Levon and his dog Muddy would walk the 30 feet from Levon's kitchen table to his drum kit at the start of the show. Ramble after Ramble Amy and her father would play together and she would hit the road with Ollabelle as well. Last year, when Levon passed away, hearts may have dropped but the music never stopped because Amy's father would have never wanted it to.
Helm has been working on a new album over the past couple of years (set to be released toward the end of this year) and her father's Barn is rambling on. "I want to see the barn become a musical landmark," said Helm…and she is doing her own part to that happen. Not only are large headlining acts like Phil Lesh and Jackson Browne returning to the Rambles but Helm is pulling in local musicians from the surrounding hills as well. "I have been presenting a Friday night music series, called 'Oh To Be Home Again,' which features musicians from within a 30 mile radius of The Barn. Even though Woodstock has a rich musical history there is a lack of venues. We are trying to provide a home for local music at The Barn as well."
The Barn is steaming along and Helm has a new lineup for her band.  One of the members of The Handsome Strangers will give a sense of familiarity to anyone who has followed Helm's career. Bass player Byron Issacs is touring with Amy and he also stood next to Helm in Ollabelle, The Levon Helm Band and The Midnight Ramble Band as well. "Byron is like a brother" Helm affectionately said. Isaacs is also a strong player to have on a songwriting team as he co-wrote half of Helm's new album with her. Helm humbly said that The Handsome Strangers are "getting better with every gig" and Colorado will soon get to see Helm's new project for themselves. She is even bringing a special guest from Woodstock with her-18 year old guitarist Connor Kennedy. Kennedy started volunteering at The Barn when he was 14 and recently held his debut CD release party in the famed space. Now he is joining Amy Helm on her Colorado dates. Supporting artists who surround the barn and a staff who have helped keep it breathing and creating a sense of family is a legacy that Helm magnificently continues. The Barn is a strong presence in Helm's life but she stated she plans to be spending more time on the road performing with her new band. Welcome Amy Helm to our fine state as she brings her new material and a bit of home out west with her.
Amy Helm and The Handsome Strangers – Colorado Tour
July 31: Sunset Concert Series – Telluride, CO
August 1:  Pickin' In The Park – Paonia, CO
August 2: Shakedown Bar – Vail, CO
August 4: Center for The Arts – Crested Butte, CO
August 6: Studio Bee @ Pike Peak Center – Colorado Springs, CO
Brian Turk grew up in the shadow of the Catskill Mountains, near Woodstock, NY. He comes from a family of music lovers, audiopliles, Dead Heads and avid concert goers.The musical magic that can only be created in the Catsklills, both past and present, is what Brian cosiders the epicenter of his music addiction. The music of The Band, and most recently The Levon Helm Band, is the soundtrack of home for him. Brian's mother took him to his first concert at 5years old...it was Johnny Cash and Roseanne Cash at Jones Beach Amphitheatre. For Brian, music is a family affair. He feels the same way about live music...we all convene to celebrate together. Brian's writing life started when he wrote his favorite author, southern fiction writer Clyde Edgerton, a fan letter at age 13. When most kids were idolizing baseball players and television, he was worshipping writers and musicians. The two became friends and Clyde shared his craft with Brian. The next year Brian attended Duke University's Young Writers Camp. This is the extent, of what Brian considers, his "formal" training in writing. From then on his goal was to capture snapshots of life through words. Brian has been involved with live music in various facets over the years, and combined with his enthusiasm and love for Denver's music scene, he creates a vivid description of what he sees and hears. If you see him out at a show, dancing with a notebook in hand, say hello.