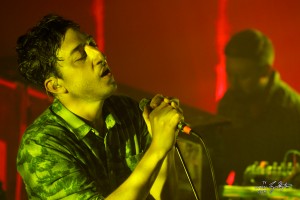 Photos by Ty Hyten
The Scene: The loud crowd of hip twenty-somethings chatted as they drank beer in anticipation of the return of acclaimed Brooklyn Indie-Rockers Grizzly Bear last Wednesday night at the Ogden. The show was surprisingly not sold-out, but was nice and full. It had been six and a half years, three albums, and a huge growth in popularity since the band last played in Denver at Larimer Lounge in 2007.
Grizzly Bear: As the strangely selected sounds of rapper 2 Chainz faded, a backlit Grizzly Bear took to the stage. Frontman Ed Droste apologized for the amount of time that had passed since their last stop through Denver and they opened with a powerful "Speak in Rounds." The semi-truck parked out front instantly made sense as a huge array of lights scoured the foggy stage. Bright backlighting silhouetted the band in front of a large backdrop of jellyfish lanterns. The beautifully dreamy vocals floated through hazy strobes and landed, well balanced, in our ears.
The vocal depth of the band was easy to see all evening with all five members singing at times. Yes, five, with the addition of Aaron Arntz on keys. The band was tight and the lighting director right on with the visual accompaniment.  Droste introduced the live rarity of "Colorado" as "a song about living here and growing up here" before playing the dark, atmospheric song. The two highlights of the evening came with "Yet Again" early in the set and fan favorite "Two Weeks" later on eliciting a huge response from the first note of the familiar piano riff. The chorus on "Two Weeks" was a magic moment, surely the highlight of my week up to that point. The encore kicked off "Knife," a song Droste said they played last time they were in town.  The evening came to an end with snare powered "All We Ask" with the vocal lines standing out the most beautifully of the whole set.
Here's to hoping these guys make it back in six months this time rather than six years!
Energy: A
Musicianship: A
Sound: A-
Stage Presence: A
Set/Light Show: A
Overall: A