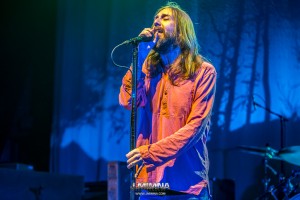 Photos by Jim Mimna
The Scene: As I got off the bus and ambled down 14th street Boulder felt like a ghost town.  I chalked this up to it being a Monday night three weeks out from finals but as the glittering lights of The Boulder Theater's marquee came into view I realized where everyone was: waiting in line to see The Black Crowes on a crisp November night.  Well, I might have been right about finals.  As I walked into the venue I noticed that there weren't a lot of eighteen to twenty-fivers, but then again The Black Crowes have been around longer than most of those kids have.  No, The Crowes attract a pretty specific crowd: twenty-five to forty-five in groups of couples or bros who like their Rock & Roll loud and visceral.  No Day-Glo or glow-sticks or light up glasses, just a sea of faded dungarees, plaid, tall boots and short skirts with tights.  The last generation of Rock & Roll.
The Black Crowes: That generation is alive and kicking, and with a band like The Black Crowes at the helm there may be hope yet.  As if to affirm this the band opened up with a rollicking version of The Rolling Stones' "Let It Bleed."  Chris Robinson was strumming a stunning sunburst electric with newest member Jackie Greene backing him up on vocals.  Jackie and lead guitar player Rich Robinson traded riffs that would have made Keith Richards proud and the two players' energetic interplay would run throughout the show with dazzling results.  As Chris sang the delightfully bawdy last line the song ended with Chris and the band all smiles.  They looked like they were enjoying themselves as much as we were.
Chris recognized the mutual enjoyment and in greeting the crowd commended us on being such troopers: "Welcome to the Monday night Rock & Roll show!"  The band then eased into a swampier, blusey take on "Shady Grove" from their 2009 album …Until The Freeze.  The band then surged into the funky, shuffling "Another Roadside Tragedy" with Jackie throwing down some smoking guitar work over a hard hitting instrumental bridge culminating in a nice slow breakdown with tasty guitar licks from Jackie's pretty powder blue Gibson SG.  Not to be outdone, Rich came in midway through the breakdown with heavy fuzz cranking the band back into the chorus.  But the jam wasn't over yet as Chris picked up a handful of maracas and keyboardist Adam MacDougall took a ride on the organ ending the song on some tight hits.
The band then pulled it back a little bit with "A Train Still Makes A Lonely Sound" before seguing into their classic anthem "Jealous Again." As the brothers traded off vocals, a great four part harmony build up with bass player Sven Pipien lending his voice to the mix.  Next, the band gave us a true respite with the poignant "Oh Josephine," and something cool happened that only Chris Robinson could pull off.  As MacDougall started the song with a lovely piano intro, the background visuals shifted to a field of stars.  Just as MacDougall hit his final piano twink, Chris reached up and plucked one of the stars out of the sky.  Smooth.  The song ended in a cool jam that I couldn't help but notice sounded a lot like the intro to Pink Floyd's "Fearless."  A little nod perhaps.
The band followed "Oh Josephine" with another Crowes' classic, "Thorn In My Pride," which contained a stellar jam with Rich and Jackie trading licks and Chris absolutely killing it on the harp and shining on vocals during the "Love cover me" break down.  All the while Steve Gorman was a rock on the drums.  Next came the strutting "Magic Rooster Blues" followed by a rowdy version of Bob Dylan's "Quinn The Eskimo" with Rich singing and playing a warm Gibson hollow body, Chris playing guitar, and Jackie getting nasty on some slide.  I've never seen a band with such great guitars but the next two songs would give the electric guitars a rest.
The band got grassy with "Garden Gate," as Sven traded in his Fender bass for a woodier hollow body.  Once again Jackie and Rich traded licks on mandolin and acoustic guitar respectively with a jam reminiscent of the instrumental part of Peter Rowan's "Midnight Moonlight."  Next came the Bluegrass traditional "East Virginia Blues," with Chris picking up an acoustic guitar and Jackie adding a nice twang on the electric.  As it became evident that the band was going to do one long set everyone was wondering how they would end it.  No one was disappointed.
The twelfth song of the set was my personal favorite: "Wiser Time."  Rich Robinson's fuzzy finger picking blended flawlessly with Jackie Greene's tasty riffing.  The song has become a jam vehicle and Adam MacDougall got it started with some fine electric piano, organ, and Wurlitzer work.  Jackie's turn came next and although I've always been a Jackie Greene fan since I first saw him play with Phil and Friends, he really blew me away, even throwing in a Grateful Dead tease of "Help On The Way."  Jackie killed it and I thought "Wow Rich, that's gonna' be hard to follow," but of course he wow'd us all before Jackie came back in and they really cut heads.  There is definitely a very healthy competition brewing between these two.  As if that wasn't enough, The Black Crowes ended the set with two more classics: "Soul Singing" and "Remedy" and while the encore was a bit anticlimactic it didn't matter.  I walked in a casual fan and left a hardcore head.
Setlist: Let It Bleed, The Shady Grove, Another Roadside Tragedy, A Train Still Makes a Lonely Sound, Jealous Again, Oh Josephine, Thorn in My Pride, Magic Rooster Blues, Quinn the Eskimo, The Garden Gate, East Virginia Blues, Wiser Time, Soul Singing, Remedy
Encore: God's Got It, Shine Along
Energy: A-
Musicianship: A
Sound: B+
Stage Presence: A-
Set/Light Show: B-
Overall: A-
Nate Todd was born on the central plains of Nebraska, but grew up on the high plains of the Texas panhandle. With not much to do in either place, music was his constant companion. His parents dubbed the first two albums he ever owned onto a tape for him. Side A was Bert and Ernie's Sing Along. Side B was Sgt. Peppers. His lifelong love affair with music started early as he practically grew up in a Rock & Roll band, with his father and uncle often taking him out on the road or into the studio with them. Nate began performing live at sixteen and hasn't looked back, having played in numerous bands from L.A. to Austin. At the age of twenty he was bitten by the writing bug, and upon moving to Denver decided to pursue a degree from Metropolitan State University where he recently graduated with a B.A. in English and a minor in Cinema Studies.