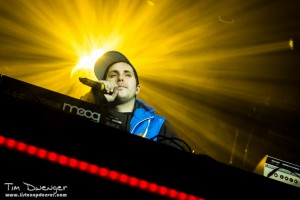 Photos by Tim Dwenger
The Scene: On a frigid night on the Front Range, a select group of lucky ticket holders filled The Ogden to see local musician Derek Vincent Smith, better known as Pretty Lights.  This was the smallest venue that has housed Smith's Electro-Soul in Colorado in years, and the ticket scalpers prices shot through the roof knowing that Smith's loyal contingent of fans would pay just about anything to see him again in such an intimate setting.  As frost began to creep it's way onto the inside of the Ogden's glass doors at the entrance, Smith and the live band that he brought with him on the 2013 fall tour took the stage after an extended warm-up set from DJ Mikey Thunder.
Pretty Lights: After a quick test of the system's low frequencies, the newly acquired horn section took to playing the intro to "I Can See It In Your Face."  As a long time fan of the Pretty Lights sound that meshes Hip-Hop beats with Bass music and Soul, it was an exciting moment to see the live band to come fruition on the stage.  Derek Vincent Smith began as a sample artist, utilizing a keen ear for multiple genres to create a sound that became all his own.  At some point though, it seemed that the doubters' thoughts had crept into his mind and set him on a path to create something completely new and different.  His latest record A Color Map of The Sun (much of which they played throughout the more than three-hour set) was a dose of ingenuity in itself.  Smith traveled to two of America's musically marvelous cities, New York and New Orleans, to recruit session players to make his vision come to life.  He then acted as Producer in the Pop-music sense, directing the action of live musical pieces.  After they had been recorded, the sounds were pressed to vinyl and Smith utilized his knowledge of crate digging through a collection of samples to create the finalized digital works.  After pumping out songs at a torrid pace for years and releasing them as "choose your price" downloads for years, he took two years to put the product together.  The result is just what Smith had ventured out to create, a wholly original album.
The stage setup looked different than in years past, the LED city skylines traded for talented musical counterparts.  What they sacrificed in lighting they more than made up for through the musical prowess of the Pretty Lights band.  Adam Deitch, who played live drums for the project in years past before leaving to focus on Break Science and Lettuce provided the Hip-Hop rhythms throughout the night.  When you listen to Smith's beats on headphones, or even in person when he is performing them as a DJ, they don't seem overwhelmingly complex.  Seeing Deitch systematically working the snare and high hat made me realize that this was not the case, and gave me new appreciation for the beats that Pretty Lights music is known for.  On the keys and a synth rack was the other half of Break Science, Borahm Lee.  Brian Coogan rocked another setup of keys while flanking Smith stage left were trombonist Scott Flynn and trumpeter Eric Bloom.  Live horns are always welcome in my book and lent a distinct acoustic touch, in particular on lengthy jams like "High School Art Class."
The band certainly lived up to their name, despite no major LED light displays.  The sides of the stage held two lasers each, which strobed and panned beautiful arrays of color during the more mellow moments of the evening.  The first hour of the set contained a lot of tunes from the recent album, allowing the entire band to hit an even flow of soulful sound.  Smith used his usual MIDI controller as an instrument for some of the night, but also displayed some chops on the bass and keys, adding his own improvisational element to the fold.  I'd always wondered what songs like "How We Do" and "So Bright" would look and feel on a grand stage, and the experience did not disappoint.  Smith showcased an increase in his ability to shift tempos with the band by his side.  His mixes at times in the past seemed choppy or simplistic, but with a gifted drummer like Dietch by his side and a microphone straight into his ear, Smith was much more apt to seamless shifts in sonic speeds.
The crowd was more than pleased during the entirety of the set; wide eyes and Cheshire Cat grins dominated.  The only downside to the band's fantastic performance was the state of their bandleader.   When Smith spoke to the crowd from time-to-time throughout the night he seemed like he'd been enjoying himself a bit too much and it made me question whether or not he was tired from months of hectic touring or something a little more serious than that.  With that said, the band played on and provided the audience with a night full of danceable tunes that seemed to never end, in the best kind of way.  I was sad to hear Smith say that this was the band's last night playing live before a hiatus but I'm also glad to know that I got to be a part of this musical vision coming to fruition if only for the night.
Energy: A
Musicianship: A-
Sound: A-
Stage Presence: B+
Set/Light Show: A-
Overall: A-