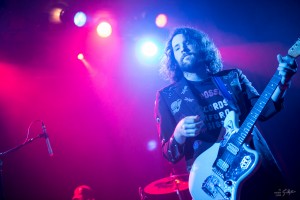 Photos by Ty Hyten
The Scene: Twenty- and thirtysomethings filled the Bluebird Theatre last Saturday evening for a rowdy night with Athens, Georgia Alt-Country/Indie-Rock band Futurebirds and opener Ark Life. Talking loudly over beers fans were out with high spirits and came to get loose.
The Opener: Ark Life. Denver's own "Mile-High Western Soul Rock 'n Roll" five-piece, Ark Life, cracked open the night with an infectious uptempo set. Frontman Jesse Elliott led the group with his wonderfully indefinable timbre backed by the Motownesque vocals of Natalie Tate, Lindsay Giles and Anna Morsett. The three, a group of gifted artists in their own right, provided the gorgeous harmonies that made the band's songs soar.
Their nine-song set on Saturday was high energy with ridiculously contagious songs like the groove driven "What You Want To" and the 50s inflected "She." Highlights of the set included "You're With Me" with Giles and Elliott trading verses on the downtempo love song and a wild "Let Your Heart Break" that saw Elliott jumping down into the pit. The crowd ate up the whole set and were well primed for the night ahead. I'm yet to see Ark Life play a show that doesn't win an audience, be it in front of a sold-out crowd at the Ogden or a seated few at Park House. These guys are a cut above the rest.
Futurebirds: I had heard that Futurebirds put on a wild, good ol' Southernboy Rock show and Saturday night didn't fail to deliver. In the six months that have passed since their last visit at Larimer Lounge, it seems word of mouth has bumped their draw. The blaring cry of Telecaster, pedal steel and drums overpowered the Southern Rock harmonies at times, but the message was still received as fans danced through the near constant smoke of Colorado's new cash crop. In the spirit of a good Rock show, the three front men spent as much time pacing the stage, leaning on each other and rocking out as they did singing.
Much of the Indie-Rock vibe from 2013's Baba Yaga was displaced away by the volume of pedal steel in the mix and the lack of reverb on the vocals leaving us with a rowdy Southern Rock vibe that surprisingly worked just as well as the more nuanced sound within the album.
Highlights included "The Light," "Virginia Slims," "Tan Lines," and "Johnny Utah."  The night also featured cover of the Rolling Stones' "Rocks Off" that got a big crowd reaction. With limited exposure to their music and very few moments of distinguishable vocals through the ear-bleeding guitar, it was hard for me to tell what songs were being played but the enthusiastic crowd, energetic performance and howl of the pedal steel alone were enough to make the evening for me.
Energy: A+
Musicianship: A
Sound: C
Stage Presence: A
Set/Light Show: B-
Overall: B+