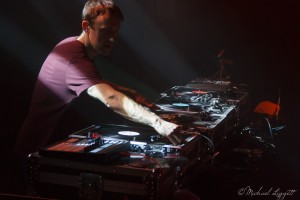 Photos by Michael Liggett
(Photos from Saturday Night's Show)
The Scene: It's Friday night. Enter the Bluebird Theater. "This shit is so fire." First words I hear after pushing my way through the crowd to the most reasonable vantage point in sight beyond the bar. As I see a fire spark and the smell of sweet Mary Jane enters my vicinity, I can't help but wonder to myself just how many STS9 fans bought tickets to RJD2 due to the cancelled Fillmore Auditorium show. It is sold out. I stand on my tippy-toes, I peer out over the sea of people below. From the tops of their heads, I see flashes of heady pins embellishing flat top bill hats with sacred geometry embroidery and ombré died hair of every color of the rainbow. Not much room for inspection, but not a terrible crowd for a sold-out show, and even if it is a "rainy day" show for many, I am fairly sure they are going to be very impressed. Time for a drink.
Opener: Man Mantis. As my show buddy and I settle into our post, I take some time to check out the opening act. Playing to the right of the array of audio equipment laid out for the headliner is this fellow throwing down some dirty Hip-Hop tracks on his tables. I ask who he is. "Man Mantis" some wook replies. I laugh. "He usually wears a praying mantis mask." Though he is not sporting his usual digs, he has the crowd's attention. The packed house sways drunkenly to his dirty, bass-heavy EDM infused Rap sound, which I think to myself, is a perfect pairing for the super-heady white-boy thug-life crowd at hand. LOL. As he continues my excitement for RJD2 grows. Time for another drink.
RJD2: The lights just dimmed again and out comes my main man RJD2 aka Ramble John "RJ" Krohn. I have seen the Philadelphia DJ many times before, his eclectic sound has always appealed to me, encompassing many influences: Jazz, World music, EDM, Hip-Hop and Rock, and his live performances whisper memories of raves with headlining acts like Q-Bert or DJ Jazzy Jeff–the guy is a great producer (ok, he's an awesome producer) but truth be told, he is a fucking amazing DJ. How often can you say that? I am stoked–he is wearing his space cadet costume (kind of like a glitter-studded flight suit with a welding mask instead of a helmet), which is always accented with an MPC attached to the belt. I jump with excitement as he spins the instrument around and prances back and fourth on the stage. So amusing. I slowly work myself into a sway through the first few songs, then he cuts into "The Horror." This one always makes me feel like an evil villain–echoes of a mad scientist ring through my ears, a monster is loose. I explode into a mad rage of dance which continues through several more songs.
When I look up again to analyze the situation I realize I am pretty buzzed.  I also realize the sound is a little grittier than other shows I've seen of his, more Hip-Hop than usual, and there are some Rock influences in there too. Of course, he played "A Beautiful Mine" fairly early in the game, the Madmen theme song is certainly his most well-known–so no big surprise there. I am a little more taken with the Jazzier/Latin influenced pieces in his repertoire, but that's ok. Just as I am questioning how the night will unfold, the Latin beat I was yearning for is queued; "Istanbul" is certainly my favorite RJD2 song, and since this is the first in a two-night run, I feel fortunate. More booty shaking is definitely in order. The only downside to this: the more you dance, the less you see. Watching him swiftly move from console to console, matching beats and perfectly timing loops–his performance is almost as visually stunning as it is audibly enchanting. His videos are amusing too–I catch a glimpse of Frylock and Meatwad from Aqua Teen Hunger Force up on the screen and pause for a moment to watch Krohn work. I am definitely not the only one who is too distracted by the onstage performance to dance. Yep. He's still a bad ass.
As the night continues, my level of intoxication grows and  my interest in the visual elements onstage dwindles–glances of scenes from The Matrix are hardly titillating (we've all seen that one before), but occasionally I catch shot of RJ's live handy work and my dancing halts again. He is talented beyond my understanding. As I watch, I ponder this. Five minutes later I look at my watch. It's getting late. I look up, and the set comes to an end. Fortunately my clock indicates that there is still an encore in store. He jumps into "Let the Good Times Roll Pt. 1″ which, of course, will naturally be followed by part two. And it is. Love this guy. He is predictable in all the right ways.
Energy: A
Musicianship: A+
Sound: A-
Stage Presence: B+
Set/Light Show: B+
Overall: A
Audiophile. Logomaniac. I must get to the show.