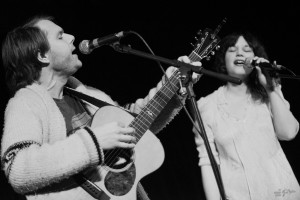 Photos by Ty Hyten
The Scene: The half-court gymnasium at Colorado Springs' Ivywild School concert venue filled awkwardly at first as fans crowded against opposite walls, lending to the overall feeling that I may had accidentally been dropped off at a middle school dance last Sunday night. The setting is humorous, by design, with climbing ropes still hanging and educational artwork on the bathroom walls. It's not quite like any place you've ever seen a show before and that's part of its magic. It was a sold-out show yet pleasantly there was plenty of space to weave between twenty-somethings, teens and a few stray baby-boomers to grab a Bristol beer and comfortably get back in time for an intimate evening.
The Opener: Caroline Smith. I hadn't listened to much Caroline Smith since 2011's folky Little Wind. I wasn't aware the Minneapolis singersonwriter had shifted into a full Soul outfit complete with two backup singers but the results were grabbing. Smith's brand of female-empowering R&B drew cheers with every sultry bellow.
The Opener: Ark Life. Hitting the stage second was Denver's Ark Life. Lacking drummer Ben Desoto and Lindsay Giles' keyboard, frontman Jesse Elliott and the lovely ladies of Ark Life played a slightly low-key nine song set of their Rock-Soul goodness. The gorgeous female harmonies that so perfectly back Elliott's quirky timbre stood out in this stripped down setting. A high-water mark came with "What You Want To" and was followed by their friends Josiah & Carleigh joining for a striking "You're With Me" and a cover of Townes Van Zandt's "Colorado Girl." Towards the end of the set Elliott divulged a lost bet with Josiah in which he was required to wear a t-shirt displaying an anti-Broncos message of Josiah's choosing. He removed his shirt to expose an insulting message texted to Josiah, a Seahawks fan, from his mom during the game we don't talk about here in Denver.
Josiah Johnson & Carleigh Aikins: After a shuffling of the crowd resulted in a more thorough collection of girls up front, it was time for the main attraction. The show marked the end of the The Head And The Heart vocalist's eight show run with partner Carleigh Aikins. Carleigh's resume is as diversified as her voice. This past year you may have seen Carleigh as a part of Canadian band Bahamas or on stage with Jack Johnson. The night was a mix of The Head And The Heart songs, Josiah & Carleigh's own songs and two covers.
"Take me with you, I'm fucked, and so are you," sang Josiah on the tips of his toes on the empty stage. This first song was among a handful of new material that was played Sunday evening. This and three other new songs led by Johnson had a very The Head And The Heart feel to them, which was very welcomed. I was particularly taken by a new song you can hear here that begins "I regret not leaving the light on" (audio available here).
The crowd was predictably most receptive of the THATH material. The full room was so silent for an intimate, downtempo "Honey Come Home" that you could hear the creaks in the old wooden floor. The naked "Josh McBride" and "Fear/Fire" were equally satisfying with the unfamiliar but soothing harmony of Carleigh's voice in place of Charity Rose Thielen and Jon Russell.
The evening wasn't just about Josiah's work. Roles reversed on a number of songs with Josiah singing harmony, at times in a delicate falsetto. Many of the highlights of the night rested on Carleigh's stunning voice. We saw the sweet, delicate singing on "Morning Bells" to the Janis Joplin-esque roar of "Handle Me With Care," one of the most arresting songs of the show. It was remarkable hearing the two distinct voices from Carleigh. On one end angelic and featherlight and the other a gritty, powerful, hell-raising growl. Josiah followed, "can you believe when I met her she was singing backup?"
Another standout was a cover of Elliott Smith's "Between The Bars" and the set closed with the addition of the gals from Ark Life and a cover of "Your Love," a traditional sounding, harmony rich song from the small Canadian group Daniel, Fred, and Julie. Once again the crowd stood dead silent for the beautiful melding of the un-mic'd voices. The night came to an official close with an encore performance of "Heaven Go Easy On Me" from THATH's first album – the most memorable I've heard it in over ten times seeing them live.
Energy: A
Musicianship: A
Sound: A
Stage Presence: A
Set/Light Show: C-
Overall: A-