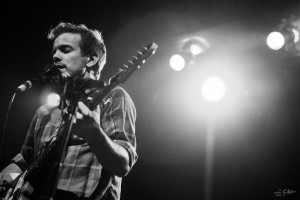 Photos by Ty Hyten
The Scene: "Sold Out" signs and a long line greeted me as I arrived at the Bluebird last Thursday night. Portland based Indie Chamber Pop group Typhoon had graduated from the clown-car routine of fitting eleven members onto the tiny stage at the Hi-Dive and had sold-out the Bluebird. Thick crowds of early twenty-somethings stuffed into the front few levels leaving my stomach as the only safe place to carry my beer. The young crowd up front buzzed with anticipation and surreptitiously drank vodka. A group of seven X handed fans said they had driven the 1,200 miles from Portland for the show and in exchange for a photograph they graciously cleared way of the stage allowing me to snap some photos. Belly against the stage, I was just minutes from realizing why Typhoon warranted an 18 hour road trip.
Typhoon: Frontman and songwriter Kyle Morton took to the stage smiling, trailed by musicians tenfold. With a band that large one might think that things would get cluttered, but that was far from the case. Even with four sets of drums pounding simultaneously, the band was tight, organized and powerful.
The vocals got lost in the volume throughout the night but in the empty space of the songs, a huge chorus of fans singing along could be heard at a volume that I haven't encountered at a show in some time. This volume peaked with the "unhand me, I am not a criminal…" portion of "Dreams of Cannibalism." The lively mix of strings, horns, percussion and guitars were in stark contrast with Morton's lyrics about accepting death and understanding struggle from last year's White Lighter, an album Morton believed might have been his last. Morton seemed devoid of health issues and his energy and versatile vocal delivery powered the band. At times his singing was nervy and Punk in nature, at other times gentle like Sufjan Stevens. His voice was joined by various backing voices on stage and at times on songs like "Hunger and Thirst" and "Young Fathers" a female vocalist took the lead, with the latter being the high-water mark of the set.
It's hard about to talk about Typhoon without mentioning Sufjan Stevens. Steven's influence was clear, especially in the live context – the instrumentation, the grandiose orchestral arrangements, the crescendos and chanted vocals. That is not to say they didn't give it plenty of their own personality and Morton's unique vocal delivery was incomparable.
I entered the venue as a casual listener of their albums and left a true fan. Like peeking at the inside of a watch, there was something magical about seeing all the moving parts that created the music on the album. The fans were passionate, the songs well-crafted and the evening left me alive and full.
Energy: A
Musicianship: A
Sound: B-
Stage Presence: A-
Set/Light Show: C-
Overall: B