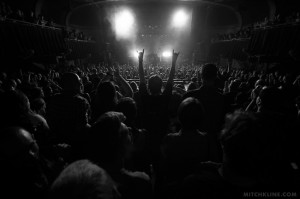 Photos by Mitch Kline
The Scene: Mastodon is on the road for a month long tour leading up to the release of their sixth studio album, Once More 'Round the Sun, due out June 24, and they have a stellar lineup of openers in Gojira and Kvelertak. While the crowd certainly leaned toward the Metal side of the spectrum, for good reason, Mastodon attracts a lot of folks who might not fancy themselves as metal fans, but certainly have an appreciation for aggressive music, and they were out in force for a sold-out Monday night show.
Opener: Kvelertak. Six Norwegian dudes (three guitars!) hell bent on making every eardrum in the joint bleed. Kvelertak has garnered rave reviews, and judging from the reaction of the quickly filling room, a lot of folks, including myself, are excited about this band. 
Opener: Gojira. I'll be honest, Gojira being on the bill made this "can't miss" show for me. The French foursome has been blowing my mind with their studio albums for the past few years, but this was my first chance to see them live. Drawing mainly from their 2006 release From Mars to Sirius and 2008's The Way of All Flesh, Gojira ripped through a brain rattling set that had everyone in the room shouting "Oui!" between every song, and setting the bar about as high as it can get for the night's headliner.
Mastodon: Mastodon is the pure definition of the type of metal music that appeals to me the most. This was my fourth time seeing the Atlanta-based quartet, and once again, they delivered a set that will surely be on my year-end best of list. There's little stage banter and no bullshit from these guys when they get on stage. Offering just a tiny taste of what to expect from the upcoming album via two late set songs, "Chimes at Midnight" and the sludgy first single "High Road," this set felt more like a treat for faithful fans than a promo for a new album.
Kicking things off with the epicly long "Hearts Alive," their set included songs from all of their studio releases, but leaned heavily on Leviathan and Blood Mountain, arguably two of their best albums to date. With one of my all-time favorite riffs, a mid-set "Megalodon" was certainly the highlight for me, and the run through Blood Mountain's "Bladecatcher," "Crystal Skull," and "Siberian Divide" proved yet again that this band is in a league of their own. Technically complex Metal music delivered with precision and a fury matched by few bands.
Energy: A+
Musicianship: A+
Sound: A
Stage Presence: A+
Set/Light Show: A
Overall: A