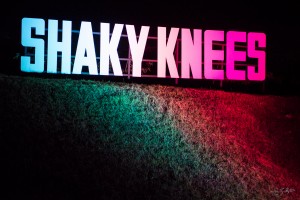 Photos by Ty Hyten
I tested laryngitis positive while on the interstate from Nashville to Atlanta.
If you Google search laryngitis, you will find the literature disturbingly sparse. There are no official reports; no numbers for how many are afflicted each year. If you Google search, "can you die from laryngitis?" which I did, you will find there is a rare bacterium in laryngitis called Haemophilus influenzae. This infection causes the larynx and the tissues surrounding it to swell to "such a degree that the windpipe becomes blocked." Suffocation leads to death. I did not need Google to tell me what happens after death.
So this was the situation as we were on our way to attend the second annual Shaky Knees Festival in Atlanta, GA. The three-day festival was founded by Tim Sweetwood, who intentionally handpicks the bands to put together a lineup with similar tastes. The event was expected to double in size from last year, with about 18,000 people each day.
When we arrived to the festival singer/soulman/preacher Charles Bradley was down on his knees belting the question: "Are you looking for love or lust?" Well, I'm not really in a position to be picky, I thought. "Real love comes from the soul," he felt necessary to make clear. From the soul? Well, damn it.
Bradley's story is unique in so much as he spent over 30 years playing small shows, singing as a James Brown impersonator and working odd jobs. Throughout those difficult years he was homeless, had a near death allergic reaction to penicillin and experienced the murder of his brother. Still, the dream never died.
He recorded his first album on Daptone Records in 2011, and ever since has been touring the country as a major force. The spirit and the music is the complete embodiment of the monsters of Soul—Otis Redding, James Brown, Sam Cooke—but Bradley's voice is entirely his own and his performance (complete with pelvic thrusts and crotch grabs) is so damn genuine and pure. The backing band, His Extraordinaires, are with him every step of the way. There is no novelty, it's the real thing.
The next act we caught was the Philadelphia quartet, Man Man, who are known for their experimental Tom Waits/Frank Zappa style romps. I first saw this band in 2006 in Philadelphia shortly after the release of their album Six Demon Bag. They were young with no expectations, and the circus-like madness of show was infectious. They were so weird, but really catchy too.
However, this time around I did not harness that same sense of excitement – and this could just be me. The band has undergone countless line up changes, with lead singer Honus Honus (Ryan Kattner) the only retaining member. They still come out in war paint, mink coats and Ray Mysterio masks, but I just can't shake this image of an aging, gypsy Papa Roach. Nonetheless they were a definite crowd pleaser and a good mid-day set.
Shaky Knees works extremely well as a festival. There are two main sections with two stages, so at any one time there are only two bands playing. This makes it easy when having to decide between acts. The sound never overextends itself and there was hardly any bleeding of sound between the stages.
The event takes place in a parking lot, so the ground is concrete, which has its pros and cons. Good for when it rains, bad for when you drank too many Tom Collins and need a place to lie down.
Food trucks, portable toilets and free water are all easily accessible. There really was never a sense of that stagnating congestion that comes with big crowds. Also, the festival is set within the Atlantic Station district, a modern, yuppie-esque outdoor mall with restaurants and bars, which is great if you want a break from the festival for a bit.
A great functioning festival, with the backdrop skyline of Atlanta, city of amazing buildings tops.
It was at this point we discovered the open bar offered to the artists and media. The tent served as a meeting ground, a refuge, a hospital, a beacon in the night—a home—for the rest of the festival.
The last act of day one was The National, who really put on an impressive show. The band seemed to need a few songs to hit their stride, but once they did the dark ballads flourished with a great light show.
We went back to our hotel at the Highland Inn, located in Atlanta's North Highland district. If you stay in Atlanta, I can't recommend this place enough. It comes with all the character of an old, historic building, and it's easy to meet fellow travelers. Local restaurants and bars are all within walking distance, including a karaoke spot with a live band and a vegan soul food joint with the best damn kalebone steaks.
Day Two
I awoke on day two to find my debilitating handicap miraculously cured, thanks to a strict routine of whiskey and cigarettes. W. H. Auden once wrote, "All I have is a voice." Yes. His lifelong struggles with laryngitis eventually ended in 1973 in Vienna.
We took a cab (and be prepared to take cabs, for there is no accessible mass transit) back to Shaky Knees to catch Denver songwriter Gregory Allen Isakov's afternoon set. Backed by violinist Jeb Bows and guitarist/banjo man Steve Varney, the trio achieved a sound much bigger than themselves.
Isakov's somber, folk tunes slowly build, and unleash into a massive soundscape. Violins blare, foots stomp and Isakov howls. Isakov really has a great voice, the kind of voice that will steal your girlfriend. And it was great to see such a welcoming reception from the crowd, who seemed to know his body of work.
The same can be said when we watched Denver's Paper Bird on Sunday. Although they played a lot of new material—with a sound that has evolved from a Folky outfit to a more light Rock vibe—the growing crowd was immediately receptive to the beautiful harmonies from Paper Bird's vocalists.
I momentarily caught Tokyo Police Club's set and nearly had a panic attack from the sensation of being trapped in a Sketchers commercial. I quickly retreated to the booze tent and worked on my ever-evolving relationship with the bartender.
The sun was setting on the Atlanta skyline, and it was finally time. Time for The Replacements. The band's bio on the festival website simply stated, "No information available," and in an ironic way that just about sums it up. Formed in Minneapolis in 1979, the band has a long and tumultuous history. It seemed at every crossroad toward success, the band erred on the side of saying fuck it (i.e. their 1986 SNL performance, which was a complete shit show, yet still so amazing).
All day the Georgia skies slugged about with the threat of rain. And then, moments before The Replacements took the stage, it started to pour. Rain does strange things to the mindset of a festival. Some leave, some seek shelter. Others go completely apeshit.
When the band took the stage there was an outpour of primitive emotion. They opened with the 1981 song "Takin' A Ride," and really did not stop the Rock until lead singer Paul Westerberg took a seat next to the drums for the genderless love ballad "Androgynous."
During "Alex Chilton," Westerberg forgot a verse and looked at Green Day's Billie Joe Armstrong, who played rhythm guitar for the set, with a smirk and a shrug. The crowd, reverently singing every word, quickly filled in.
The band returned to the stage for an encore that included the slacker anthem "Bastards of Young." After all these years, it still carries as much force as it did in 1985. Why? Because we are still pissed off.
Day Three
The highlight of day three by far was the Violent Femmes. The band opened up with their hit "Blister in the Sun," and it just got better from there—they played their first, self titled album in its entirety. Lead singer Gordon Gano's voice hasn't seemed to age a day, and somehow the stripped down instrumentation accomplished the noisiest and most chaotic sound of the festival. Bassist Brian Ritchie played his bass like a lead guitar, and percussion Brian Viglione is freakishly good on his makeshift drum setup. On certain songs, a horn section would join the trio on stage, blaring a beautiful mess over their most popular songs.
Gano has attracted some strange attention in his later years, refusing to play certain songs due to his born-again Christianity. However, at Shaky Knees there was no issue of that, as he sang "Kiss Off" with a knowing smirk. As a huge fan, it's interesting to listen to songs like "Jesus Walking On The Water" and think of it as not ironic. Regardless, the set was great.
The Violent Femmes are masters at building creepy tension. Gano writes of sex as if it's the dirtiest and most twisted act someone can partake in, but there is such an engrained and particular humor in his lyrics. Yet they can still write the hits. "American Music," "Please Do Not Go," and "I Held Her in My Arms" are testaments to the versatility and gift of songwriting Gano possesses. The Femmes even covered Hank Williams' "I Heard My Mother Praying for Me" to commemorate Mother's Day.
The crowd was absolutely polarized by the performance, and was left wanting more by the end of it. There was a girl standing in front of me singing every single word of the set; it was the sexiest thing I had seen all week.
Alabama Shakes closed the festival, and left no doubt to their stature of a headliner. The festival was still packed when they took the stage, a testament to the final act of a three-day festival.
Lead singer and guitarist Brittany Howard gave her all, and it sounded as if she was suffering all over again the emotions that went into those songs. It was a fitting end to a great weekend of music.