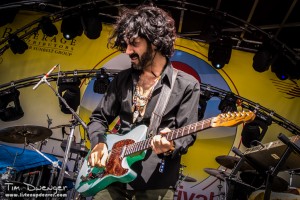 Photos by Tim Dwenger
The Scene: The crowd was nicely mixed at the LOHI Music Festival on Saturday. People of all ages, shapes and styles came out of the woodwork for the third year of Highland Tap & Burger's annual music to-do. The music of the opening band started at noon and could be heard from blocks away, telling friends, neighbors and passersby that they should stop and take a listen. Two stages were laid before us: the smaller Highland Tap & Burger stage tucked just to the west of the strip-mall like building that houses the locally famed burger joint, and the Beverage Distributor's stage, which was much larger, spanning the entirety of W 32nd Ave at the East end of the festival grounds. Beer was flowing, music was going–it had all the makings for a great day. Everyone was in good spirits.
Genetics: Fort Collins based four-piece jam band Genetics has been turning heads in the Colorado music scene for the last few years and their music served as a honing beacon for people all over in LoHi starting right at noon. Though most of what I heard was on approach, the earthy jams that emanated from the festival area got me very excited for the day ahead–and when I finally got inside, I could see I wasn't alone. The large area that was sectioned off on West 32nd Ave was sparsely filled when I arrived just before 1pm, but attendees were in great spirits anyway. In the area in front of the HTB stage a meager crowd formed, but everyone wore a smile. Genetics did a great job of commencing the day's events.
Tiger Party: Reaffirming the collaborative spirit that makes the Denver music scene great, the latest ever-changing collusion group of Denver is called Tiger Party. The group took the larger BD stage on her maiden voyage this year–and they gave her a proper breaking in. In the crowd, entertainers bounced around in disco 'fros, some on stilts, some playing games. With a barrage of entertainers, including bassist David Murphy (formerly for STS9) drummer Mike Greenfeild (Lotus), and bassist Garrett Sayers (The Motet, Garrett Sayers Trio), mainstay member Blake Mobley delivered a powerful performance, showing LOHI just what all the buzz is about. Psychedelic guitar riffs, retro keys, soulful vocals and a whole ton of energy exploded from the stage, and little by little, that small crowd grew. The clouds above the stage hung heavy in a foreboding way, but no one skipped a beat.
The Heavy Pets: On the smaller Highland Tap stage, The Heavy Pets out of Florida brought a chiller, more soulful interlude to the afternoon. Their fusion of Jazz, Blues and Reggae is quite enjoyable–but I think I would have enjoyed it more from a lawn chair next to a pool. Don't get me wrong. It was funky, but as the gray sky became more ominous, the crowd's energy started to waiver. Though the population density had more than tripled in comparison to the Tiger Party set, the crowd seemed a bit stagnant. Maybe they needed a nap. I understand, a gray day is good for that sort of thing. Maybe they just needed some booze. As their set moved on the mood remained steady and chill. More  in-crowd entertainment kept the beat moving. One by the name of Regal Nouveau, the "Official Quality Assurance Specialist of the LOHI Music Festival" was hired to introduce strangers, gives hugs and deliver jokes–creating smiles, laughs and new friendships. It was a fun touch. All and all it was a good set, it just could have been better had there been a bit more energy, coming from both sides of the stage.
The Pimps of Joytime: When the Heavy Pets finished, everyone quickly made an en masse exit to the BD stage for The Pimps of Joytime. The Soul/Funk band from Brooklyn started big, and then it started to pour. Big time. Those without weather protection made an beeline for Highland Tap and Burger's bar. I ducked into the convenience store next door, where the owner had pretty umbrellas stocked for only $3.99–talk about a game changer! I got a mint colored one with peach colored roses on it and bounced back into what remained of the crowd. Those who stayed through the rain smiled and and danced; they didn't seem to mind one bit. Fortunately for the rest of the audience, it let up after about 20 minutes and people filed back into the general admission area in front of the main stage. After that, it was on.  PJT popped the energy level right through the non-existent roof. Their two female percussionists deliver soulful vocals–their voices are commanding and well matched to the overall sound. They also bring a feminine quality to the table that certainly resonates with the ladies. The song that stuck in my head was Latin influenced "Bonita"–I kid you not, found myself humming it in the grocery store two days later.
As the set came closer to its end, the sun made it's first appearance of the day. As it peeked out from behind the massive gray nothing, people turned and acknowledged it's coming, and then they really starting to get in the groove. By the time they finished, a dark and eerie cloud gathered just beyond the stage on the Eastern horizon–the sun was still shining above however, confirming that the worst had passed. There was a hint of something crazy in the air, like that stillness and strange barometric pressure that one experiences just before tornado sirens start howling. It was going to be a crazy night. 
Joey Porter's Vital Organ: If you haven't heard the funky keys of Mr. Joey Porter and you live in Denver, you are not getting out enough. Originally in The Motet, and in recent years, Juno-What!? as well, it's a wonder how this guy has time for any life at all outside of his various music projects. His long hair sways from side to side as he bobs his head in rhythm with the movement of his hands–he reminds me of Rolf from The Muppets–I kind of want to hug him.  His latest and greatest get-up is a four-piece called Joey Porter's Vital Organ, and they came out strong on Saturday. They did several awesome instrumental covers of classic 70s Soul songs. The tempo was steady as the crowd  started to dig deep into a groove. Though the music never slowed, people started making their way over to the larger stage to stake their claim in the GA area for moe. As great as the group's tunes were, it was not a bad plan; if you live in Denver, you can probably go see Mr. Porter again next week. He is all over this bitch.
Moe. Set 1: At 6:00 sharp, moe. took the Beverage Distributor's stage, and began the night with "Billy Goat" and "Little Miss Cup Half Empty" from their latest album No Guts, No Glory which came out just weeks before.  Things went nuts when they offered the crowd a "Spine of the Dog" into "Buster" merger–both were awesome individually (Al Schnier was ripping in "Spine of the Dog" and Chuck Garvey got some killer riffs in "Buster"). The two fan-favorites put together were almost mind-blowing. They could have played polka for the rest of the set and fans would have been satisfied, but they chose to finish the shorter first set with "Wind it Up." Truth be told, it took me a few minutes to refocus and realize that there was other music to be had. It was short enough to be quite a tease–thank goodness the second set was going to be longer. Gimme some moe.
Chrome Drones: Denver Disco House group Chrome Drones filled some big shoes on a small stage on Saturday. If anything, moe. fans are pretty particular. Chatting with some, they seemed to like the sound, but complained a bit about the Electronica influences and "repetitive nature." To me, they sounded like soulful, funky, dancing music–I could definitely see how they won Westword's Readers' Choice Award for "Best New Band" in Denver. The group is consists of three members of Denver's own Signal Path: Damon Metzner (drums), Cody Wille (production), and Matt Schumacher (bass). That Blake Mobley guy we saw rock it out earlier with Tiger Party (keys) was also in the group, Pete Wall of Particle (sax) and a fellow Ryan Burnett (guitar). You can see the similarities between Chrome Drones and Signal Path-very fluid and jazzy, echoing–only there was more Funk in the mix. It was a fantastic set despite the quibbles of finicky moe.rons.
moe. Set 2: moe. picked up round two just where they left off, with the crowd-pleasing "Captain America." The popular tune is the first moe. song I ever learned the words to. We sang along and smiled in the sunshine as they transitioned into "Annihilation Blues." After that, a superb "George->Down Boy" combo, and then "This I Know" before ending with "Hi and Lo->Bring You Down->Brent Black" three-way to finish with a bang. Of course, we got an encore too. "Plane Crash" ended the show on a nostalgic and happy note.
The LOHI Festival officially nailed in 2014; it seemed crazy that for many there was more music in store. The official after-party at Cervantes' would see another Pimps of Joytime set as well as a performance by Everyone Orchestra featuring moe.'s Al Schnier and Vinnie Amico.  People filed out of the festival grounds fairly quickly–no doubt making their way to the show in Five Points. Stay tuned for a review of part deux of this epic day of music in Denver…
Audiophile. Logomaniac. I must get to the show.