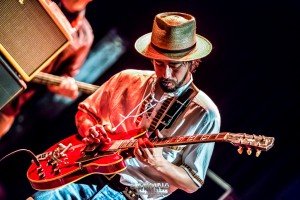 Photos by Jim Mimna
The Scene: Last Friday night The Gothic Theatre was the place to be for good ol' fashioned Americana Rock-n-Roll.  Jackie Greene was in the house and while he didn't bring the hippest and youngest crowd in town out to see him perform, his fans are loyal and passionate.  There was plenty of elbow room to move and dance on the floor of the Art Deco theater but it by no means felt empty as aging Deadheads put back their whiskey shots and puffed joints while their more conservative contemporaries pretended not to notice.
Jackie Greene: Shortly after 10pm, Jackie Greene strolled out on stage and kicked off his set with "I Don't Live In A Dream," a track from his 2008 release Giving Up The Ghost that received some TV exposure shortly after the album was released.  After commenting on how "it sure smells like Colorado in here" Greene went on to lead his band through a two hour set that was heavy on material from Giving Up The Ghost including the triptych of "Uphill Mountain," "Animal," and "Shaken."
There was no doubt that Greene was in fine form on Friday and he proved that his recent stint in the Black Crowes has done him well as he coaxed some screaming tones from his guitar and then showed us all that his band can harmonize with the best of them on a honey sweet cover of The Beatles' "Don't Let Me Down" that featured the band trading solos and dazzling the rapt crowd.
Though we all would have gone home perfectly happy without any special guests or sit-ins, Greene delighted the crowd about 90 minutes into the show when he invited his longtime friend Nicki Bluhm to the stage to join him on his jaunty blues number "Tell Me Mama, Tell Me Right" from his 2002 release Gone Wanderin'.  Bluhm seemed right at home with the song and wow'd the crowd with her powerful delivery as she pushed Greene to keep up with her.  It was a tall task, but Greene was up to it and even threw in a blistering B3 solo to push the energy in the room over the top.  The crowd exploded when the tune came to an end and Bluhm waved good-bye.
A late set highlight came when Greene and his band ran through the Don Henley influenced "Hollywood" before descending into a deeply psychedelic jam that slipped through a wormhole and brought us back to The Beatles with a segue from "Tomorrow Never Knows" into "Taxman."  It was a wild ride, but everyone in the room clearly had the time of their lives.
Just when I thought the show couldn't get much better, Nicki Bluhm appeared onstage again and joined Greene on my favorite Grateful Dead cover of his, "Sugaree."  Together these two took us to church and we shook it as they sewed it up tight as could be.  What a moment; one that I won't forget for a long time.  Though "Sugaree" could (and maybe should) have served as the set closer, Greene wrapped things up with "Like A Ball and Chain" while throwing in a "Twice As Hard" tease for good measure.  It was a great set to be sure, but I could have done without the encore of "Back To Birth" as it just sapped a little bit of the energy that the last 30 or so minutes of the set cranked up so high.
Energy: B+
Musicianship: A
Sound: A-
Stage Presence: B
Set/Light Show: B
Overall: A-
Music has always been a part of my life. It probably all started listening to old Grateful Dead, Peter Paul & Mary, and Simon & Garfunkel records that my parents had, but it wasn't long before they were taking me to concerts like Starship, Crosby, Stills & Nash, and Huey Lewis & The News. I got the bug to write about music after reviewing an Eric Clapton concert for a creative writing project in high school but didn't really take it up seriously until 2002. Since then I have published countless articles in The Marquee Magazine and done some work for Jambase.com, SPIN Magazine, and various other outlets. I started Listen Up Denver! as a way to share the music information that is constantly spilling out of my head with people who care. Please enjoy!