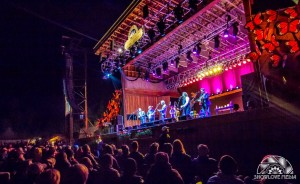 Photos by JohnRyan Lockman
Six years ago, on the advice of a friend, I made the solo drive from Denver to volunteer at the Telluride Bluegrass Festival.  I had no idea where I was going to sleep, no idea what I was going to experience, and no idea that this trip would lead to an annual pilgrimage that beckoned me back year after year.  Not too long after arriving that year, I started to understand—but, that was only a start.  Seriously, six years later, I think I'm still trying to figure it out.
What is it that makes us come back every year, making plans before we leave the year before and buying up all of the tickets and camping passes before the lineups are even fully announced?  What energizes us to drive across the state and fly across the country and world, forsaking all real-world responsibilities in our wake?  What compels us to sleep in lines all night at a venue where you can literally take a leisurely stroll in the open aisle in front of the front row?  What makes us cry with laughter, laugh with disbelief, and then enter a state of depression when Monday comes around?
Maybe there is something esoteric about the whole experience, that nobody can truly understand unless you've been to the festival, but that once you've been there, whether it's for a day, a week, or forty consecutive years, it becomes part of you.  It is the smiles that only we can see of the performers as they look out from the stage over the most beautiful landscape their songs and melodies have ever echoed across.  It is the meticulous, almost anal-retentive, organization of wristband checkpoints, bag checks, garbage separation, line numbers, and chair height restrictions that somehow altogether translate to a vibe conducive to dancing and singing, marshmallow wars and waterguns, costumes and ugly sweaters, and a passionately laid-back attitude from some of the most fervent music lovers anywhere.  Oh yeah, the music.  Lest we forget why we all came. Let's get to the highlights…
The music is always fantastic—and it's certainly not just Bluegrass.  The folks at Planet Bluegrass do an incredible job of spanning the spectrum from Bluegrass to Folk to Rock to Soul to Traditional to Gospel and, of course, back to Bluegrass (and somehow making this full circle fit perfectly into a box canyon).
THURSDAY
The first day of the festival brought us the perfect opening set with TBF prodigy-turned-veteran Chris Thile welcoming us all through the gates with his instrumental meanderings and compositions.  Thile has been a fixture of the festival for years in one project or another, and this year we got to enjoy the work from a few of those incarnations (Thursday: Solo and w/ Nickel Creek, Saturday: w/ Punch Brothers).  Frank Sullivan and Dirty Kitchen stepped up some hot fiddling and banjo work (from IBMA's Banjo Player of the Year Mike Munford) to really get the festival moving before we were treated to a little change of pace with Lone Bellow.  With vocals evoking the soul of Motown mixed with harmonies that built until they literally bellowed, this band was working hard to leaving their mark on the crowd.  The final stamp on the crowd, though, was indelible when Sara Watkins of Nickel Creek joined Lone Bellow on stage for an up-tempo version of John Prine's "Angel from Montgomery" which, for the first time all day, had a substantial number of people up dancing, singing, and becoming part of the festival experience.
This year, more than ever before, I found myself pulled to the Elks Park stage in town set after set.  A free stage positioned across main street from the Sheridan Opera House, Elks Park offered a lineup of happy hours and workshops that consistently attracted large crowds and double-takes from passers-by.  So it was that we dipped out of the festival grounds to join seemingly every twenty- and thirty-something in town to catch Greensky Bluegrass circled around a condenser mic for a set of Rock n' Roll classics like "Money for Nothing," "Eyes of the World," "Midnight Rider," and "We're an American Band."  The sound was too small for the crowd but with a set of covers like that, the crowd was more than forgiving.  We all rushed back to catch the end of Del McCoury's set which was raging in all its Bluegrass fury.  Nickel Creek came thundering like an organ as only string bands can do and kept the attention and hearts of the crowd all the way through their final song, a beautiful rendition of Bob Dylan's "Tomorrow is a Long Time."
I skipped out on the Brandi Carlile closing set for the night to make my way down to the Palm Theater for Jason Isbell's Nightgrass show.  Isbell, formerly one of the guitarists for the Drive-by Truckers, was one of those acts of the weekend that would be considered definitely not Bluegrass.  Since his departure from the Truckers, Isbell has steadily become the visceral bard of southern songwriting.  No doubt his presence in Telluride was due in part to his most recent release, Southeastern, an album chock full of songs packed tight with lyrics that will turn your eyes inward and proceed with killing you softly.   To see nearly all of these songs performed live at the Palm, peppered here and there with Truckers' classics like "Goddamn Lonely Love," "Danko/Manuel," "Decoration Day," and "Outfit" was a treat to a true fan but also made you wonder if there was anything in store for his festival set on Friday.  His cover of The Rolling Stones' "Can't You Hear Me Knockin'" the next day put an end to that speculation.
FRIDAY
Friday's highlights started early in the day, with the Elks Park Workshop featuring Yonder Mountain String Band with special guests Sarah Jarosz and Sara Watkins.   Before the festival, one of the burning questions in everyone's mind, at least mine, was how would Yonder Mountain carry a crowd and respond after the departure of vocalist and mandolin player, Jeff Austin.  The answer…for now at least:  solid guest musicians, precision song execution, and witty banter.   When any member leaves a band, especially a member as literally vocal as Jeff Austin, there's a void that needs to be filled.  The band will have to experiment, try out new musicians, and even shelve classic songs.  As Craig Ferguson of Planet Bluegrass related on Sunday night, Yonder seems to be doing just fine.  Seeing them up close at Elks Park enjoying themselves and giving the crowd a great deal to enjoy, I have to agree.
Bela Fleck and the Colorado Symphony provided yet another example of Fleck's masterful versatility as a performer and an artist.  Fleck continues, year after year, to bring musical acts to Telluride that are true game-changers.  With the performance of his "Concerto for Banjo and Orchestra," Fleck reminded us why he is the best banjo player on the planet.
The symphony performance was a pleasant prelude to one of the best sets of the weekend: Dave Rawlings Machine.  This supergroup of rockers (John Paul Jones), singers (Gillian Welch, Dave Rawlins), pickers (Willie Watson formerly of Old Crow Medicine Show), and pluckers (Paul Kowert of Punch Brothers) did what supergroups do best… they covered an array of material from each others' catalogs, fed off each others' energy and musicianship, and played as if they'd been banded together for years.   Of course, there were the hit-after-hit crowd favorites they treated us too as well: "Monkey and the Engineer," "Waymore's Blues," "To be Young," "Midnight Special," "Cortez the Killer," "I Hear Them All > This Land is Your Land > I Hear Them All," "Queen Jane Approximately," and, last but not least, an encore of the mandolin lover's rock ballad "Going to California."  If you are kicking yourself for not being there, kick harder.
Sometimes Friday nights keep going and this festival would be no exception as Steve Winwood took the stage and escorted the crowd through a musical journey spanning his career of hits.  From his jammed-out renditions of the classic Traffic and Blind Faith hits, to his funky and danceable tunes, to his popular theme-of the weekend "Back in the High Life Again," Winwood kept the crowd in high spirits and constant motion.  His encore of "Gimme Some Lovin'" from his early days with the Spencer Davis Group had everybody dancin' and thinking back to the old Blues Brothers movies that made that song famous for a younger generation.  We raced out of there to catch the end of the late-night Greensky Bluegrass set at The Palm Theater and luckily made it in time for the scorching second set closer which was quite unlike any stringed instrument arrangement I've ever seen or heard as Greensky took jamgrass to a new level in just a few songs—the kind of music that leaves everyone exhausted and not sure what they just witnessed.
SATURDAY
We headed in early Saturday morning for the finals of the band contest.  Each year, Planet Bluegrass hosts a band competition whereby the winner earns a slot at the following year's festival.  It really is one of the more unique events of the weekends, especially the high-energy first round in Elks Park the day before.  The four finalists were the Gold Top County Ramblers, The Green Boys, The Kitchen Dwellers, and Colorado favorite Trout Steak Revival.  Each band took the main stage to perform three songs, a slow, a fast, and an instrumental.   All of the bands were top-notch and deserving of the final round.  Trout Steak Revival, though, a Denver-based band that has been harnessing their songs and shows around the state over the last couple years, delivered a set filled with such energy and precision that first place, and a slot at next year's festival, was all too well-deserved.
Peter Rowan and Punch Brothers treated the crowd to back-to-back sets that stretched from heart-warming to bone-chilling to jumping up-and-down joyful.  Andrew Bird brought his soulful indie-style Folk to Town Park, helping with a nice change and mellow mood before the night's festivities.  By night's festivities, I'm talking about the Sam Bush Band leading directly into Leftover Salmon.  Sam Bush, the "King of Telluride," made his 40th appearance at the festival this year (the festival is 41 years old).  His namesake band offered up their fusion of Blues, Bluegrass, and quite a bit of Rock 'n Roll.  In doing so, he showed us his roots while letting us see how young he still really is.  At one point, Sam welcomed onstage what seemed like half the mandolins players at the festival who lined up wall-to-wall to share the stage with the King.  When he brought up Bill Payne of Little Feat for some tunes including a roaring "Spanish Moon," it was impossible not to feel the energy level turned up a notch. Payne has been appearing with Leftover Salmon a bit recently and he played the entire closing set of the night with Vince Herman and company.
Leftover's set was upbeat, fun, and fantastic, a perfect mix of their Cajun-boogey, Bluegrass, Jam, and Little Feat covers that had everyone laughing and dancing into the night.  Sam Bush returned the favor and joined them on stage which gave Vince Herman some quality time on the washboard.  Leftover Salmon definitely created the best party atmosphere of the weekend—they are truly a band that wants to make sure you are having a good ole time.
SUNDAY
Sunday morning found me making an escape behind the stage and up the trail to Bear Creek Falls, catching a little of Dailey & Vincent's Gospel set as I hiked but, in truth, skipping out on a few hours of music to take advantage of Telluride's beautiful surroundings.  The hike to Bear Creek Falls is two and half miles steadily uphill, taking you along the raging creek and views of several waterfalls until the massively wide and chilling namesake falls stops your path.  A trip to Telluride just isn't complete without a hike in the woods and some quality time spent staring back into the valley, contemplating the wonderful landscape in which this festival is set.
Returning to the festival, I was charged up to see Nicki Bluhm and The Gramblers for the first time.  Impressive with their commanding stage presence, driving guitar solos, and ability to slow the set down to a whisper, this Bay Area-based band, anchored by wife and husband Nicki and Tim Bluhm, led us on a journey of Rock 'n Roll tempered by the sweet, soft sounds of Folk and Soul.
The Gramblers' set was another change-of-pace squeezed in by Planet Bluegrass before Jerry Douglas took us all back in time with the Earls of Leicester.  Douglas, another fixture at the festival year after year, led his troupe in a masterful tribute to Flat and Scruggs and the traditional Bluegrass is truly at the roots of this festival.  Aofie O'Donovan, a frequent and pleasant stage presence throughout the festival whether on her own or as a guest, lent her voice to that old-time feeling that was echoing from the stage.
The last truly raging set of the festival was then unloaded on us by Greensky Bluegrass.  This Michigan-based Jamgrass group has really been pushing the energy of their shows and their stage presence to new limits—and the audience has responded in kind.  A former winner of the Telluride band contest, Greensky has only picked up the pace since their first appearance at Telluride.  Maintaining a solid connection with their fans, the festival community, and the musicians all around them, Greensky humbly remembers where they came from while blazing the future of Bluegrass as they progress.  Inviting Sam Bush out on stage for a Reggae-Bluegrass fusion of Bob Marley's "Could You Be Loved," and the crowd's enthusiastic support, was a testament to that progression.
Ray LaMontagne's set, highlighted initially by his older original tunes "Joleen" and "Trouble," will unfortunately be remembered by nearly everyone for his calling out of the audience members in "Poser Pit" (the VIP and artist viewing area nearest to the state) as the "hundred walking dead" that he had to play his songs over.  Originally unsure if it was sarcasm or not, I'm starting to realize he was being genuine.
No band shows more gratitude on stage, though, for the audience, for Planet Bluegrass, and for the musician community than the Telluride House Band.  Sam, Jerry, Bela, Edgar, Bryan, and Stuart were joined this year by Allison Krauss for most of the set.  The band was introduced by Craig Ferguson of Planet Bluegrass who spoke passionately about the festival and Planet Bluegrass's trials and tribulations this year recovering from the Lyons flooding last summer.  Planet Bluegrass's recovery was a truly daunting task, realized by the persistence of the company's employees, the surrounding communities, and the musicians who offered their support – and truly applauded and appreciated by every last one of us in attendance.
The House Band played through the catalog of bluegrass classics, mixed here and there with original song contributions from the members.  As their set, and Sam Bush's voice, wound down the festival as it does every year, I thought back on another weekend of music, revelry, community, and good times—a weekend that spanned a host of musical genres, epic sights and beautiful sounds, typical Colorado weather conditions, life experiences to remember, and friends old and new.  I thought again about what it is that makes us feel so passionate about and pulled to an event, a gathering, a community.  I thought about researching more into the details, into exploring the 'why' through the different types of people who have made the journey here from afar.  Then I stopped, and I realized that, at least for those of us who have been, whether one year or many, the answer is easily understood.  It's right there.  It's simple.  It's Telluride.