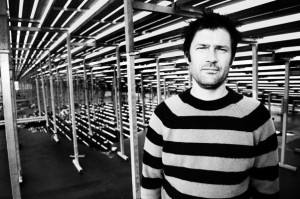 The Scene: An older crowd arrived at The Walnut Room right on time in Denver on Monday; unfortunately the event room wasn't ready for an hour and a half after the show was listed to start on the website. The laid-back audience didn't seem to care about the delay, they were just happy to see the Punk Rock superstar Joey Cape live. This was one stop on the One Week Tour. One Week Records is Joey Cape's brand-new record company, which is named so because an artist comes into Joey Cape's home studio, stays at his house for one week and makes a ten song record that isn't overproduced.
The crowd was unconventional and awkward. There were a bunch of punks who had a good amount of time to drink at the bar prior to the show, but the show itself was more of a piano bar or singer/storytelling experience. As a result, a portion of the crowd had steam built up and not much of an outlet to release it. There were no youngsters in the crowd–Brian Wahlstrom's family that came out to see him, making for a large gathering of the geriatric community–fairly strange for a Punk show. Many fans showed off shirts supporting Cape's other projects; Joey Cape's Bad Loud, Scorpios, Lagwagon and Bad Astronaut were all spotted. Several fans wore "Never Forget Tony Sly" shirts, in remembrance of Cape's best friend, who was also the singer of No Use For A Name who died in July of 2012.
Opener: Brent Loveday and the Dirty Dollars. This local act immediately had the crowd chuckling when the lead singer said he knew the crowd was not there to see him. Brent Loveday and the Dirty Dollars were the only band on the night's lineup that did not have a One Week album out, as well as the only performance with a full band and amplifiers. The Dirty Dollars were made up of singer Brent Loveday (singer of the Denver Punk band Reno Divorce) on lead guitar, tambourine, bass, two differently styled drum kits (one regular and one specialty kit, comprised of a cajon, cymbals and snare drums) and another guitarist (both guitars were acoustic-electric). The band was great, playing mainly '50s style Rock and Roll, but they spiced it up with a few Surf riffs, a slight Country twang, and just a little bit of Funk thrown in for good measure.
The songs were poignant and haunting, more personal than the music Loveday writes for Reno Divorce. For example, one song was written from the perspective of his wife while they were in a fight on a train abroad, shooting daggers at him with her eyes from across the train. His very pregnant wife was in attendance dancing and singing along, obviously she forgave him his trespasses. Loveday then made light of the moment while introducing the next song, saying that one writes about more important things when they are playing an acoustic guitar; in particular his next song was about masturbation. The lyrics and tambourine gave the band an edge, and all members were great instrumentalists. Loveday was less showy with this band than with his Punk band, but still a natural showman.
Opener: Brian Wahlstrom. The stage was empty save for a microphone and a black piano with a white stick figure head embellished it, making an expressionless face, and also wearing a tie. Wahlstrom (keyboardist for Cape's band Scorpios) currently lives in Carlsbad, California, and is a very talented pianist with an amazing voice. His family crowded the front of the stage, looks of pride covering their collective faces. Wahlstrom is one of the first batches of artists to release albums on One Weeks Records, and commented that he didn't think he knew enough piano songs to write an album.
Wahlstrom played a good portion of his set with cellist Serena Chang. The cello was a work of art, painted black and white with dramatic cutouts where the wood would typically be a solid structure. The cello added to the dramatic style of piano that Wahlstrom plays, at times eerie and haunting, reminiscent of the title track from The Phantom of the Opera. He was often playful, several times stopping and starting the opening chords of famous oldies (Billy Joel's "Piano Man" intro and some Journey), and played sweetly during others. Wahlstrom played a couple of covers, including a Fugazi song as well as a song by a former band of his.
At the end of his set the show departed from the traditional flow of a concert with Joey Cape coming onstage armed with an acoustic electric guitar (an acoustic that is hooked up to an amplifier and not just a microphone) for the track "Blue Screen Light" featuring Chang as well as Chris Cresswell, who came onstage for just one verse. The three voices sounded more prominent since they were not fighting to be heard over a band. Cape and Chang stayed onstage for the song "I Must Be Hateful," with Cape singing the Lagwagon song and ending Wahlstrom's delightful portion of the event.
Opener: Chris Cresswell. Chris Cresswell is from Toronto and is the singer of the Punk band The Flatliners. He also recently released a One Week Records album. Cresswell started the set with a song from this album called "Little Bones;" his voice was slightly shaky at first (he blamed smoking too many cigarettes), but he quickly found his groove and hit amazingly high notes solidly. He had great rapport with the audience from the beginning, at one point dedicating a song to everyone in the attendance. When someone in the raucous crowd would yell out something funny, Cresswell couldn't help but laugh while he was singing.
Cresswell did a fantastic cover of The Weakerthans' song "Aside." Cresswell's outfit was modest, wearing a button up shirt, sleeves rolled up with a baseball cap, not the usual style of outfit he wears singing for The Flatliners and his probably clean and trendy haircut was hid from view. Cresswell later treated the crowd to some Flatliners' songs, including "Daggers" and "Birds of England." He ended the segment with another song off of his One Week record, "Stitches." Cresswell has a great voice, different from how he sings for his Punk band and his new record is completely surprising and unexpected. It was a pleasure to see a good portion of it played live in a venue with the perfect acoustics and layout for this type of performance.
Joey Cape. It's always a pleasure to see Joey Cape doing acoustic performances and Monday was no different. The crowd adored him and found Cape endearing when he sang the wrong verse to the Lagwagon song "Move the Car." Fans loved the acoustic Lagwagon renditions, and were treated to "Know it All," the popular track "May 16." They also rendered "Tragic Vision," an amazing version of "Wind in Your Sail" featuring a short instrumental from Cape, Chang, and Wahlstrom, and "E Dagger," and a sweet whistle solo by Cresswell. Cape played one song from his band Bad Astronaut, "These Days," and also sang some of his solo material, including "The Ramones Are Dead," "Going for the Bronze," and "Who We've Become."
The audience loved Cape and he loved them right back, pulling up two different gentlemen onto the stage to play tambourine and percussion wood shaker. Cape joked with the first guy that he just couldn't play any of the times that Cape was. When the song ended and Cape jokingly but purposefully asked the dude to leave; he said the guy was good despite how sketchy he looked. The crowd cheered when Cape made a dedication for a Scorpios song, saying "This one's for Tony. It will always be for Tony." (Sly was also in the band Scorpios with Cape.) Joey Cape had a series of splits with Tony Sly where they performed acoustically, and played an acoustic song from a fairly obscure split S/T (although the song was originally performed by Lagwagon on the album Resolve), called"The Contortionist" with Wahlstrom on piano. Cape also played a new song "Poison in the Well," which he delivered with Wahlstrom and Chang. Cape finished his set with another tribute to Tony Sly, singing the No Use for a Name song "International You Day," a touching way to end a great performance.
Energy: A+
Musicianship: A+
Sound: A+
Stage Presence: A+
Set/Light Show: C-
Overall: A-

I have been working in the music industry for over three years as a DJ (DJ Pecas) for GreenLight Radio in Boulder since July of 2010. We are pirated on the FM dial at 97.1 FM and broadcasted online at greenlightradio.com. During the past three years I have attended countless shows and hope to continue to do so!