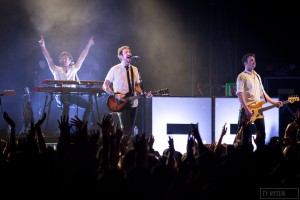 Photos by Ty Hyten
The Scene: Twenty and thirtysomethings, most dressed in what could be described as mix of  "punk casual," mingled around the Fillmore on Wednesday night. The house seemed about three-quarters full, the perfect amount of people for the gigantic, aisle-less venue. I was only able to catch two of the three opening acts, both Arkells and Tiger Army grabbed the audience's attention and poured gasoline into the fire with anti-Trump sentiments and high-energy Punk Rock and Psychobilly.
Frank Turner & The Sleeping Souls: "Can't I just spend the next four years at a punk show. Can't I just spend the next four years getting wasted?" belted Frank Turner as he opened a cathartic evening of Folk-Punk. This new track, entitled "The Sand In The Gears," is a call-to-arms in response to the election and subsequent shit-show of Donald Trump.
Turner's recorded music bounces back and forth between Avett Brothers foot stomping sing-alongs, and straightforward, driving Pop-Punk. Live, the show was decidedly a Punk show. It took me back to high school, getting knocked around in dark dive bar venues, in a pair of girl jeans. Wednesday's atmosphere, complete with a circle-pit or two, was the first time I felt like I had a place (beyond the shelter of Facebook) to positively vent some anger since the inauguration and the asinine avalanche of executive actions that have followed. Turner used critiques of Trump alongside messages of loving one another to glue the songs and the fans together. There is just something about Turner's British accent that made the punches hit harder and the angst to ring authentic in his vocals.
Crowd participation was thoroughly encouraged and included hugging, crow surfing, and a thousand person kickline. The best piece of crowd work was Frank instructing the audience to pass a crowd surfer from the front of the stage, nearly to the back of the crowd, then towards the bar, where he was handed a two shots from another fan. The crowd then delivered the surfer and the booze back to the stage, where he took a shot with Frank.
Highlights of the evening were hits "Recovery," the infectious "Photosynthesis" and Frank Turner jumping into the crowd on "Get Better" to close the night as energetically as it began.
Energy: A+
Musicianship: B+
Sound: A
Stage Presence: A
Set/Light Show: B+
Overall: A