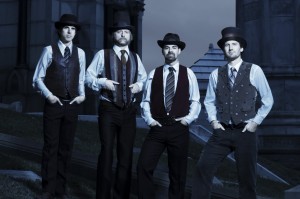 Why You Should Go: Animal Liberation Orchestra is more than just a band and more than just a group of great friends making music together. ALO is a lifestyle. With this simple aphorism, keyboardist/vocalist Zach Gill sums up the unique dynamic that defines ALO (Animal Liberation Orchestra). Born from a friendship nurtured during their days at the University of California Santa Barbara, the four-piece collective includes Steve Adams (bass/vocals), Dan Lebowitz (guitars/ percussion/vocals) and David Brogan (drums/vocals). Part musical explorers, part pop songsmiths, all-around dynamic performers, ALO made waves in 2005 with their soulful California style and feel-good, danceable grooves, prompting influential Triple A radio station WXPN to call them an "Artist to Watch." Convinced that the band could be huge if they got in front of the right audience, college buddy Jack Johnson brought ALO on his successful summer tour and asked the band to sign to his own Brushfire Records and things have evolved from there.
ALO is not a band that dwells in the past. They are always moving forward. Always striving to discover new ideas. Always looking to go on new adventures. Their latest adventure, Man of the World (released February 9, 2010 on Brushfire Records), finds the Cali collective flexing their considerable creative powers to craft their finest album yet. Recorded almost entirely live, the 11-song collection is the sound of four players who have truly found their groove together. This is ALO at their most natural, their most organic and their most pure. Man of the World is the next level for ALO.
Venue:
The Bluebird Theatre, 3317 E. Colfax Ave, Denver, CO 80206 – 303/377-1666

Doors:
8:00 PM
*Price:
$15.00 Adv & $17.00 Door – Buy Tix
*All times and prices are gathered from other sources and I am not responsible for mistakes or inconsistencies. They are intended only as guidelines. Please, always call the venue if you desire the most accurate information possible.

Music has always been a part of my life. It probably all started listening to old Grateful Dead, Peter Paul & Mary, and Simon & Garfunkel records that my parents had, but it wasn't long before they were taking me to concerts like Starship, Crosby, Stills & Nash, and Huey Lewis & The News. I got the bug to write about music after reviewing an Eric Clapton concert for a creative writing project in high school but didn't really take it up seriously until 2002. Since then I have published countless articles in The Marquee Magazine and done some work for Jambase.com, SPIN Magazine, and various other outlets. I started Listen Up Denver! as a way to share the music information that is constantly spilling out of my head with people who care. Please enjoy!