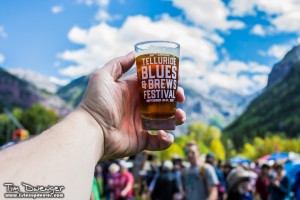 Photos by Tim Dwenger
This festival is a lot of things to a lot of people, but to me it is first and foremost a celebration of the end of the summer.  Falling in mid-September, Blues & Brews always brings with it that bittersweet realization that Summer doesn't last forever and Fall is right around the corner.  While it was practically shorts and t-shirt weather for The Record Company on Friday afternoon, by the time we got to Bonnie Raitt's multi-dimensional headlining performance I was bundled up in wool and a scarf.  This weekend separates the casual music fan from the hardcore music lover with the unpredictable weather, long days of drinking heady beers, and Juke Joints that blur line from today to tomorrow and I wouldn't have it any other way.
We hit the road to Telluride at 5:30 in the morning on Friday in anticipation of reaching the hallowed box canyon in time to get our whistles wet and ears tuned to the blues.  By the time we arrived The Record Company was on stage delivering a set that included "Rita Mae Young," "Don't Let Me Get Lonely," and, of course, "Off The Ground."  While the last song was the one that the crowd knew enough to sing along with, the band made some new fans and gave props to festival mastermind Steve Gumble for taking a chance on them a few years earlier before anyone knew them at all.  It was great to see Steve getting some well deserved props as that man can pick-em, there's no doubt about it.
After hearing the first few tunes of Delbert McClinton's cover heavy set, we made our way over to the Blues Stage to catch some of Jack Broadbent.  Let me tell you, that was one of the best things I did all weekend.  Broadbent's set was a well orchestrated mix of covers (Hendrix & Lead Belly) alongside originals like "Living On The Run" and "Holdin'" and some well timed product placement humor.  We may have caught him early on, but this set held it's own as one of the better things I saw all weekend.
As we made our way back to the main stage, the wailing tones of Anders Osborne could be heard reverberating off the valley walls.  Anders is a constant at the festival and always a highlight for me and this year was no different.  Together with his band, Osborne powered through a set of originals that included "Flower Box," "Different Drum," "On The Road To Charlie Parker" and the second dedication of the day to Steve Gumble.  Osborne and his guitar foil Eric McFadden traded solos and battled over the always solid back beat laid down by Eric Bolivar and Carl Dufrene.  With the echos of Osborne's guitar still ringing in my ears, Benjamin Booker took the stage and despite a lot of build up, he just didn't really do it for me.  Don't me wrong, I really dig this guy's album, but his live set just didn't capture me the way I was hoping it would.  I'll tell you that it didn't help that all four members of the group were wearing "Benjamin Booker" sweatshirts, but that's minor in the scheme of things.
As the sun disappeared behind the mountains I got ready for Bonnie Raitt and, though I've seen her a time or two, I was blown away by her power and charisma as an artist.  At 67 she still has some good years left and she proved it with a career spanning set that touched on hits like "Something To Talk About" and a tear-jerking rendition of "I Can't Make You Love Me" while paying tribute to some of her biggest influences like John Hiatt ("Thing Called Love") and Mose Allison ("Everybody's Crying Mercy").  Raitt engaged the crowd with playful and heartfelt banter and even let keyboard wizard Mike Finnegan take a turn in the spotlight where he delivered a mind-bending cover of B.B. King's "Don't Answer The Door."  Just when I thought her set couldn't get any better she brought her longtime friend, and Saturday night headliner, Keb' Mo' to the stage to close things out.  I've seen some legends at Blues & Brews, but this set was one of the best!
After we shed some gear and freshened up a bit, we headed out for the Sheridan Opera House with the intention of double dipping on Jack Broadbent but, unfortunately, we walked in just as he was leaving the stage.  As it turned out, our mistimed adventure turned up a gem (as it often does at a festival of this caliber) as the headliner at the Sheridan turned out to be Eric Lindell and his unique approach to the blues sucked me in and didn't let go.  I struggled for a while on what to label his sound but after much deliberation I settled on "Swamp Psych" and if that doesn't do it for you, suffice it to say that he'd fit in very well on a bill with JJ Grey and Mofro.  He kept our party going and our feet moving into the wee hours of the morning.
As the sun rose Saturday, the after effects of Friday's long drive and high altitude drinking were weighing heavy on my brain but it wasn't anything a little breakfast couldn't cure and the Grand Tasting sure didn't hurt.  That said, as we walked into the festival I was immediately struck by the sounds coming from the stage and made a beeline to catch some of Hamish Anderson's set…the beer could wait a bit.  Anderson was an early day surprise for me as he dazzled attendees with his guitar playing.  There was space in the music, it wasn't just the barrage of notes that some players get wrapped up in.  I would highly recommend this Aussie to anyone interested in blues guitar.  I'm sure he'll be back at the festival in coming years.
As the Grand Tasting raged on at the back of the venue, Reverend Peyton's Big Damn Band and Ben Miller Band provided the soundtrack.  Both bands have a rootsy, back porch kind of element to their music and while I'm not rushing out to catch either one do their own headlining gig, Rev Peyton's "Pot Roast and Kisses" gave me a good laugh while Ben Miller laid down solid versions of "Ain't No More Cain on the Brazos" and "Black Betty."
What came next was special as Samantha Fish put her stamp the festival and solidified her position as a rising star in the blues world and a mainstay of future Blues & Brews weekends.  Her set was varied without being schizophrenic as she deftly steered the set from raw blues to deep psych to a power chord rock peak that was reminiscent of Phish's "Tweezer Reprise."  While she showed off her considerable talent on the guitar, she was generous with the spotlight and allowed her band (and especially the horns) some real time to shine.
After a quick break to announce that the local boys at Telluride Brewing Company won the "Best of Fest" award for their top notch beer, and give Blues Challenge winner Russ Chapman a turn on the big stage, New Orleans' own Tab Benoit took the stage and dropped into some blazing NOLA laced blues.  As Benoit powered through a set that allowed him to really push the limits of his Telecaster, he name checked countless blues greats in "The Blues Is Here To Stay" and brought us down to Louisiana with "One Foot In The Bayou."  It was a tall task, but the guitar great set the stage masterfully for the evening's headliners; Taj Mahal and Keb' Mo's collaborative project TajMo.
The royalty of the blues that they are, Taj and Keb took the stage with a 9 piece band and dropped into "Senor Blues" from Taj's 1997 album of the same name.  While their set largely focused on gems from both artist's solo catalogs like Keb's "Every Morning," "Am I Wrong," and "She Just Wants To Dance," alongside Taj's "She Caught The Katy," "Going Up To The Country, Paint My Mailbox Blue," and "Leaving Trunk," they did a couple of tunes from the album they released earlier this year including "All Around The World" and "Soul" which ended the main set and served as the encore, respectively.  While it wasn't everyone's cup of tea, I really enjoyed this set and found it hilarious that Taj was clad in his standard Hawaiian shirt and said "Chilly Willy" as he rubbed his arms between just about every song.  It's cold out there man, put on a coat!
After a brief, and somewhat underwhelming foray to catch some of the Drive-By Truckers at the Blues Stage after the mainstage wrapped up, we were on our way home when we stumbled upon Smuggler's Brew Pub and heard a ruckus going on inside.  We poked our heads in to find Anders Osborne's band leading a memorable jam session that both warmed us up and gave us the second wind we were looking for.  Eric, Eric, and Carl were leading the charge when we walked in but the band soon expanded to include Tab Benoit and his bass player (Benoit showed off his remarkable chops behind the kit) among others and people began swapping instruments as the crew ran through standards like "Get Back," "Into The Mystic," and "I Got Loaded."  The place was hopping with all walks of life, the people watching was great, and it was no doubt one of the best off-site parties of the entire weekend.
When Sunday dawned my head was surprisingly a bit clearer than the day before, but the sky was not.  I whipped up some breakfast with the intention of catching one of my favorites, The Blind Boys of Alabama, but the weather got the best of me and we streamed it at the house, instead opting to start our day with Chicano Batman's set a little later.  We motivated and got ourselves to the festival just in time to be ushered right back out to the street as there was lightning in the area and they closed the park for nearly two hours as we all waited for the storm to clear in nearby bars.  When the festival grounds reopened, Chicano Batman took the stage and put a little psychedelically Latin twist on the day with their L.A. take on the blues as they vacillated between English in Spanish on songs like "Freedom is Free" and "Passed You By" both from their 2017 album Freedom Is Free.
What followed was one of the highlights of the weekend for me as Rich Robinson, Marc Ford, and Sven Pipien took the stage with The Magpie Salute and proceeded to resurrect the spirit of The Black Crowes.  With a set that focused on Crowes songs like "Wiser Time," "Good Friday," and "Remedy," the set also featured the "first original Magpie Salute" song and covers of both The Small Faces and Delaney & Bonnie.  The undisputed highlight of the day came during a rousing take on "Soul Singing" when a massive rainbow filled the valley as the clouds broke and the sun returned to our afternoon.
After Magpie left the stage, we decided to take advantage of the sun and make our annual pilgrimage up the gondola to the top of the mountain.  Fortunately, we timed things just about perfectly and got to witness a beautiful sunset from the top of the world.  When the sun had disappeared we jumped back on the gondola and arrived at Town Park just in time to catch the final set of the weekend, Steve Winwood.
I've seen Winwood a couple of times now and he always pushes the boundaries of his music with interesting and innovative jams.  This night was no different as the legendary Blue-Eyed soulman opened up with "I'm A Man."  He nodded to Buddy Miles with a cover of "Them Changes" and then dropped "Can't Find My Way Home" to the delight of the crowd.  Though Clapton's guitar was noticeably missing from the Blind Faith hit, Winwood did a great job and followed it with another Blind Faith tune, "Had To Cry Today."  From there the former Traffic frontman dove into that catalog with a stretched out take on "The Low Spark of High Heeled Boys," "Empty Pages," and a monster "Light Up or Leave Me Alone" that allowed each member of the band a turn in the spotlight and pushed past the 15 minute mark.  At this point in the set we got a little breather with Winwood's 80's radio anthem "Higher Love."  It's not my favorite tune, but it's hard to deny the song's hook and it's place in popular culture.  He closed out the set, and the festival, with the one-two punch of "Dear Mr. Fantasy" and "Gimme Some Lovin'" and left the stage just as the rain returned to quickly clear out the park.
It was yet another great year in Telluride and Steve Gumble and his crew outdid themselves again.  We were delighted by old favorites, turned on to up-and-comers, and reminded again why Telluride is one of the most special places in the world.
Music has always been a part of my life. It probably all started listening to old Grateful Dead, Peter Paul & Mary, and Simon & Garfunkel records that my parents had, but it wasn't long before they were taking me to concerts like Starship, Crosby, Stills & Nash, and Huey Lewis & The News. I got the bug to write about music after reviewing an Eric Clapton concert for a creative writing project in high school but didn't really take it up seriously until 2002. Since then I have published countless articles in The Marquee Magazine and done some work for Jambase.com, SPIN Magazine, and various other outlets. I started Listen Up Denver! as a way to share the music information that is constantly spilling out of my head with people who care. Please enjoy!