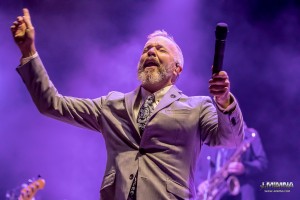 Photos by Jim Mimna
Red Rocks played host to yet another perfectly billed afternoon of guitar-driven rock and roll. Don't get me wrong there was no shortage of great songwriting and singers too, but at the end of the day it was a guitar lovers dream.
The day started out with a collaborative group comprised of the Dickinson brothers, Luther and Cody (who are The North Mississippi Allstars), blended perfectly with Anders Osborne, his long time bass player Carl Dufrene, and drummer Brady Blade, forming the supergroup North Mississippi Osborne. The energy and raw passion coming off the stage was crazy.  It was not your typical show opener to say the least.
Despite the crowd feeling sweaty and weak in the knees after the NMO face melting, The Magpie Salute came out, stood up to the call of duty, and played a blistering set of originals mixed in with Black Crowes hits. Magpie Salute essentially is core players, present and past, of The Black Crowes, sans founding frontman Chris Robinson who no longer wants to be a part of the legacy he and brother Rich built. The band is essentially led by Rich with help from guitar player Mark Ford while a host of other Black Crowes members and a few new faces fill out the sprawling lineup. No one seemed to notice the fact that Chris was missing as the fans sang his lyrics at the top of their lungs.  Chris may want to consider joining this band, but with or without him this has staying power, I want more!
The headlining act, and show finale, was JJ Grey & Mofro who brought their southern soaked Soul to the stage for already happy music fans. Grey played a combination of classic Mofro tunes and classic covers, and even had a few guests including Chris Pandolfi and Andy Hall of The Infamous Stringdusters.  Grey and company left Red Rocks a Country Ghetto after the Orange Blossoms fell, and no one complained one bit.  If you missed this show you really blew it, yes, you really missed out.
Capturing life in various forms is what I do. I consider myself an archivist by nature. It is not a career choice that I consciously made, but it is something that has called me. I strive to freeze a moment in time with every frame, a moment that can retell its story with each viewing, forever. I also have a deep passion for music and have been photographing and recording live music for years. Capturing the energy and magic of a live performance in a photograph is one of my passions. In addition, I enjoy photographing in a wide variety of settings, from wildlife scenes to family portraits and everything in between. I am a lover of the earthscapes that we see all around us every day, both natural and manmade, and aim to make unique images that do justice to their beauty. Where others see darkness, I see streaks of light through long exposures. I shoot a very wide variety of subject matter including individual/family portraits, event coverage, landscapes, live concert/performance, HDR, product and commercial photography, architectural, weddings, food, and editorial photo journalism. With artistic expression, I aspire to create visual art that speaks volumes.