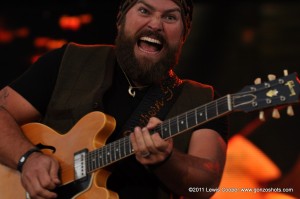 All Pictures By Lewis Cooper
The annual Jazz Aspen Snowmass Festival brought some big names to the high country over Labor Day weekend.  From Jazz-Rock Legends Steely Dan, to Ultra Party DJ Girl Talk, the weekend was packed with a wide variety of music.  Photographer Lewis Cooper was there on behalf of Listen Up Denver!, so sit back and take a ride through the weekend with his pictures.
I have been taking pictures ever since I was could afford film, circa ~ 1975, I have probably taken more photos than anyone should. I was an artist in my youth but gravitated towards photography as I grew older, never going anywhere without my camera. Since I purchased my first digital camera in 1998 I have taken over 250,000 digital photos, crazy I know, last year alone I took over 65,000 shots and shot over 150 live shows. I am a not just a photographer, I am also a musician, I play blues/rock guitar, I am a music recording engineer with my own digital recording studio in my home and I am an audiophile as well with a vast music library, so music means a great deal to me. Trying to capturing the passion and emotion of a live performance is incredibly challenging, sometimes frustrating but always rewarding experience. The constant movement of the performers, the changing light patterns and the very brief time alloted to get your shot, normally three songs, make for a very intense experience, maybe as close to actually being totally present as I ever get, this is my passion.