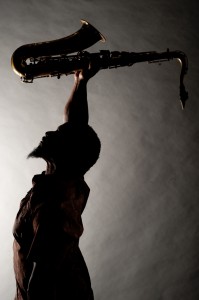 Photo By Michael Weintrob
Back in 1994 when Phish celebrated Halloween by covering The Beatles White Album in its entirety at the Glens Falls Civic Center they were way ahead of their time.  Today, not only are many jambands donning similar 'musical costumes' to celebrate holidays and delight their fans, but artists like Steely Dan, Dinosaur Jr., and Spiritualized are taking to the road to perform their own career defining records live in concert.
This fall, Karl Denson and his band The Tiny Universe are mounting a Western tour where they will perform the seminal Rolling Stones album Sticky Fingers in its entirety. "This has been my favorite Stones record for years," Denson said in a recent interview with The Marquee from Bob Weir's TRI Studios in California, where he was getting ready for a live webcast with Slightly Stoopid. "We talked about a few records and decided to go with this one because it is really familiar to people," said Denson.
Denson, now 54, has memories of The Rolling Stones that date all the way back into his childhood when he had the privilege of watching one the band's first television appearances in the U.S. "I'm old enough that I actually watched The Ed Sullivan Show when I was a kid with my brothers and sisters and I remember seeing The Beatles on there and I remember seeing the Stones; the whole British Invasion," he recalled. "I've known about the Stones since I was really little but I didn't really start listening to them until I was 12 or 13 and started playing in little rock bands here and there."
Ranked #63 on Rolling Stone magazine's 500 Best Albums Of All Time list, Sticky Fingers is a wide ranging collection of music that includes some of the Stones' most beloved songs. The album kicks off with classic rock radio mainstay "Brown Sugar" and features the country tinged "Dead Flowers" and the oft-covered "Wild Horses." While it's these songs that might pull in the casual listener, at this point in his life Denson gravitates toward some of the deeper cuts on the album.  "When I was a kid it was always 'Brown Sugar' and 'Bitch' that I loved, but now that I have actually absorbed the record in full a couple of hundred times, 'Moonlight Mile' to me is the standout track," said Denson.
Finish This Article Over At The Marquee Magazine Site . . .

Catch Karl Denson's Tiny Universe Performing Live:
The Boulder Theatre – October 28
The Fillmore Auditorium – October 31
The Marquee is an independent, Colorado-based, PRINT & ONLINE Free Music Magazine. The Marquee strives to be the Farmer's Almanac of the regional music scene — providing readers with facts, tid-bits, in-depth feature stories and a Calendar section that is unparalleled on Colorado's Front Range, covering every live music venue from large venues such as Red Rocks Amphitheatre to small clubs and coffee shops.