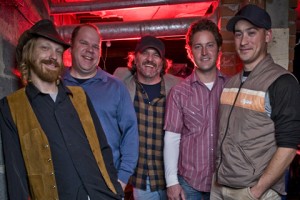 Photo by Tobin Voggesser
On Thanksgiving Day in 1976, a coked-up film director who had just scored massive success with his films Mean Streets and Taxi Driver, stepped away from the cityscape of New York and traveled to the Winterland Ballroom in San Francisco to train his lens on a band for the first time.
Over the course of a nine-hour concert, which began with the audience of 5,000 being served turkey dinner, the still relatively young director helped to close one chapter of rock and roll, and to ultimately define every rock movie that ever followed.
The director was Martin Scorsese. The band was The Band, and the show they played that night was the last they ever did with that classic lineup. The film The Last Waltz captures the show, as hordes of musicians showed up to help The Band say goodbye. Neil Young, Neil Diamond, Eric Clapton, Joni Mitchell, Emmylou Harris, Bob Dylan, Van Morrison, Muddy Waters, Ronnie Wood, Paul Butterfield, Dr. John, a seven-piece horn section, and master of ceremonies Bill Graham joined the five members of The Band onstage for the end-all, be-all of epic nights.
While most of the population can only relive that night on DVD these days, Denver gets a special treat each Thanksgiving, and this year the Front Range has something to be thankful for yet again. For the seventh straight year, CR Gruver and Polytoxic, along with dozens of other local musicians, will team up to bring their version of the famous night — The Last Waltz Revisited VII.
"The songs that The Band wrote are unbelievably good, so you start with a foundation of a song that everyone can relate to," Gruver explained in a recent interview with The Marquee. "It also is the charisma and the character of these musicians."
Finish This Article Over At The Marquee Magazine Site . . .

Catch The Last Waltz Revisited Live:
The Ogden Theatre – November 23rd
The Marquee is an independent, Colorado-based, PRINT & ONLINE Free Music Magazine. The Marquee strives to be the Farmer's Almanac of the regional music scene — providing readers with facts, tid-bits, in-depth feature stories and a Calendar section that is unparalleled on Colorado's Front Range, covering every live music venue from large venues such as Red Rocks Amphitheatre to small clubs and coffee shops.