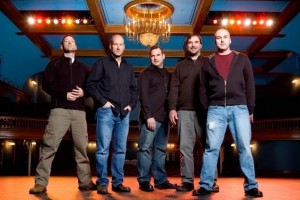 The Scene:  Saturday nights in Denver are usually the hardest nights to decide what music to go see. I chose the Freddy Jones Band at the Bluebird Theatre. I know, I know. The reactions I got from friends were: "I didn't know they were still together," "I haven't seen them since college!" (which in this persons case was 1997) and "Really?"  I don't only go to see bands I really dig, and I definitely don't stick to writing about one genre, so I thought I would see what these guys were doing as of late.  Well, I didn't have much company. The Bluebird's capacity is around 550, and after talking with the staff, I can safely say it was right around half full. Walking in to the Bluebird at 10:10, the place felt like a ghost town compared to the last couple of shows I have seen here on a Saturday, and it was a pretty tame group. The crowd was well-dressed and smelling good; looking to recapture their days of Greek letters, beat up baseball caps, and Abercrombie and Fitch t-shirts and they got what they came for.
Freddy Jones Band: Now, I would never say I was "into" the Freddy Jones Band at any point in my life, but a couple of their songs were huge when I was just starting college. Back then I was listening to Dave Matthews, Edwin McCain, The Pat McGee Band, Hootie and the Blowfish, and Sister Hazel. At the time these bands were considered roots-rock. The grunge period was coming to a close, and groups like the Freddy Jones Band put out a sound that was more positive and refreshing. For years this genre was a stand by for me, but that was before my real musical explorations began.
As the Freddy Jones Band started playing I immediately heard a bit of jamband influence. The three guitars put out great tones, and they definitely are the core of the band's sound, but they don't take it far enough to be a jam band. They also didn't play hard enough for it to be rock, nor authentically enough for it to be roots. To be honest, this band is in kind of in no-man's-land. The pop-rock that used to get radio play 15 years ago just isn't doing it anymore and, with the obviously exception of DMB, none of the above mentioned bands have been able to keep their success going into the 21st century, at least not nearly on the level they had in the past. To me, when I listen to all these bands from my college days all I get is a bit of nostalgia.
I saw a handful of people leave a couple of songs in, but overall the crowd loved every minute of it! The small group of people knew this bands catalogue from start to finish and were identifying songs three notes in. Their vocals didn't seem like they were as solid as they used to be as I had a hard time understanding the words. If I already had them memorized it would have been fine, but shows are not just for die-hard fans. It definitely could have been the sound, which was a bit off, and maybe the lack of bodies was letting the sound bounce around too much.
I wish I had some great things to say about this show, but it just didn't do much of anything for me. If you are a huge fan of this band, I am sure you will thoroughly enjoy their show, as proven by the great reaction of the crowd. Maybe if they were in a smaller venue it would of come across better, or if there was something that stood out. It just felt like some guys "getting the band back together" for a small group of loyal friends and fans. I hear these guys have been in the studio working on a new record and am anxious to see if they can build off their past successes and create an album that makes an impact on today's music scene.
Energy: B-
Sound: B-
Musicianship: B
Stage Presence: B-
Set / Light show: C
Overall: B-

Brian Turk grew up in the shadow of the Catskill Mountains, near Woodstock, NY. He comes from a family of music lovers, audiopliles, Dead Heads and avid concert goers.The musical magic that can only be created in the Catsklills, both past and present, is what Brian cosiders the epicenter of his music addiction. The music of The Band, and most recently The Levon Helm Band, is the soundtrack of home for him. Brian's mother took him to his first concert at 5years old...it was Johnny Cash and Roseanne Cash at Jones Beach Amphitheatre. For Brian, music is a family affair. He feels the same way about live music...we all convene to celebrate together. Brian's writing life started when he wrote his favorite author, southern fiction writer Clyde Edgerton, a fan letter at age 13. When most kids were idolizing baseball players and television, he was worshipping writers and musicians. The two became friends and Clyde shared his craft with Brian. The next year Brian attended Duke University's Young Writers Camp. This is the extent, of what Brian considers, his "formal" training in writing. From then on his goal was to capture snapshots of life through words. Brian has been involved with live music in various facets over the years, and combined with his enthusiasm and love for Denver's music scene, he creates a vivid description of what he sees and hears. If you see him out at a show, dancing with a notebook in hand, say hello.