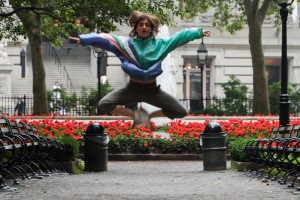 For Girl Walk // All Day Director Jacob Krupnick, this year started off with the pursuit of an idea he had been thinking about for a while. Krupnick had been wanting to work with improvisational dancer Anne Marsen in creating a music video of "epic proportions" set to the Girl Talk album, All Day (Editor's Note: All Day is available for free download here).  So he had the idea, the dancer, and the music, now it was time to find the support.
On January 2nd 2011 Krupnick, Marsen, and a crew of supporting dancers filmed the original teaser video for the project on the Staten Island Ferry in New York City. A few days later the video was picked up by Gothamist and Huffington Post and momentum started to build.  Things came together quickly for Krupnick and his crew thanks to the help of more than 600 generous souls who supported the project through Kickstarter, and they were able to film the 71 minute video on the streets of New York.  While there is no dialog, the movie tells a cohesive story through nuanced dance movements set to the catchy mash-ups created by Gregg Gillis, aka Girl Talk.
Krupnick will be bringing the movie to the Denver Film Center on Colfax on the 22nd for it's Colorado premiere (details here), and Listen Up Denver! had the pleasure of catching up with him to learn some more about this project that has really peaked our interest.
Listen Up Denver!: Jacob, we are so glad you are bringing this film out to Colorado!
Jacob Krupnick: I am super excited myself! We have big aspirations to travel all over the place with this film. We just had the premiere in New York on Dec 8th, and since I have family in Boulder, it just made perfect sense for Colorado to be the place we went first.
LUD: This project is one hell of an endeavor man.
JK: It feels more like a calling at the moment and is the biggest thing I have ever done…by a lot. It just has such a strong emotional reaction to it that it feels like the right project to really try and bring to the people as widely as possible.
LUD: This project is so unique that I don't have any idea what to expect. Help me out a bit. Will this film make me want to dance?
JK: We set it up to have the opportunity for dancing afterwards. I think people just naturally want to let it out after seeing the film. There is a lot happening during the film, by nature of filming in the streets, and there are just millions of details. There is so much to look at visually, so many things in one frame, that people are torn between trying to pay attention as much as they possibly can and getting into the music and dancing. It's actually a pretty funny tension.
LUD: It looks like you shot in some pretty iconic NYC locations.
JK: It is a blend of places that are recognizable to most people, whether you have spent any time in New York or not. We filmed on the Staten Island Ferry, one of the tap dancers jumped on the Wall Street bull, we filmed in Ducati Park during the Occupy Wall Street protests, and we had a lot of stuff just happen on everyday New York streets.
LUD: I can't believe how fast everything came together for you with this project! How did it happen?
JK: We filmed a little bit of the teaser in early January and it got watched a whole ton on-line. It was my wife's recommendation to put it up on Kickstarter and I just started spending a ton of energy to promote that. It quickly got some surprising press and was in the New York Times Magazine as a feature, so we quickly raised more money than I had anticipated. At every stage it got ratcheted up. I stopped doing photography jobs and just spent the entire spring, summer and fall working on the film.
LUD: I know a lot of musicians that have used Kickstarter. Not to sound cheesy, but it  it actually helps peoples dreams come true. Capital is one of the hardest hings to get for any artistic project and just to be able to pull this off must seem like a gift.
JK: Absolutely! We have been fans of their principle and their model from the beginning. They have been really excited about this project and we have become really close with a bunch of people there. It is a type of business based on generosity and inspiration which doesn't remind me of any other model I've seen. It is a very gentle, positive, and agreeable form of capitalism.
It is great to see amazing ideas like this come together and we here at Listen Up Denver! can't wait to experience this unique blend of music, dance, and film, and we are hoping for the opportunity to boogie a little afterwards!
Official Trailer: Girl Walk // All Day from Girl Walk // All Day on Vimeo.
Brian Turk grew up in the shadow of the Catskill Mountains, near Woodstock, NY. He comes from a family of music lovers, audiopliles, Dead Heads and avid concert goers.The musical magic that can only be created in the Catsklills, both past and present, is what Brian cosiders the epicenter of his music addiction. The music of The Band, and most recently The Levon Helm Band, is the soundtrack of home for him. Brian's mother took him to his first concert at 5years old...it was Johnny Cash and Roseanne Cash at Jones Beach Amphitheatre. For Brian, music is a family affair. He feels the same way about live music...we all convene to celebrate together. Brian's writing life started when he wrote his favorite author, southern fiction writer Clyde Edgerton, a fan letter at age 13. When most kids were idolizing baseball players and television, he was worshipping writers and musicians. The two became friends and Clyde shared his craft with Brian. The next year Brian attended Duke University's Young Writers Camp. This is the extent, of what Brian considers, his "formal" training in writing. From then on his goal was to capture snapshots of life through words. Brian has been involved with live music in various facets over the years, and combined with his enthusiasm and love for Denver's music scene, he creates a vivid description of what he sees and hears. If you see him out at a show, dancing with a notebook in hand, say hello.