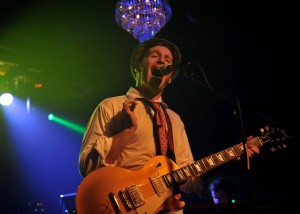 Photos by Kit Chalberg & Tim Dwenger
The Scene: The sounds of Hip-Hop, Soul, Funk, and good ole' Rock and Roll filled Cervantes Other Side as Broken Tongues and Fox Street Allstars were the sound track to some booty shakin' on Friday night. Normally I would question having a full band Hip-Hop act open up for a funky and soulful rock band, but it turned out to be just the formula for a real fun party! These two bands have a strong connection and are part of collective of musicians I seem to always come across. Now they don't call themselves a collective, but I have categorized a group of Denver bands in my head that are all centered on fun. The bathroom wall might well read, "For a good time call: Fox Street Allstars, Broken Tongues, Kinetix, The Congress, Polytoxic, The Motet, or Dead Phish Orchestra." Having five of those seven bands represented in one room might have been a fire hazard, but we just let the mother burn and kept full glasses of beer on hand in case we needed to extinguish the flames.
The Broken Tongues: Once again, the Broken Tongues left puddles of sweat on the stage after an energetic performance. Just shortly after 9, their DJ and co-MC, Greensleeves opened the set with some old school jams that got the party started in just the right way.  He had the ladies singing along and people started to get their boogie on early in the evening.  It wasn't long before the rest of Broken Tongues joined him and we were off on a Funky Hip-Hop adventure that showcased tracks off their recent release Crooked Skyline and really got the room moving.  While Greensleeves bounced back and forth between the turntables and the microphone, CC Chambers and MC Loose Change took on a brunt of the vocal duties, and boy can these two light up a room!  I can't help but wonder if band practice involves cardio and strength training, because this set was a work out! They put every ounce of heart, soul and talent into a completely unique full band Hip-Hop sound.
Fox Street Allstars: I am a man who loves all music, but I have a voracious appetite when it comes to Funk, Soul, and Roots Rock and Roll. Fox Street Allstars have cooked up a musical gumbo that is spiced with the sounds of New Orleans and has the aroma of the south. This was my first taste of what this band gets cooking and I think my mouth may still be on fire; because that shit was HOT! Seriously, for a band to combine my favorite musical genres in such a boisterous and fun loving way was a real treat.
Original songs like "Do Me On The Floor," and "Baby Don't Fight It" were filled with stank, sweat, swamp, and smoke as the band seemed to channel the music that inspired them while still coming up with a unique sound that remains true to the original. If I walked into a bar in Memphis, New Orleans, or Austin and these guys were playing, no one in the audience would question their ability to play true funked up roots rock.
When they launched into "Ride with My Baby" I really got to see what this band can do. Jonathan "Skippy" Huvard has vocal chords that sound like they were marinated in Whiskey, rolled in hot pepper, and smoked over mesquite, and James Dumm can play a Gibson SG like nobody's business.  As he worked the slide, finger picked the strings, and manipulated the volume and tone knobs on his guitar I saw distinct shadows of another blonde pony tailed master of the craft, Derek Trucks.
Now, I was already sold on Fox Street two songs in, but it was covers of The Band's "W.S Walcott's Medicine show" and "The Shape I'm In" that solidified the fact that these guys are now one of my favorite local bands. Guitarist Scott Lane from The Congress joined in on "The Shape I'm In" and stayed for a cover of Hoyt Axton's "Never Been To Spain," that really showcased the soul that lays deep at the heart of this bands sound.
Kinetix bass player Josh Fairman brought his fro and the funk to the stage as he relived bass player Dave "Pump" Solzberg and joined Fox Street for a cover of "That's What Love Will Make You Do." Drawing on the relationship cultivated through many sit-ins with the band, he and Fox Street drummer Eric "Pappy" Low really threw some fuel on the fire. By now those standing around and not dancing stood out like sore thumbs. It is impossible to not join the party when these guys are on stage! They interact with the crowd and play off of each other in a joyful way.
Fox Street played until the wee hours of the morning, and no one was ready for the fun to end because Denver has always had an affinity for the New Orleans sound. One things for sure, Broken Tongues and Fox Street Allstars flipped the "Holiday Season Party Switch" into the ON position on Friday night and left everyone with a smile on their face.
Energy: A-
Sound: A-
Musicianship: A
Stage Presence: A
Set / Light show: B+
Overall: A-
Brian Turk grew up in the shadow of the Catskill Mountains, near Woodstock, NY. He comes from a family of music lovers, audiopliles, Dead Heads and avid concert goers.The musical magic that can only be created in the Catsklills, both past and present, is what Brian cosiders the epicenter of his music addiction. The music of The Band, and most recently The Levon Helm Band, is the soundtrack of home for him. Brian's mother took him to his first concert at 5years old...it was Johnny Cash and Roseanne Cash at Jones Beach Amphitheatre. For Brian, music is a family affair. He feels the same way about live music...we all convene to celebrate together. Brian's writing life started when he wrote his favorite author, southern fiction writer Clyde Edgerton, a fan letter at age 13. When most kids were idolizing baseball players and television, he was worshipping writers and musicians. The two became friends and Clyde shared his craft with Brian. The next year Brian attended Duke University's Young Writers Camp. This is the extent, of what Brian considers, his "formal" training in writing. From then on his goal was to capture snapshots of life through words. Brian has been involved with live music in various facets over the years, and combined with his enthusiasm and love for Denver's music scene, he creates a vivid description of what he sees and hears. If you see him out at a show, dancing with a notebook in hand, say hello.