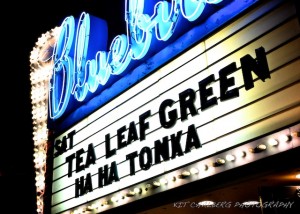 Photos by Kit Chalberg
The Scene:  Walking in to The Bluebird on Saturday night, you never would have guessed a Jamband was playing. The crowd was clean cut.  While guys were wearing baseball hats with perfectly curved brims and brand new soft-shell ski jackets they unwrapped on Christmas, the girls standing next to them clutched designer purses.  It was a homogenous crowd mostly between mid to late twenties and early thirties who, based on the quick reactions to the songs, had been listening to Tea Leaf Green for years. These folks might have been barefoot in a lot ten years ago, but now they are behind a desk and not getting out seeing enough music.
Tea Leaf Green is a Jamband that drams people from out of the Jam scene as well as from within. People who never got into the Grateful Dead, Phish, Widespread Panic, or String Cheese often find Tea Leaf to have a more upbeat and middle of the road jam sound that they can drink and dance to while others trip and twirl. I would say half the crowd was on the Furthur Bus, the other half on the Dave Matthews Band Caravan.
Opener: Ha Ha Tonka. Unfortunately a lot of people decided to have a couple more drinks after the Bronco's got bucked out of the playoffs, and missed a great set by these guys. They combined an Indie Rock sound with Ozark stomp that got the small crowd dancing. I particularly loved when they leaned towards the traditional by standing around one mic for multiple part harmonies and incorporating an electric mandolin. Their songs were upbeat and vibrant and flirted with rock at times. They were a great pick as an opener and I think their sound would have resonated with the TLG fans who were still mourning a Bronco's loss.
Tea Leaf Green: "Tea Leaf Green is one of my favorite bands. Widespread Panic and Phish are my top two, but Tea Leaf Green is the best at combining the sounds of both those bands." That was the answer an audience member gave when I asked him what it was he loved about Tea Leaf Green. This guy had been to over 30 TLG shows, so I would definitely call him a fan. When asked if TLG had two drummers, he quickly responded "No," and I pointed out there were two kits set up on the stage.  He still was 100% sure they only have one drummer. Well, one of those 30 shows must not have been in the past year or so, because Tea Leaf Green is now two drummers strong with the addition of Cochrane McMillan and they are still the best at finding middle ground in the Jamband scene.
They kicked off the set with "No Friend In Arizona," and it was all about Josh Clark's amazing chops on his hollow body guitar. I had not seen a TLG show in 6 or 7 years, and I had actually forgotten how well these guys can play. The crowd hadn't, and they were all in from the first note. The roots rock sound and tight, yet spacious, jams were on point and played with real enthusiasm. "Soldiers of Kentucky" brought out the instrumental side of the band, and it also brought out the funk.
The guys took "Easy to be Your Lover" to great heights as the jams built into an explosion. These guys can jam, thats for sure, but they don't stretch it out too far. "Make a connection" was filled with great melodies, and the first set wrapped up with "Vote on Tuesday."
During set break I did some thinking into why I never really got into Tea Leaf Green. They have great energy, amazing jams, and can really put on a show but I quickly realized it was the vocals. It's not that I don't dig Trevor Garrod's voice, it's that I can't make out most of the words. I love paying attention to the lyrics, and I have a hard time doing that with TLG. We all dance to the beat of different drummer.
The second set had everyone dancing to the beat of two drummers as Scott Rager and McMillan turned up the heat! People were feeling as if "Life was Never this Good" as TLG jumped right back into things. "Relax" had the crowd bouncing as Clark tore up the strings and the vocals. The last two songs of the set really got me going. "Let Us Go" was down and dirty as Reed Mathis thumbed the strings of his bass and Garrod got down on the keys, harmonica, and vocals as the whole crowd got into this swampy sounding stomp. They followed it up with "If It Wasn't For The Money" before leaving the stage. When they came back out after a quick encore break, they wrapped things up with the pop and country tinged "Fallen Angel."
This band has been around for over a decade, and a lot of fans have been along for the entire ride. Based on the crowd's reaction, it seems as if these fans aren't going anywhere.
Setlist
Set 1: Got No Friends, Soldiers of Kentucky, Taught to be Proud, Kali-Yuga, Easy To Be Your Lover, All Washed Up, Your My Star, Warmup, Hanging from a Tree, Devil's Pay, I've Been Seeking, Make a Connection, Vote on Tuesday
Set 2: Life Was Never This Good, Red Ribbons, Relax, Honeymooners, Out in the Woods, Looking West, Let Us Go, If It Wasn't for the Money
Encore: Fallen Angel
Energy: B+
Sound: B+
Musicianship: B+
Stage Presence: B
Set/Light show: B
Overall: B+
Brian Turk grew up in the shadow of the Catskill Mountains, near Woodstock, NY. He comes from a family of music lovers, audiopliles, Dead Heads and avid concert goers.The musical magic that can only be created in the Catsklills, both past and present, is what Brian cosiders the epicenter of his music addiction. The music of The Band, and most recently The Levon Helm Band, is the soundtrack of home for him. Brian's mother took him to his first concert at 5years old...it was Johnny Cash and Roseanne Cash at Jones Beach Amphitheatre. For Brian, music is a family affair. He feels the same way about live music...we all convene to celebrate together. Brian's writing life started when he wrote his favorite author, southern fiction writer Clyde Edgerton, a fan letter at age 13. When most kids were idolizing baseball players and television, he was worshipping writers and musicians. The two became friends and Clyde shared his craft with Brian. The next year Brian attended Duke University's Young Writers Camp. This is the extent, of what Brian considers, his "formal" training in writing. From then on his goal was to capture snapshots of life through words. Brian has been involved with live music in various facets over the years, and combined with his enthusiasm and love for Denver's music scene, he creates a vivid description of what he sees and hears. If you see him out at a show, dancing with a notebook in hand, say hello.