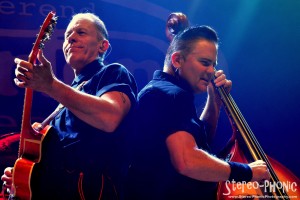 Photos by Johne Edge
Saturday's bill at The Ogden Theatre could not have got any better . . . unless maybe you  beer battered both bands, country fried them, smothered them in Sausage gravy, and served them with a cold bottle of  Lone Star.   Denver was the final stop on a Colorado leg of the Laughing and Crying Tour that had Reverend Horton Heat and The Supersuckers playing  ten stops from one end of the state to the other.  Reverend's  bassist Jimbo just posted,  "I'd like to send a special thanks out to the people of Colorado for really making this tour one of the best experiences I have ever had in your beautiful state. Extra special thanks to Denver for giving us an electric send off and memorable ending to the tour! Thanks again, Jimbo."  Pretty high praise coming from a band that has toured non-stop for over twenty-five years.  Jim Heath, the Rev himself, took a few minutes on Thursday before taking the stage at The Fox Theatre in Boulder to talk to Listen Up Denver! about the new album, touring, and "California Gurls."
Listen Up Denver!: We are loving the country tinged sound of your latest album Laughin' and Cryin' with the Reverend Horton Heat.  What took you and the boys in this direction musically?
Jim Heath: Well, I've always loved country music…and my thing is I'm really not into modern country….I like the old stuff, the mid-century stuff up to some of the stuff from the 70's.  Anyway, my idea was to do an album that had the sound and feel of a mid-century recording.  So I started working on a few songs, and I had a few of them that had a early 60's vibe, but the album didn't actually work out to be like that at all….it turned out to be a whole different animal.  At the end of the day it leans country, but partway through the album I decided that I wanted all of the songs to be somewhat humorous.  So at that point I switched gears to go with songs that had a zany vibe to them.  Our albums always seem to end up a different animal than the one I thought I was going to create.
LUD!: By my count you played 132 shows last year.  What do you enjoy about being on the road?
JH: Well, the road is a little tedious…but it's great to see all the different cities.  The main thing about it is that we get to play music and, honestly, I can't believe that it's as much fun as it is to get up there and play songs that we've been playing for 25 years!
LUD!: What are the downfalls of being on the road besides frozen burritos and convenience store coffee?
JH: The main thing is just being away from our families.  Not necessarily because it's so hard on us, but  because it's hard on them.  Especially if something happens…if you have an emergency…a water leak…anything like that…you feel bad that you're not there to be a part of the family.  That's the main thing, that's what's going to slow us down more and more.  But luckily we have families that understand what we do and the travel requirements.
LUD!: Last year you guys played 10 shows in Colorado, with 2 of them in Denver.  What is it about our fair state that keeps you coming back?
JH: Colorado has been a godsend for us.  For us to be able to come out and play that many shows is incredible.  The people are so enthusiastic, there's always something healthy to do, and there is always good food in Colorado… and that's not always true in the rest of the United States.
LUD!: You've been  playing with Jimbo since 1989, what is your favorite memory of playing together?
JH: We went up to Seattle on a hope and a prayer.  We didn't really have a solid gig.  We drove there and it was a long trip and when we got there they threw us onto this show with the Supersuckers. They were kind of trashed so they quit early, so the venue said, "You guys want to get up there and play for about six songs?"  We said, "Sure!" So we're up there playing and Jimbo is banging away on his bass and…I think it was the last song…his string breaks.  So he tried to rip the string off of his bass and he just sliced his finger open.  Really bad.  Blood was gushing out in spurts .  You could hear the crowd kind of gasping, and then he put his finger up to his head and made the sign of the cross in blood and kept playing.  The people went crazy and what's really funny is that two guys from Sub Pop Records were there and that's how we got our first record deal.
LUD!: Reverend Horton Heat has played with some great bands over the years including The Cramps, White Zombie, and Hank 3.  Who has been your favorite to share a stage with and why?
JH: The Cramps is pretty special because they were an influence on me in the late 70's and they kind of led me to the epiphany that rockabilly and the music of the 50's that was such a big influence on me could fit into the punk rock scene.  It was special to share the stage with them.  They're such a great visual band and to see all of the crazy stuff that Lux Interior did every night…something wacky, and funny and bizarre.  We watched them every night.
LUD!: What is the most outlandish thing your band would consider putting in your backstage rider?
JH: Well, we get a Hot Wheel's  car every night.  We try not to put the screws to the promoters, so we try to stick to the standard things:  beer,  Jagermeister, potato chips, pizza after the show.
LUD!: We all have guilty pleasure music, something you might sing in the tour van but wouldn't want people to know you listened to.  Mine is Tom Jones, what is yours?
JH: Well in my band that would not be a guilty pleasure because we openly listen to Tom Jones!  My guilty pleasure music would have to be Katy Perry.  I love Katy Perry.  I love the song "California Gurls."  I love the song "Firework."  I think she's pretty cool.
LUD!: Who are you guys, when you're not Reverend Horton Heat the band?
JH: Well, we're dads.  Nerdish dads, I guess.  Honestly, one thing about me is that I was a young daddy and this whole time going through all of this, I had to be conscious of the fact that I was responsible for taking care of my daughter.  I juggle that and running around being a rock-n-roller.  I still do that today.  I'm Reverend Horton Heat, the rocker and then I'm Jim Heath, the dad going to the grocery store and girl scout meetings and stuff like that!
Special thanks goes out from Listen Up Denver! to Skyler Borgensen, age 13, Reverend Horton Heat fan and photographer's assistant for the Ogden show.
Wherever the music is, you'll find me with my camera, shooting on street corners, from barstools at clubs, from the side of the stage at theaters, and from photo pits in places like Red Rocks. Clicking away, trying to capture the emotive essence of music, and all those moments that we forget because of one too many Pabst Blue Ribbons.