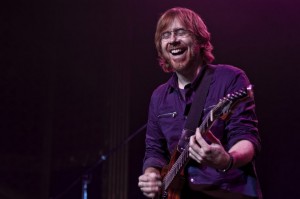 Photo by Tim Dwenger
LivePhish.com has released the first night of Trey Anastasio's two night stand at the Ogden Theatre here in Denver.  It's available here.
Trey Anastasio Band, Tuesday, 03/01/2011
The Ogden Theatre, Denver, CO
Set 1: Farmhouse[1], Wolfman's Brother[1], When the Circus Comes[1], Timber (Jerry)[1], Theme From the Bottom[1], Tube[1], Gumbo[1], The Wedge[1], Joy[1], Backwards Down the Number Line[1], Strange Design[1], Lawn Boy[2], Let Me Lie[3], Heavy Things[4], Liquid Time[4], Gotta Jibboo
Set 2: Night Speaks to a Woman, Acting the Devil, O-o-h Child, Ocelot, Burlap Sack and Pumps, Clint Eastwood, Last Tube, Alaska, The Devil Went Down to Georgia, Plasma, Tuesday, First Tube
Encore: Words to Wanda, Magilla, Sultans of Swing
[1] Trey solo acoustic.
[2] Trey acoustic with Russ and Tony.
[3] Trey acoustic with Jen and Natalie.
[4] Trey acoustic with full TAB.

Music has always been a part of my life. It probably all started listening to old Grateful Dead, Peter Paul & Mary, and Simon & Garfunkel records that my parents had, but it wasn't long before they were taking me to concerts like Starship, Crosby, Stills & Nash, and Huey Lewis & The News. I got the bug to write about music after reviewing an Eric Clapton concert for a creative writing project in high school but didn't really take it up seriously until 2002. Since then I have published countless articles in The Marquee Magazine and done some work for Jambase.com, SPIN Magazine, and various other outlets. I started Listen Up Denver! as a way to share the music information that is constantly spilling out of my head with people who care. Please enjoy!