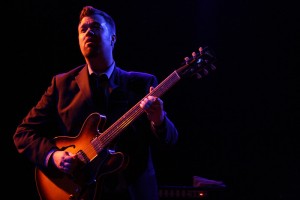 Photos by Will Duff
The Scene: People were lined up at the doors early on Saturday to be sure and get their favorite spot in the multi-tiered Fox Theatre in Boulder. The Fox grooved hard all weekend for Soulive's Snowlive Festival. Saturday night found yours truly in attendance with a bevy of Boulder's biggest Funk & Soul boosters. The crowd filled the whole floor and danced the night away, powered by live access to America's premiere trio of funksters, Soulive. The trio was joined by Jennifer Hartswick's tight and right horn section (whom perform with Trey Anastasio & Phish), and JJ Grey  (of Mofro) who brought in a large crowd of his own and was energetic and lively performing with Soulive.
The DJ who opened up the night had a great hip-hop set and got the crowd dancing and having fun. He (the DJ) should've said his name more, because by the time he was shutting down his decks the floor was too packed for the Fox security guys to effectively stop the room from smelling like, well, the rest of Boulder. Except for overt offenders, the security team seemed to be largely keeping up appearances. Boulder is the home of the National Renewable Energy Lab but it seems no matter how much press they get for their green reputation they are going to have a reputation for liking "the green."
Soulive: Soulive are in the top tier of musicians performing today. Alan Evans (Drums), Neal Evans (Organ/Bass/Keys), Eric Krasno (Guitar), got together way back in 1999 in Woodstock, New York. Yes, Alan and Neal are brothers, which may be part of why the group locks together so tightly on stage.
Soulive have stayed true to their funky selves in the decade plus since '99 on lots of studio recordings, work with other artists, and a heavy touring schedule. Neal, Alan, and Eric all have a lot of life left ahead of them. Soulive are an Organ-power, Guitar-transmission, and Drum-engine equipped funk machine.
Soulive do a lot of collaborative work, which is the kind of big-tent thing we could all use a little bit more of right now. That is why I can't stop myself from wondering out loud what is up with The Onion's AV Club putting down Soulive's collaborative tendencies in a blurb last week? Bigger and better is just that.  Furthermore, Soulive played plenty of their trio work Saturday night with just Neal, Allen, and Eric on stage. You can judge for yourself by looking at the set-lists below. I feel like Soulive could've played till 4 AM, and I would not have stopped dancing till 4:30 AM.  I will take on anyone who says Soulive have wandered from their funky beginnings with a big group of friends I made Saturday night at the Fox.
Neal, Eric, and Alan play high energy Funk/Jazz/Soul with exquisite time and amazing musicianship. They jam without being jammy in sets that blend together like long form poetry. Neal is some kind of special crazy for holding down sick-ass Bass lines with his left hand, while simultaneously taking his Organ on a Funk odyssey in his right hand. Eric and Alan definitely match Neal's contribution with large measures of their own sick-ass style. Watching and listening to Soulive up close was a music lesson lasted all night long all by itself.  Learning is rarely this fun!
JJ Grey's vocal contributions to the last three songs of the first set were a lot of fun and drove the energy level of the assembled crowd through the roof! I liked JJ's cover of Albert King's "Born Under a Bad Sign" the best, but his performance with Soulive was wholly enjoyable.
While Jennifer Hartswick's singing was also good, her trumpet work was an even bigger thrill. Jen's feature in set one, "Cash's Dream," gave her lots of space to really play the hell out of her instrument and the entirety of her horn section joined in for the second part of both sets Saturday night. As a horn player myself, I was inspired so much by Jen's national-level professionals that I spent a little extra time practicing Sunday. The two Trumpet and one Saxophone line-up was thick with high-end while keeping the bottom in all the right places.
I could not find out who all it was that got to sit in with Soulive and the whole big band on their encore of "Upright" Saturday night. Everyone danced so enthusiastically that it felt like a dinosaur was walking around The Hill outside. Soulive put on a huge show that I look forward to seeing again. If we're lucky Snowlive will become just as regular and popular an event as the band's Brooklyn based Bowlive.
I'll see you there next year if that ends up being the case.
Setlist:
Set One: Outrage, So Live, Shaheed, Cash's Dream (with Jen Hartswick), Born Under a Bad Sign (with JJ Grey and Hartswick Horns), Love & Happiness (with JJ Grey and Hartswick Horns),  Kissin My Love (with JJ Grey and Hartswick Horns). 
Set Two: DIG, Backwards Jack, Nubian Lady, Vapor (Hartswick Horns), POVO (Hartswick Horns),  PJ's (Hartswick Horns),  Hat Trick (Hartswick Horns),  You Haven't Done Nothin' (Hartswick Horns), or Rock Steady (Hartswick Horns),
Encore: Upright
Energy: A+
Sound: A
Musicianship: A+
Stage Presence: A
Set/Lights: B
Overall: A
Tim is a an avid lover of music and pursues this passion as a creator and audience member. Tim will give any organized noise made in some way by a human a fair listen. He likes to experience authenticity in a musician's work and share what he finds with his readers. Denver's diverse musical scene is a great playground for these pursuits. Tim's Denver University honed musical understanding and coal-mining mamma give him a unique and informed perspective on all music, from classical to hip hop. He performs with Stoned Wallabies, a horn section equipped rock band, and Orquesta La Brava, a popular salsa band.