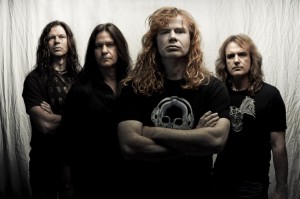 I, for one, could not imagine a musical landscape without Megadeth. The "what if" scenario of Dave Mustaine staying in Metallica at the dawn of thrash music has just never made sense to me. While I will give Metallica their due as formidable musicians I have always viewed Megadeth's razor sharp musicianship and caustic politically charged wit as a far more valuable asset to the annuls of thrash and heavy metal than Metallica's visions of sugar plums and other dreamtime inequities.
Still, from the perspective of financial success and mainstream achievements it is easy to see how Metallica's domination of the airwaves and record charts could create a metaphorical hurdle that even Dave Mustaine himself has admitted to wanting to overcome. And that drive have contributed, often for the better, to Megadeth's unrelenting ferocity onstage and off.
It was just recently, and a long time coming at that, that everything came full circle when Mustaine joined his former Metallica band mates onstage in San Francisco to perform a handful of songs that's he had helped them write. That finally brought closure to the lingering "what if" question — what if, Mustaine rejoined Metallica?
It's important to note this performance wasn't some handout from the boys in Metallica to a fallen or unsuccessful former member, as Megadeth is still stronger than ever. In fact, Megadeth are touring with their very own handpicked lineup called "Gigantour" and are riding high with their thirteenth studio album, aptly named, 13. On this outing Megadeath are sharing the stage with the legendary Motörhead.
In addition the band has also welcomed back the only member that ever came close to being a true musical partner to Mustaine; bassist Dave Ellefson and has two relatively new members Shawn Drover and Chris Broderick who provide enough fresh blood to keep the newer fans interested and keep the older fans from calling the band a nostalgia act.
The Marquee recently had a few words with Broderick, who was born in Colorado and serves as the band's lead and rhythm guitarist, about the current state of musical force the planet calls Megadeth.
Being the "new kid town" in terms of band tenure Broderick provides a unique prospective into the workings that is, in many ways, has always been more Dave Mustaine centered than any sort of collective effort. In terms of Ellefson rejoining the fold, Broderick said, "It was an amazing thing to watch, it was like an old friendship come back to life and I saw the old camaraderie between them blossom again."
Finish This Article Over At The Marquee Magazine Site . . .

Catch Megadeth Live:
The Fillmore :: February 28th
The Marquee is an independent, Colorado-based, PRINT & ONLINE Free Music Magazine. The Marquee strives to be the Farmer's Almanac of the regional music scene — providing readers with facts, tid-bits, in-depth feature stories and a Calendar section that is unparalleled on Colorado's Front Range, covering every live music venue from large venues such as Red Rocks Amphitheatre to small clubs and coffee shops.