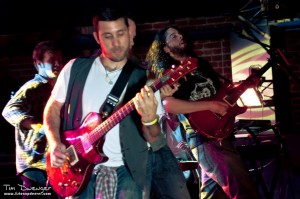 Photos by Tim Dwenger, Kit Chalberg, & Johne Edge
Ah, the 90's, I was in high school and college and music was everywhere: car tape players, house parties, fraternity barrooms, and of course the stages of local clubs and arenas.  It was a wild time with 80's Hair Bands getting devoured by the raging juggernaut out of Seattle that was grunge, and Hip-Hop enjoying it's glory years.  A flannel clad Kurt Cobain and the rest of Nirvana fearlessly led the Grunge movement while Billie Jo Armstrong painted his face and Green Day showed us all how to blend Pop and Punk to create some ridiculously hooky songs.  Speaking of hooky songs, Weezer, Sheryl Crow, and Ace of Base all cranked out a few of their own throughout a decade that was known for the rise of the internet, the dissolution of the Soviet Union, and the first Gulf War.
While there were a couple of mega-festivals during the 90's (including the two Woodstock's in 1994 and 1999), yearly events like Bonnaroo, Austin City Limits, and other multi-day monsters that aim to bring together big names in music, didn't even exist yet.  As a result, it was pretty much impossible to catch all the "it" bands of the nineties together . . . that is until last year when the guys at J2G Productions came up with the idea to stage a 90's music event that featured local musicians covering some of the most memorable songs of the last decade of the 20th Century.  The event was such a hit, that they decided to do it again and this time they brought Listen Up Denver! on board to help spread the word.
With a bunch of Listen Up Denver! contributors on hand for the festivities on Friday night, we're going to take a look at the event through the eyes of several different people.  Sit back and enjoy a trip back in time with Listen Up Denver! and "Revenge Of The 90's!"
People were streaming into Stoney's Bar & Grill almost as soon as the doors opened on Friday night, and by the time members of Fox Street Allstars, Rose Hill Drive, Oak Creek Band, Jonah and the Whales, and Yamn took the stage with Green Day's "When I Come Around," the place was packed with a crowd of 20 and early 30 somethings, eager to relive the 90's.  Though the show got off to a fast start, things never let up and the members of Oak Creek Band proved to be some MVPs of the first set turning in fantastic vocal performances on Weezer's "Say It Ain't So," Sheryl Crow's "All I Wanna Do," and Mighty Mighty Bosstones' "The Impression That I Get."
Following the one two grunge punch of "Hunger Strike" and "Man In A Box," Eric Blumenfeld of Kinetix took the stage dressed like Axl Rose and turned in a blistering version of "November Rain" that culminated in a raging guitar duel between Jordan Linit and James Dumm that brought the house down to end the first set!
The second set was focused on Hip-Hop and R&B and kicked off with Adam Lufkin of Kinetix and Jeff Prah paying tribute to the late Tupac Shakur with "California Love."  From there things got a little crazy as the capacity crowd packed the dance floor and jumped around while DJ Greensleeves of Broken Tongues spun the House of Pain favorite.  It was a raging set that featured everything from The Beastie Boys to Michael Jackson, but my personal highlights were Lufkin delivering a great version of EMF's "Unbelievable" and the thunderous set closer, "Smells Like Teen Spirit" that got the entire room thrashing together in unison.  It was a memorable night and judging by the smiles that were plastered to every musicians face throughout the evening, I'd say a good time was had by all!
 – Tim Dwenger
I graduated high school in 1995, the year that Green Day's "When I come Around" took over the airwaves. So, when the show kicked off with this song, I knew it was going to be a great night! I don't often find myself sitting around and listening to music that was fresh on the radio when I was in high school, and I couldn't tell you the last time I heard that song. The whole night was like that. Each song was immediately recognizable in the first couple of notes even though I hadn't heard them in over a decade.
The place was an absolute madhouse; and the show sold out within the first few songs. Some of the other highlights for me were: Aerosmith's "Crazy," Sublime's "What I Got," and a killer version of Guns 'n Roses' "November Rain." I've got to say that throughout the night I was stunned by how good these songs sounded as various different bands swapped members and jammed together.  It's not that I was underestimating the musicians on the bill, but with 40 different musicians constantly rotating on the stage and playing songs they only rehearsed a few times, there was potential for a much less pleasing performance. Instead, these musicians killed it the entire night!  Jumping up and down next to my Listen Up Denver! cohort Tim Dwenger and screaming along to Nirvana's "Smells Like Teen Spirit" was what the night was all about; being with your friends, and going absolutely bonkers to music of the 90's!
– Brian Turk
By the time I arrived at Stoney's Bar and Grill last Friday for "Revenge of the 90's," the mayhem was already well underway. A line stretched from the front door and it was one in one out, meaning inside was sure to be an absolute mad-house inside. "November Rain" was coming from the stage and I quickly made my way to the back bar to stock up on as many drinks as the tender would allow in order to avoid the long lines in the very near future. The 90's themed outfits were scarce, but the 90's attitude was in full force.
Although I entirely missed the first set, I wasn't too disappointed because set two was all that and a bag of chips. The band came out hard with Tupac's "California Love" causing all the slammin' honeys in the joint to get straight jiggy with it on the dance floor. From what I remember the second set focused mainly on the Hip-Hop and R&B of the 90's. After "Jump Around" and "Let Me Clear My Throat," came an anthem of mine, "Mo Money Mo Problems," and all I could think was "Oh snap, this is my jam." I noticed an abundance of scrubs in the place trying to grind on the fly ladies about, but that was quickly put to rest by TLC's classic "No Scrub." Around this time I found myself once again in the back stocking up on beverages and eventually it was time to make my way home for the evening. As I plowed through the massive crowd I heard "What is love, baby don't hurt me," echoing over the sound system. I had no choice but to find my crew and of course get down in righteous Night at the Roxbury fashion. Just when I thought it was all over, the grunge ballad of the decade "Smells like Teen Spirit" made an appearance and resulted in a strange angsty mosh pit of sorts, which no party is complete without. When it was time to finally bounce and be out I made my farewells to the Listen Up Denver! crew then made like a banana and split. Everyone who came out to grace the stage made for an utmost excellent party time. If I was forced to give the night a rating it would definitely rank as "The Bomb."
– Levi Macy
I began my evening feeling like a champ courtesy of the 480 points that I racked up on skee-ball. As it turns out, it really is feasible to hit those 100 point holes.  But just as I was about to update my Facebook status, I realized that 850 was the machine's high score.  I soon realized that if I wanted to be a real contender then I would need a great deal more practice before Stoney's spring skee-ball leagues began!  My disappointment quickly dissipated though as I worked my way into the crowd of flannel, spiked hair, and cargo pants (the 90's version of an SUV for your legs).  The $2 Deep Eddy sweet tea vodka began to work its magic and the band launched into Sheryl Crow's "All I Wanna Do."  Despite the fact that I usually categorize this song in my "guilty pleasure" music file, I hastily mumbled a disclaimer of sorts and got into singing along with the band loud and proud.  It was a perfect anthem that set a perfect tone for the remainder of the evening.
– Crystal Edge
A reformed punk rocker from back in the day, I did not think I knew very many 90's songs so I was not quite sure what to expect from an evening of music billed as "Revenge of the 90's."  As the forty plus musicians, from different Colorado bands, began to play renditions of their favorite songs from the decade,  I found out I knew more songs from the 90's than I thought.  I guess it was a good thing that the cassette deck in my first car ate all my punk mix tapes, because if it weren't  for the car radio I may never have heard bands like House of Pain singing songs like "Jump Around,"  (which by the way was also my favorite performance Friday night).  I can't wait for next year's "Son of the Revenge of the 90's".
– Johne Edge
Without a doubt, the highlight of the first set was Sublime's "What I Got." With Kinetix's Adam Lufkin on lead vocals and guitar "What I Got" was a true crowd-pleaser. Lufkin's engaging style and high-energy delivery is a little Dave Matthews, mixed with a little Adam Levine. From start to finish the capacity crowd sang their hearts out, their one-dollar beers held high. About halfway through the song, Lufkin asked the band to stop as the crowd delivered those famous words, "I don't cry when my dog runs away. I don't agree at the bills I have to pay…" You know the rest of the song; it is playing in your head right now and probably will be for the rest of the day!
No matter where I'm at—in the car, at a bar, or in my backyard barbecuing, there is something about "What I Got"  that instantly transforms my mood, not to mention transports me back to 1996 and cruising up-and-down main street in my first car. "What I Got" is one of the those few songs that changed music forever, at a time when music needed it most—don't forget that although the '90s gave us grunge, it also gave us Milli Vanilli, The Spice Girls and the (in)famous boy band craze.
– Kit Chalberg