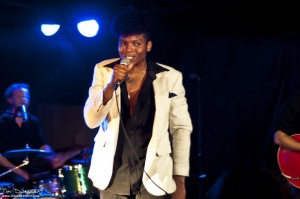 Photos by Tim Dwenger
The Scene: The Larimer Lounge was the hot spot in town on Friday night.  Not necessarily for the number of tickets sold, but definitely for the music cranking off the stage and the diverse crowd (for Denver) twisting, jumping, and otherwise just plain getting down on the dance floor.  While there was just enough dancing room to not feel cramped, the energy in the room was at an 11 all night as Post-Punk Soul fans from all walks of life weren't shy about voicing their appreciation for the band on stage.  Take my word for it, next time JC Brooks and The Uptown Sound are in Denver, you better buy your tickets early.  These guys are the real deal and I'd be pretty surprised if they didn't sell out a room like The Bluebird next time around!
JC Brooks & The Uptown Sound: Avidly following live music, and seeing show after show, is a sort of addiction I guess, but fortunately for me it's not the kind of addiction that will cause me to end up dead broke on the street without anything but the clothes on my back.  Instead, I attend show after show, and see band after band, because I am constantly pursuing something truly unique, something that makes me feel like nothing else I've seen, something that if bottled and sold, could possibly produce the kind of addiction mentioned above.
Well, this weekend I was lucky enough to come across two shows that make this pursuit worthwhile.  The first, on Friday night at The Larimer Lounge, was JC Brook & The Uptown Sound.  Brooks and his band hail from Chicago and have created unique blend of Soul, R&B, and Post-Punk that is 100% pure adrenaline fueled dance music, and if the puddles of sweat, flying hair, and looks of pure ecstatic joy on the faces of  everyone in the room are any indicator, their sound strikes a chord with the soul and almost demands you move.  If the rhythm of the intricate and bouncing basslines don't get your feet twisting, then the staccato guitar riffs, furious drum fills, and Rock-n-Roll keyboard are sure to have your hips swiveling and your hands in the air.  Though this band would probably be able to tour and record successfully without a frontman, add JC Brooks to the equation and you've got one of the hottest outfits on the scene today.
Brooks and the band burst onto the stage at the stroke of 11 with the title cut from their 2009 album Beat Of Our Own Drum, and didn't let up for more than an hour and a half.   Under his 6 inch "Afradour," (cross between an Afro and a Pompadour) Brooks danced like he had been mentored by James Brown himself and his baby faced grin sent rays of happiness out into the dark room.  Between slamming renditions of "Want More" and "I Got High," Brooks spoke to us with all the power of a Baptist preacher about the power of Marijuana and marveled about how the leafy green is available legally in so many locations around town.  He got so wrapped up in his sermon I swear I heard him say we were all in Chicago and, you know what, we might as well have been since all that mattered for the duration of the show was what was going on up on that stage.
Fairly early on in the set, the band broke out a new, soulful ballad that had people swaying and holding their lovers tight until the tight drum intro to "Baaadnews" shattered the mood and the band took off on a tear as Brooks tore up the stage.  It was truly mesmerizing to watch these guys as they displayed complete mastery of their self-proclaimed Post-Punk Soul style, but when Brooks left the stage and returned in a white blazer, things got even a little wilder.
After a brief lesson for us high desert folk on what to say when a preacher calls out "can I get a witness?" (apparently, according to Brooks, you are supposed to say "I've got a testimony!" or something along those lines, and not just "Yes") the band busted out one of the most anticipated songs of the evening, their cover of Wilco's "I Am Trying To Break Your Heart," and they proved that they have truly made the song their own!  They've performed the song a couple of times with Jeff Tweedy, who also hails from Chicago, but I've got to say that I'm partial to the Uptown Sound version of this tune.  The sped it up, broke it down, and reinvented an already classic song and everyone in the room went crazy!  They continued their flair for covers when they dropped quotes from both The Talking Heads' "Psycho Killer," and the oft-covered "Fever," into their own "75 Years of Art Sex."
A few tunes later they dropped an unexpected bomb on an already thrilled crowd when Brooks introduced "Tainted Love," a tune made famous by Soft Cell in the 80's.  While their version stayed fairly true to the original, it was fortified with Funk and everyone sang along at the top of their lungs.  As the set was winding down, and people were wiping the sweat from their eyes, the band pulled out a monster version of "Alright" and explained why everyone was dancing so hard with the line "we're shootin' Bass butter on the dance floor to help you move your hips."  Another slammin' tune from Beat of Our Own Drum, "Baltimore Is The New Brooklyn," closed out the set and though the band disappeared backstage, the crowd wouldn't let up and screamed for more!
After a brief break, Brooks and his band returned for a two song encore of "Missing Things," and "Don't Lock The Door" from their 2011 album Want More to close out a sensational performance.  While at moments I felt like we were transported back in time to the golden age of Soul, The Uptown Sound managed to keep things current and drum tight throughout the night.  Shows like this are why I continue my pursuit of something truly unique.  Thank You JC Brooks & The Uptown Sound for making that pursuit so very worthwhile!
Energy: A+
Sound: B+
Muscianship: A
Stage Presence: A+
Set/Light Show: N/A
Overall: A
Music has always been a part of my life. It probably all started listening to old Grateful Dead, Peter Paul & Mary, and Simon & Garfunkel records that my parents had, but it wasn't long before they were taking me to concerts like Starship, Crosby, Stills & Nash, and Huey Lewis & The News. I got the bug to write about music after reviewing an Eric Clapton concert for a creative writing project in high school but didn't really take it up seriously until 2002. Since then I have published countless articles in The Marquee Magazine and done some work for Jambase.com, SPIN Magazine, and various other outlets. I started Listen Up Denver! as a way to share the music information that is constantly spilling out of my head with people who care. Please enjoy!