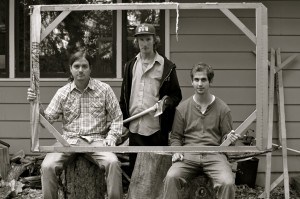 Mosey West, it's a great name for a band from Colorado isn't it?  The name imparts the feeling of the easy going, laid back kind of lifestyle that Colorado is famous for.  The kind of life where things matter, but nothing except friends, family, music, and maybe an afternoon nap, matter too much.  These three guys create music that echoes the images their name conjures up. With rich harmonies, thought provoking lyrics, and a sound that betrays influences like Drive-By Truckers, The Band, and Neil Young, Mosey West is mature beyond their years.  So, sit back, click play on their new single that is streaming below (and download it if you like what you hear) and learn a little about Mosey West before you mosey on about the rest of your day.
Listen Up Denver!: How did you come up with your band's name?
Mosey West: It's a long story. We changed our name to Mosey West in July of 2011. We were called "The Living Rooms," but there was another band on iTunes with the same name when we were about to release our debut EP, Vaca Money. We quickly changed our name to Mosey West to avoid any legal issues. "Mosey" was a name suggested by the son of Evan Reeves, who co-produced our first EP at UI Sound Studios in Boulder, CO. That name was also taken and over the phone I suggested "Mosey West." We all live on the West side of Fort Collins and I think it relates well to our sound and the story of American civilization. No one in the band is named "Mosey" although we might tell you differently at a show.
LUD!: What is the line-up of the band?
MW: Mike Mcgraw – Bass/Vox, Adam Brown – Guitar/Vox/Harmonica, Matt Weitz – Drums
LUD!: How would you describe your sound?
MW: We call it "Sonic Folk" (thanks to Nick at the Rock Inn and the unknown forest ranger). It's sort of a hybrid of alt country, indie folk, and punk rock.
LUD!: Who would you count as major influences on your band?
MW: The Band, Gram Parsons, The Velvet Underground, Willie Nelson, Hank Williams, Neil Young, Uncle Tupelo, Ryan Adams and the Cardinals, etc.
LUD!: How did you guys get started playing together?
MW: Matt and I first met at the Red Rocks parking lot in 2007 before a show and then again 6 months later when we were jamming in a friend's garage. We began playing together in 2008 through various projects both acoustic and electric. We met Mike through playing with other friends and then formed the band in October of 2010. We first called ourselves "Merica," which explains the title of our second EP.
LUD!: Does anyone in the band have any formal musical training?  If so, what is it?
MW: Matt studied drums and percussion at the University of Montana and dropped out to tour in a band. Adam studied theory and piano while studying at CSU. Mike found his 1967 Klira bass in the trash as a kid.
LUD!: Where was your first gig together and how did it go?
MW: Road 34 in Fort Collins. February 11, 2011. The show went well from what we remember.
LUD!: What's your favorite memory of playing together?
MW: Probably our first CD release show at The Larimer Lounge on October 1, 2011. We opened for our friends, Futurebirds from Athens, GA, and Hardy Morris of Dead Confederate. We had a great crowd and it was definitely a party. Also, the show a few weeks later with the belly dancers.
LUD!: Are you playing any shows coming up that you are particularly excited for?
MW: Our upcoming CD release shows in Fort Collins and Denver are going to be a blast. We are playing Friday, May 11 at Hodi's Half Note in Fort Collins with our friends, The Patti Fiasco. Our Denver release show is Friday, May 25 at the Hi-Dive with Kentucky Street Parlor Pickers and FaceMan.
LUD!: What is your favorite song to cover?
MW: That is a tricky question. We started the band with a rule of no cover songs and didn't play any for a long time. Lately, we have been covering a few songs during our longer shows. "Where is my Mind" by The Pixies and "State Trooper" by Bruce Springsteen are two recent songs we have tried to put our own twist on.
LUD!: What is the strangest request you've had at a show?
MW: "Get naked"
LUD!: What was the first song you wrote together as a band?
MW: We started off writing about 10 songs so we would have a set to book gigs. I can't remember which song was actually first. "Cold Prediction," "Breakwall," "Stone Kickin Blues," and "the Scene" are some old ones.
LUD!: Do you still play that song live?  If not, why?
MW: We still play most of our material, although a few songs are getting ignored these days. We are working on our own sound, but at longer shows we have 30-40 original tunes that get cycled in-and-out.
LUD!: Have you released any of your material yet?  If not, do you have any plans to?
MW: Our 5 song debut EP, Vaca Money was self-released on September 30, 2011. The album is for sale on iTunes, Amazon, CD Baby and on CD at our shows. For a limited time the EP is available as a free download on our bandcamp page: http://moseywest.bandcamp.com. We recorded that EP at UI Sound Studios in Boulder, CO during the summer of 2011.
We are self-releasing our second EP, Merica, on Friday, May 11, 2012. The first single, "In Tune" will be available as a free download on Record Store Day, Saturday April 21, 2012.  [Editor's Note: You can download it for free by clicking the link at the top of this article.] We recorded the 7 song EP in the winter of 2012. The album was engineered and recorded by Kevin Brookfield at Morningwood Studios in Fort Collins, CO and mixed and mastered by Jason Larson at Backbone Studio in Loveland, CO.
LUD!: What is your favorite venue in Colorado, and why?
MW: The Fox Theatre was awesome and really has fantastic sound. We also love playing The Larimer Lounge and the Hi-Dive in Denver. Up here, we love the Bar SS in Laporte, CO and it is always a throw down. We are also really looking forward to playing at Mishawaka this summer.
LUD!: If you could play on any stage in the world where would it be and why?
MW: Red Rocks. We've seen so many legendary bands there and it's such a beautiful place.
LUD!: If you could open for any band or artist, who would it be and why?
MW: Tupac, because he just made a comeback at Coachella.
LUD!: What is the most outlandish thing your band would consider putting in your backstage rider?
MW: Mezcal and oranges.
LUD!: What is your band's drink of choice?
MW: On stage there is usually some sort of Whiskey drink, Tequila shots and cheap beer.
LUD!: Can you name a few local Colorado bands that are really impressing you right now?
MW: The Patti Fiasco, Kentucky Street Parlor Pickers, FaceMan, and Arliss Nancy.
Catch Mosey West live in their hometown of Fort Collins on Friday, May 11th at Hodi's Halfnote when they celebrate the release of Merica, or a few weeks later when they take the stage at The Hi-Dive on May 25th with The Kentucky Street Parlor Pickers and FaceMan.

Music has always been a part of my life. It probably all started listening to old Grateful Dead, Peter Paul & Mary, and Simon & Garfunkel records that my parents had, but it wasn't long before they were taking me to concerts like Starship, Crosby, Stills & Nash, and Huey Lewis & The News. I got the bug to write about music after reviewing an Eric Clapton concert for a creative writing project in high school but didn't really take it up seriously until 2002. Since then I have published countless articles in The Marquee Magazine and done some work for Jambase.com, SPIN Magazine, and various other outlets. I started Listen Up Denver! as a way to share the music information that is constantly spilling out of my head with people who care. Please enjoy!