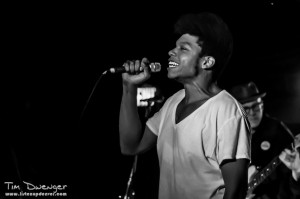 Photos by Tim Dwenger
The Scene: When we rolled in around 9, The Larimer felt more like a neighborhood bar than a music club about to be filled with the upbeat Chicago Soul of the one and only Mr. JC Brooks and his band The Uptown Sound.  There were about 20 people chatting and having a beer while playoff baseball was showing on the TV above the bar.  In the back room,  The Mile High Soul Club DJs were spinning classic Soul with big beats and as we hung out, the volume got progressively louder and the club began to fill with people.  At about 9:45, there were a couple of people dancing by the stage and it was clear that the Soul Club was doing their job to get people ready for the main event.
JC Brooks & The Uptown Sound: Now, let me preface this review with a couple of points: First, I have been LOVING both JC Brooks albums this year.  In many ways they were the soundtrack of my summer, with the powerhouse vocals, infectious basslines, and punchy horns, this band is right smack in the middle of my wheelhouse as a Funk and Soul fan.  Second, the last time I saw these guys at The Larimer it was a Friday night and I was blown away by the band's connection to, and effect on, the crowd.  Third, the lighting in The Larimer was HORRIBLE for this show.  For much of the evening we could barely see Brooks on stage as one of the two lights trained on the stage hit him in the stomach and it was left to a tall guy who was standing in the middle of the room to push the light up so we could all get a glimpse (and a photo or two) of the charismatic front man from time-to-time.  It doesn't take much to adjust those lights, and trust me, it's critical!
All that said, the show last Wednesday was good, but it wasn't great.  Somehow it lacked the punch of that show back in April [Editor's Note: Read our review of that show here].  Maybe it was the fact that shock and awe never works quite as well when you know what's coming, or maybe it was the fact that it was a Wednesday and people were on school night behavior.  Who knows what it was, but the room definitely wasn't quite as full of sweaty, twisting, and jumping maniacs as it was back in April…well…that is except for up on the stage.
Up there on the little stage of the Larimer, JC Brooks was pouring his heart into the performance as he gyrated, screamed, and sang from his soul.  The band seamlessly segued from banging dance numbers like "Alright" to "Awake" and other soulful slow jams and Brooks never slowed the constant patter of  witty and fast paced banter between songs that kept my eyes glued to him for fear of missing something.  He talked about the importance of "always having a reprise in a show" and at one point he even heckled a drunken loudmouth in the crowd when he said over the PA "hey man, your monologue isn't till the end of the second act."  While I'm not sure the jab hit home judging by the blank look on the guy's face, the rest of us had a good laugh at his expense as he obliviously wobbled out to the bar.
The band dropped their wonderfully re-imagined version of Wilco's "I Am Trying To Break Your Heart" early in the set, and this time around they broke it all the way the down to the bare bones before building back up to a peak that featured Brooks waxing philosophical about Jeff Tweedy's lyrics.  It's clear that these guys love playing this tune and more than that it was clear on Wednesday that there were a lot of Wilco fans in the house as I saw more than a few folks mouthing the lyrics.  A little later in the set the band broke into the Beat Of Our Own Drum gem "75 Years of Art Sex" and teased fans with a few bars of both "Pscyho Killer" and "Fever" before slipping back into their original material.  This is a combo they've been using for a while, but somehow it doesn't really seem to get old as both songs flow very organically from the "Art Sex" rhythm.
The set wrapped up with the high energy "Baaadnews" and just before the band left the stage I yelled out "Baltimore" in hopes they would kick into the lead track on their first album before calling it a night.  Sadly they just waved, turned around, and ducked backstage.  Just a few seconds later, they re-emerged and Brooks took the mic to introduce not "Sister Ray Charles" as the setlist had called for, but yes, "Baltimore Is The New Brooklyn!"  Who knows if it was my request that prompted the audible or not, but I was thrilled to hear driving bassline and Post-Punk rave-up of this brilliant tune.  What a way to close out the night.
So, after all was said and done it was a good show, I just wish there had been some more energy in the room to feed into the electric energy that this band is capable of creating.  Next time they will be gracing the stage of The Ogden Theatre when they handle the opening duties for Trombone Shorty on Friday, December 28th.  I know The Uptown Sound is up to this task and I'm sure that gig will open a lot of eyes to this rising Chicago Soul powerhouse…don't be late!
Energy: B
Sound: B
Musicianship: A
Stage Presence: A+
Set / Light show: F
Overall :  B+
Music has always been a part of my life. It probably all started listening to old Grateful Dead, Peter Paul & Mary, and Simon & Garfunkel records that my parents had, but it wasn't long before they were taking me to concerts like Starship, Crosby, Stills & Nash, and Huey Lewis & The News. I got the bug to write about music after reviewing an Eric Clapton concert for a creative writing project in high school but didn't really take it up seriously until 2002. Since then I have published countless articles in The Marquee Magazine and done some work for Jambase.com, SPIN Magazine, and various other outlets. I started Listen Up Denver! as a way to share the music information that is constantly spilling out of my head with people who care. Please enjoy!