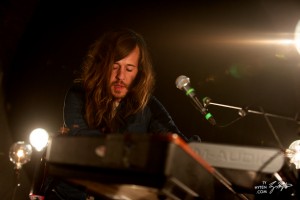 Photos by Ty Hyten
The Scene: The Hill was blowing with leaves and concertgoers this past Friday night as college kids trickled into Boulder's Fox Theatre for the spacious dark Folk of Oklahoma's Other Lives. The venue was tame and dark as I grabbed an award-winning, Blue Ribbon lager in celebration of Other Lives' first show of their winter tour then easily walked up to the front for opener, Indians.
Opener: Indians. Denmark's synth/guitar dream pop musician "Indians" stood far stage-right bathed in blue and red light at the helm of a synthesizer. Despite what all of the Googling I did in preparation for this show suggested, he wasn't wearing a headdress nor did he have a hide-covered drum (I'll save you time, check out www.heyiamindians.com). Alternating between the simple and complex, Indians twisted knobs, pushed sliders, played the keys, and put on a guitar while singing with the voice of a more polished Tom Chaplin of Keane. The bass was clean and massive as it vibrated up through the soles of my feet and filled my chest. He definitely brought something I wasn't expecting in an opener, and his lack of band mates and gear were probably a necessity on a stage already overflowing with equipment.
Other Lives: Softball sized light bulbs within the set lit up the stage with a warm tungsten glow as the five piece walked out to an eager crowd. As the trumpet pulsed and lead singer Jesse Tabish sang the intro to "Dark Horse," it was evident that the Fox had nailed the sound in a way Denver's Hi-Dive couldn't during Other Lives' last headlining stop through Colorado. The lush blend of the Cello, Acoustic and Electric Guitar, Violin, Drums, Tympani, Harmonica, Xylophones, Keys, Trumpet, and vocals captured the dark theatrics of 2011's Tamer Animals perfectly. You could feel the bass in your body and the strings in your gut. Tabish's lead, and the harmonies of the rest, made a vocal wall of sound with just the right amount of reverb on top. The band kept a solid energy level while appropriately avoiding anything flashy.
You could hear the crowd faintly sing the line "but it feels like forever…" as not to detract from the band during the show's high watermark of  "For 12." Most of the crowd was soaked in to the abstraction of the music, but there were a few times where you could hear younger audience members right in front of the stage BS'ing about what one could only imagine was where they were going to find their next bottle of McCormick's vodka. It was rude, but I had no trouble blocking it out as the band continued to play favorites like "Tamer Animals" and "Dust Bowl III" with the heart and perfection of dedicated musicians.
Before calling it a night Tabish told the audience that his band had a new EP and merch for sale up front and said, in so many words, "if we're going to make it this whole tour we need people to buy it." The good people of Boulder obliged and I joined a long line of folks in the lobby of the Fox to support these great artists. As I waited for my card to run I made small talk with Cello player and vocalist Jenny Hsu, who expressed excitement for the tour and the recording session schedule promptly upon its conclusion. For now the new EP will keep me company, but it's not going to be easy to wait until 2013 for their new full length album after a show like that.
Energy: A
Sound: A+
Musicianship: A
Stage Presence: A
Set / Light show: A
Overall: A