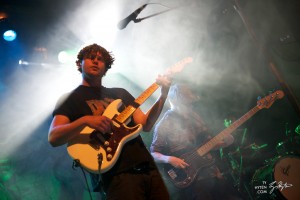 Photos by Ty Hyten
The Scene: Alt-J roared into The Bluebird Theater on Tuesday for their first performance in Denver. Fresh off two solid sets at Coachella, Alt –J decided to close out their first U.S tour in Denver. Although this show was rescheduled from early April, fans of the band showed up early as excitement bubbled on Colfax.
Alt J's album An Awesome Wave has slowly gained recognition as one of the best debut records of all time; a collection of perfect harmonies, bizarre lyrics and epic instrumentation that's had me hooked for over a year. Everyone in the building seemed to have a different favorite track they were dying to hear. Throughout the night a sold-out crowd was treated to An Awesome Wave and several breathtaking covers that left the room stunned and extremely appreciative of this British quartet's incredible talent.
Opener: Wildcat Wildcat!. The Bluebird was nearly full when California rockers Wildcat! Wildcat! emerged to open the show just after 8 P.M.  Wildcat! Wildcat! perform harmonic Pop songs that bounce and flow between simple lyrics. Although I'm not extremely familiar with the band, I was impressed by their stage presence and an unexpected cover of Tears For Fears' "Everybody Wants to Rule The World."  The band provided a lush soundscape that had the crowd engaged from start to finish. The trio of Jesse Taylor, Michael Wilson and Jesse Carmichael hail from Los Angeles and I can't wait to hear more from them in the future.
Alt-J: Alt J has taken over the music world in the last few months. Over the course of a year, the band went from an unknown British collective to scoring the Mercury Price for An Awesome Wave.  Their unique brand of folk-step blasted across the Internet like wildfire culminating in a sold-out U.S tour.  Producing an incredible debut album is one thing, but performing those songs live is an entirely different challenge. Needless to say, the quartet of Joe Newman, Gwil Sansbury, Thom Green and Gus-Unger Hamilton exceeded expectations and reaffirmed why fans have fallen in love with the group.
Although we heard An Awesome Wave in its entirety it was the addition of several lesser-known tracks that made this show so special.  After a magical beginning run through "Intro," "Interlude I," "Tessellate" and my personal favorite "Something Good," the band dropped into "Buffalo," a song produced for the soundtrack of the film Silver Linings Playbook.  The song slowed things down a little bit and provided a nice change of pace.
The highlight of the night arrived in the form of a silky mash-up of Kylie Minogue's "Slow " and Dr. Dre's " Still D.R.E." The song was aided by a funky beat and vocals that entranced the crowd. I'm still thinking about this moment because it was just perfect in every way. After running through a few more album highlights, the band concluded with an epic three-song encore that included an excellent cover of College & Electric Youth's "Hero."
Throughout the evening there was very little movement by the band members on stage and they all seemed intensely focused on delivering a high quality performance. When Alt-J return to Colorado in September for a date at The Fillmore Auditorium the crowds may be larger and the hype even greater but the expert musicianship will certainly remain the same.
Energy: A
Musicianship: A+
Sound: B+
Stage Presence: B+
Set/Lightshow: A-
Overall: A
I've worked various positions in the music industry with Madison House, Rock The Earth and Bohemian Nights. My dream is to travel the world and seek out all the good tunes, beer and food that make life so special. I have a healthy obsession with live music and I'm thrilled to share the epic moments with you.