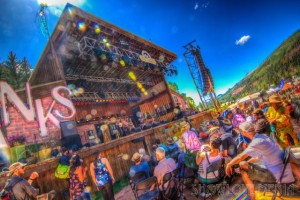 Photos by JohnRyan Lockman
When I was offered the opportunity to attend the 40th Annual Telluride Bluegrass Festival, my "yes" couldn't come out quick enough. The funny thing is, I am far from a Bluegrass fan. I see my fair share of live Bluegrass being a music lover in Colorado, but I can't say anything from the genre ever really plays through my speakers. So why the excitement to go to Telluride Bluegrass? Simply because of the fun factor. Being the music junkie that I am, I hang around like-minded folks, and in my ten years of living in Colorado I have heard countless stories about Telluride Bluegrass. Statements like, "You will meet the woman of your dreams there," or "It will change your life forever," combined with the romantically frivolous tales told by my music loving friends made me say "yes" to the fest as quickly as I could get the word out.
Once a few of my friends learned I was going to be attending Telluride Bluegrass for the first time, I was quickly sucked into a syndicate. I guess some people would call it a "Camp," but we weren't camping. In this case, syndicate is the best fit, believe me. A hard partying, pretty faced crew that goes by the name "Friends of Pig Pony" made sure that I was exposed to everything Telluride Bluegrass had to offer, and without them my 7 days in Telluride would have been just a lot of Banjo. In order to protect the identity of the members of "Pig Pony" the few referenced names have been changed.
I was introduced to "Pig Pony" through their legal counsel Danny Frankel, and the two of us rode out to Telluride together. According to Dr. Hunter S. Thompson, when a writer is given a press pass and he travels with an attorney, there is much fun to be had. So on Tuesday morning we opened up the sunroof of The Listen Up Denver Mobile, turned the stereo up, and headed west. We made good time through varied landscapes and picked up a couple "Ponies" flying into Montrose before settling into a rather swanky place. I was supposed to camp in order to fully embrace the festival experience, but wound up on the condo couch all but one night. Much obliged! Within hours of arriving we were in front of my favorite Denver band, The Congress (that name is real) at Fly Me to The Moon, and a week of fun had begun.
The day before the festival we wandered around town a bit, I did some work and had a meeting, and we met up with other Ponies as they arrived. It turns out I knew some of these folk from back in Denver, at least by face, so joining this large group was less intimidating. I had heard stories, and I was wondering if I was going to be able to hang with such a boisterous bunch. Well, you're reading this, so I made it, with endless smiles to boot.
Day one of the festival started with me waking up on the couch as Tim, one of four Georgians occupying the condo, stumbled out the door at 8 am to go "run our tarp." I guess one of the other Southerners had sat in a chair all night to get "A Number," which allows you to run with a large mob and stake your claim to a spot for the days festivities, and now the "Runner" was relieving the "Sitter"…or something like that. Tarp space and how it is obtained was an important topic during the 4-day festival, and I heard stories of people paying their nannies or others to sit in line all night to get "A Number." As absurd as it all seemed, your location and how much tarp space you have is key. Even as a first timer I quickly learned the value of real estate in Telluride. With a space secured, the rest of the Ponies just galloped onto the festival grounds at their leisure, knowing their would be space for them to stable for the day. How would they find said spot amidst the crowd of nearly 10,000? A flag. That's right, a Japanese Flag riddled with markings of Pig Pony flew high above the crowd, like a beacon of hope for those looking to throw down.
I got into the festival grounds early since I was writing an article, but others went hiking, bellied up to a bar, or slept the early part of the day away. My musical highlights from day one included Elephant Revival and Steve Martin & Edie Brickell with The Steep Canyon Rangers. Elephant Revival hails from Nederland, Colorado and their romantically dramatic presentation has captured me over the past couple of years. Far from traditional bluegrass, Elephant Revival's Transcendental Folk won over everyone present. Steve Martin and Edie Brickell were joined by the Steep Canyon Rangers to replace original headliner Mumford and Sons, who had to cancel because of Ted Dwayne's recent brain surgery. (We wish Ted a speedy recovery.) Despite the sad circumstances, the set was amazing. Steve Martin is as talented a musician as he is a comedian, which is honestly something I didn't expect. Seriously, Martin is one of the best comedic actors of all time, and his work on screen has made people belly over with laughter for over 35 years. The fact that he has also gained formidable skill on the banjo is impressive. Eddie Brickell surprised me as well, since I know her from the 1988 hit "What I Am," but she can sure sing some Bluegrass. When the music was over on the festival grounds, the Ponies trampled into town for more. The festival hosts "Night Grass," late night sets by mainstage performers, and bars and other businesses host late night music as well. I frequented the Steaming Bean every morning for my perfectly made Cortado, and revisited for music a couple nights. Somewhere around 3 am on Friday my head hit a pillow.
Day two started off rough, as I had been dragged around by a team of Ponies the previous day, but I dusted myself off and participated in the tarp run at 9am. I went to relive "The Sitter," was handed number 150, and told to run for our same spot. Once you handed a staff member your number, you were allowed to sprint into the open field and stake your claim. It was intense. Tarps flapped in the wind, people scrambled and I nearly threw up after running in such a sorry state. Folks, whomever runs your tarp at Bluegrass, show them some love, cause if you had any fun the night before, it can be a sobering experience. After staking our claim, I returned to bed and came back to the festival grounds for Lake Street Dive, which was one of the best sets I saw all weekend. Lake Street Dive sauntered through a soulful and downright sexy set that definitely lit my fire. With vocals sounding like they should be coming from a Speakeasy rather than a bluegrass festival, and a rhythm section that made hips move seductively. Lake Street Dive brought some Brooklyn soul to Telluride. From what I heard, there were an abnormally large amount of people dancing for this early set. After cooling down with a cold Colorado craft beer in a stainless steel cup, I found my chair and hunkered down for Tim O'Brien. O'Brien is longstanding member of  the Colorado bluegrass community and he showed his stateliness on stage. Trampled By Turtles kept the crowd on their feet with a high energy performance, but it was Peter Rowan that was my musical highlight of day 2. I was first exposed to bluegrass via Jerry Garcia and David Grisman, and Rowan was a member of Old and In The Way with the two hippies. Rowan crooned traditionals with authenticity, straight killed it on electric guitar, and even got me in my Irie place with some Reggae riffs and rhythm. The most anticipated band of the day seemed to be String Cheese Incident, and the mostly over 35 crowd was littered with younger more disheveled folk coming to see this Colorado-based band. I will be honest here, as much as I have tried I can't seem to dig SCI. I massively respect all the musicians individually, and dig some of their side projects, but man I just can't get into the Cheese. The crowd was way into it though.  After a stellar set by Masters of Bluegrass, the crowd thinned out even though Dispatch was still yet to take the stage. I retreated early on Friday, knowing I was only halfway through a marathon.
Day three's highlights were Jerry Douglas and Sam Bush. Douglas is a monster on the Dobro, and Sam Bush is aptly known as the Mayor of Telluride. I heard Chris Thile was the prince, or princess, depending on who you spoke to. Douglas brought an element of grittiness to the stage, and his rocking set was a  nice change of pace. Bush's set was riddled with guests, and when he tore into "Rag Mama Rag" I immediately dubbed it my favorite performance of the festival. I am a huge Levon Helm fan, and I know Bush spent a bit of time with Helm, and I swear he channeled a bit of Levon Saturday night. One thing we all channeled on Saturday was our inner wolf.
The moon was a huge part of my Telluride experience. The festival is held during the summer solstice, and Saturday featured a "Super Moon." I will let you look into the whole Super Moon thing on your own, but let's just say it was big and bright. As this Uber Moon (as I came to call it) rose over the rocks, it illuminated our surroundings, and gave off an electric energy felt by all. We howled as a group, all staring at the sky, unifying ourselves in a primal way. It was a powerful experience and puts a smile on my face reliving the memory now.
Sunday is the fourth and final day of the festival, and The Drepung Monks provided a spiritual presence for the morning. Watching children follow a monk dancing through the crowd in a snow lion costume was about the best way to start a Sunday I could think of. We were all just children dancing and following the joy for four days and that Sunday morning image reminded me of that.
The highlights for Sunday were Bela Fleck and The Infamous Stringdusters. Bela Fleck is nothing short of a virtuoso. Whether he is composing music for an 80-piece orchestra or dropping his tuning quickly onstage in order to produce authentic African sounds with his banjo, Fleck does it with profound precision. The banjo is often made fun of by non Bluegrass lovers, and "Deliverance" didn't help the cause, but no one could look at Fleck and his banjo and think backwoods, even though he can get Appalachain on that ass if need be. The Infamous Stringdusters are by far my favorite band in the "jamgrass" scene. There is no cheesy silliness,they don't sacrifice precision for speed, and their lyrics are extremely well written. I often see bands worry about playing fast, and they seem to loose the nuance that is the lifeblood of Bluegrass.
Attending the Telluride Bluegrass Festival for my first time was one of the greatest musical experiences I have had…and the music was low on the totem pole for me. What was on the top? Well, the people. I couldn't have asked for a better crew to run with than Friends of Pig Pony. A group of life loving, bright smiling, hug giving music lovers that can party for days straight and look damn good at it too. Now, when the Ponies return to civilization, they are Attorneys, Physicians Assistants, Architects, Dinosaur bone hunters, Accountants and other "respectable" titles…but when they are in Telluride, they are music loving heathens who howl at the moon. I guess we all have a little Pig Pony in us.
Telluride lived up to it's hype. Did I meet the woman of my dreams there? I met 3 of them. Did it change my life? Damn skippy. Have I been telling romantically frivolous tales to my friends since being home? Sure have. Will I go back next year? Wouldn't miss it for the world. I guess it can all be summed up in the Facebook post I made when I got home: "How was Telluride? Well…I howled at the moon, participated in a tarp run, stared into beautiful eyes, lost my shit when Sam Bush tore into "Rag MamaRag," and found new friends. I fell in love with a town, laughed till I cried, smiled till my face hurt and felt a knot in my stomach when I got in the car to drive home yesterday. The best word to describe it all? Legendary!"
Brian Turk grew up in the shadow of the Catskill Mountains, near Woodstock, NY. He comes from a family of music lovers, audiopliles, Dead Heads and avid concert goers.The musical magic that can only be created in the Catsklills, both past and present, is what Brian cosiders the epicenter of his music addiction. The music of The Band, and most recently The Levon Helm Band, is the soundtrack of home for him. Brian's mother took him to his first concert at 5years old...it was Johnny Cash and Roseanne Cash at Jones Beach Amphitheatre. For Brian, music is a family affair. He feels the same way about live music...we all convene to celebrate together. Brian's writing life started when he wrote his favorite author, southern fiction writer Clyde Edgerton, a fan letter at age 13. When most kids were idolizing baseball players and television, he was worshipping writers and musicians. The two became friends and Clyde shared his craft with Brian. The next year Brian attended Duke University's Young Writers Camp. This is the extent, of what Brian considers, his "formal" training in writing. From then on his goal was to capture snapshots of life through words. Brian has been involved with live music in various facets over the years, and combined with his enthusiasm and love for Denver's music scene, he creates a vivid description of what he sees and hears. If you see him out at a show, dancing with a notebook in hand, say hello.