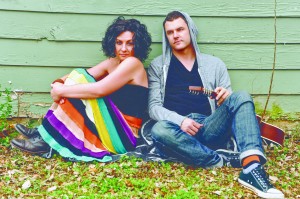 The Scene: The swanky Jazz Club like feel of the Soiled Dove was the perfect fit for the relatively mellow crowd that made their way out to Lowry for the Friday night show.  The room was a mix of folks, young and old – a lot like the mix at Telluride, although this crowd was more ready to sit and enjoy than get up and dance.  At least they didn't get mad at a small group of us for dancing like the crowd did last year!
Opener: SHEL. This quartet of extremely talented sisters from Ft. Collins blew away everyone in the room with their beautiful melodies. Keep an eye out for these ladies.
The Greencards: Sometimes music festivals bring together such incredible talent that it is difficult for a new act to stand out.  I find this to be especially true at the Telluride Bluegrass Festival (happening this week!) where the absolute best pickers in folk and bluegrass come together for a fabulous four day party.  In 2009, however, I was blown away by The Greencards.  With stunning picking, sweet melodies, and gorgeous lyrics, this quartet rose to the top for me immediately.  I bought every CD I could get my hands on, and they entered permanent rotation on my playlists.
When they came to Denver last year I recruited a crew to go to the show at Swallow Hill a little worried they wouldn't be as good as I remembered (is anything as good as a band playing in the gorgeous Telluride valley?). Instead, they were better – Carol Young's voice was as sweet and pitch-perfect in person as on a recording, and the band's high energy performance reminded me why I fell in love with them in the first place.
On Friday night, The Soiled Dove hosted The Greencards and the room offered the perfect listening environment for these stellar musicians.  Kym Warner picked some killer mandolin solos, Tyler Andal bowed a fiddle as well as anyone in the business, and Carl Miner played an impressive guitar. The songs ranged from the fast-picking "Rivertown," to the "freaky" (Carol's word!) "Avenue," to the achingly beautiful "Ghost of Who We Were."  They also featured a number of songs off their new album Brick, which includes guest spots from Sam Bush and Vince Gill.
It helps that all four musicians are genuinely nice, fun folks who were more than willing to hang out for an hour after the show to sign autographs, chat with fans, and thank everyone for coming to the show.
My only complaint was not hearing more from the Fascination album but only because I'm still obsessed with the album two years later.  Guess they'll just have to return to one of their favorite three states sooner rather than later!
Energy: B+
Sound: A
Musicianship: A
Stage Presence: A
Set/Light Show: N/A
Overall: A

Amy Murin was raised with a professional guitar player for a brother and a Parrothead for a father - how could she not love music? She wouldn't miss the Telluride Bluegrass Festival, loves a great funk dance party (preferably with Orgone), has a soft spot for country after going to college in Nashville, and will go see any live band that is up on stage appreciating the fact that they have the greatest job in the world. Her first concert was either the Beach Boys or Rick Springfield, but she really thinks it all began when her parents went to see Elvis in Vegas when she was in the womb. You'll find her dancing at Cervantes, Quixote's, Red Rocks, the Bluebird, or really any live music venue with good music on any night of the week. She loves discovering new bands (to her), and loves turning people on to fabulous musicians!