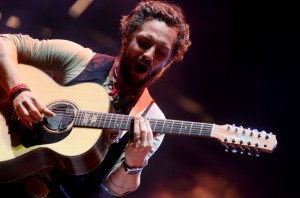 Photos by Todd Radunsky
The Scene: Australia's own John Butler Trio brought their folksy jams to Colorado's world famous Red Rocks Amphitheatre on Friday night as part of a sold-out two-show run here in Colorado. Night one took place in Boulder, at the intimate Fox Theatre, while the Red Rocks show took on a spiritual feel even before Butler took the stage. John and his band invited a group of Native Americans, dressed in their colorful, traditional dance regalia to perform for the crowd as a narrator explained their dances and dress.
Opener: Frank Turner. English singer/songwriter Frank Turner followed the dance performance with a great performance of his own, warming up the packed Red Rocks crowd and then some.  Turner was accompanied by his "Sleeping Souls" band member Matt Nasir who backup vocals and played a great rhythm Mandolin. When John Butler Trio finally hit the stage the audience was primed and ready to go.
John Butler Trio: Butler and his band came out focused, playing a tight and emotionally raw show for their fans who responded in kind.  People were singing and dancing along with every song and they roared in approval whenever the band finished a tune.  Butler's guitar playing was spot on and so were his vocals.  Band mates, bassist Byron Luiters and drummer Grant Gerathy were right there with Butler musically making for a inerrant, commanding and passionate performance.
Setlist: Cold Wind, Revolution, Used to Get High, Bullet Girl, I'd Do Anything, Only One, Hoe Down, Better Than, Betterman, Blame it on Me, Pickapart, Ocean, Don't Wanna See Your Face,  Devil Woman, How You Sleep, Zebra
Encore: Peaches and Cream, Living in the City, Funky Tonight
Energy: A-
Musicianship: A
Sound: A
Stage Presence: A
Set/Light Show: B
Overall: A-
I work in the music industry photographing bands live and offstage for publicity. My work includes shooting concerts, festivals, and portraits of musicians and bands. I shoot for promoters, record companies, publicists, magazines, band managers, and individual musicians. I also photograph weddings, and portraits and have traveled the world to do so. I've shot weddings in Cali, Ireland, Mexico, Cape Cod, and Amsterdam to name a few.