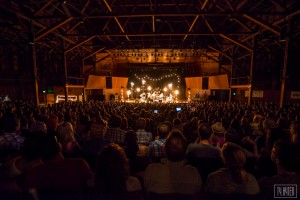 Photos by Ty Hyten
The Scene: Last Friday was another beautiful summer evening at the historic Chautauqua Park in Boulder. After spending much of the week staying on the grounds in a cabin, Chicago's Andrew Bird played two sold out shows at Chautauqua–one intimate performance at the Chautauqua Community House on Thursday and a full scale performance in the large barn of a venue that is Chautauqua Auditorium on Friday. Concert goers picnicked in the park and drank beer outside the dry venue as the sun set and a remarkable night of music was about to begin.
Andrew Bird: Large antique theater lights lit a silhouette of Andrew Bird as he arrived on the stage alone. In the dark he built a mini symphony by plucking, bowing and strumming his violin through a looping pedal. A large spinning double horn speaker sped and slowed, warping the sound of his nontraditional playing.
After three songs alone, Andrew Bird's band, which he is currently calling The Hands of Glory, joined him on stage. The addition of the pedal steel, drums, a second guitar, upright bass and Tift Merritt's beautiful voice filled out the sound of his most recent record. I also can't forget to mention the unseen instrument that is Bird's whistling. Bird injected his pitch-perfect high vibrato whistle over violin loops throughout the show. Several points during the performance found the band circled around a single microphone.
Andrew Bird's violin playing was infinitely versatile and entertaining. His overdriven plucked melodies took the sound of a Jamaican steelpan, and his nuanced, embellished bowing invoked Classical music and melodic lead runs reminded me of a Bluegrass mandolin. Bird's whimsical and warm voice was also accompanied by him jumping on guitar and glockenspiel in the midst of songs.
"This is one of my very favorite places to play and if I could play here every year I would," Bird said upon greeting the audience. The sound in the large wooden high ceiling building was perfect and uncolored by the room. It was almost as though there was no amplification at all–quite a feat. The antique theater lights and Edison bulbs dotting the stage was one of my favorite lighting setups I had ever seen and the complete absence of cell phones in the air was also a welcome surprise.
Andrew Bird's nineteen song set covered a handful of his eleven studio albums and contained a few covers including The Handsome Family's "Tin Foil" and Townes Van Zandt's "Colorado Girl" for which Bird had the lyrics handwritten at his feet in place of a set list. It's extremely hard to pick favorites since the entire show was so good, but "Danse Caribe," "Pulaski at Night," "Drunk By Noon," and the gorgeous "Orpheo Looks Back" all stood out.
The night ended with "Don't Be Scared," another outstanding The Handsome Family cover also found on this year's Things Are Really Great Here, Sort Of… album, and the audience filed out exchanging collective "wows."
Andrew Bird is a true entertainer. Not in the sense that he interacts with the audience or has great banter, but that he has mastered his craft so well that even someone who had never heard of him would have left that show happier and more fulfilled than when they walked in. His songwriting, inventive, expert playing, talented band and rich voice are all reasons why seeing Andrew Bird live is a special experience for any music fan.
Energy: A
Musicianship: A+
Sound: A+
Stage Presence: A
Set/Light Show: A 
Overall: A