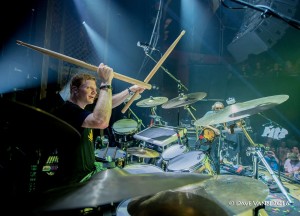 Photos by Dave Vann
The first weekend of June in Colorado is cause for celebration for most people out here but for fans of The Disco Biscuits it has an extra special place in our hearts. The reason: Bisco Inferno.  For four nights, our favorite band comes to town and lets it all hang out culminating with a headlining performance at Red Rocks.  Over the years, TDB fans have witnessed to some epic moments and, in advance of this year's Bisco Inferno, here are ten of my favorite.   
I've included some quotes from some of The Disco Biscuits' most die hard fans but before we get to the list,  here is one that I think perfectly sums up the festivities.   
"For so many of us East Coast-turned-Colorado locals, The Disco Biscuits represent a marriage of current and former lives. Of course, the music is of utmost importance, but many of the friendships I have made in my CO tenure were founded on sharing previous experiences of shows and festivals, all based on this band. So many friends-of-friends/acquaintances are now lifelong relationships, and Bisco Inferno has become the annual celebration of this."
– Scotty Walker
10. Inverted Digital Buddha: 6/2/16 @ The Ogden Theater
Our first entry on the list comes from one of last year's Ogden shows and in my opinion, kicked the whole weekend into high gear.  Coming off a pretty average first night, many in the crowd were wondering when the band would hit their stride.  Our questions were quickly answered in the second set of night 2 during what was arguably the jam of the weekend.  After exiting the novel, but hard-hitting, "Trucker's Choice," the band headed into familiar territory driving into the ending of "Digital Buddha" but it wasn't until the jam that followed that things really picked up.   After about 10 mins of extremely patient jamming and build-up, the band dropped into some heavy, industrial sounding four-on-the-floor dance party grooves and things really took off from there.  The whole show is on YouTube to enjoy but things really blast off at about the 2:46 mark on the link below.  For some good laughs check out the start of the show with Drummer Allen Aucoin in a Batman Mask and the start of the encore with him playing with some giant novelty drum sticks he received for his birthday earlier that afternoon.
9. Gag Me With A Spoon
The Disco Biscuits have always had a flare for the dramatic and with that comes an urge to bring fans some special moments by stepping out of their normal routine with stage production and special covers. Some of these gags have delivered a few of the most epic moments in the band's history like "The History of The Disco Biscuits" and the live scoring of films like "Akira" and, most recently, "Tron."  That said, this kind of risk taking in CO hasn't quite panned out. They have led to – as some of my Southern friends would say – some "bless their hearts" moments. While ideas like the dancers at Red Rocks in 2009, The "Pyro" in 2010, or some of the covers like "White Chicks & Gang Signs" haven't exactly hit the mark, it shows the band's willingness to think out of the box and try to keep things interesting and fun for their fans. Longtime fan Seancho Murtinez said it perfectly  "After a successful bust-out of "Low" by Flo Rida at the Ogden over Valentine's Day weekend, "White Chicks and Gang Signs" is a reminder that one should always quit while they're ahead." As another wise man once said "Inspiration leads to design, design leads to progress"  and, if nothing else, these gags have inspired the band to focus more on designing sets at Red Rocks geared towards more "pure Bisco" than forcing something special to happen.  If that's not progress I don't know what is.
8. The Support
One thing that has become tradition when the band plays Red Rocks is a diverse lineup of supporting artists.  Over the years acts like Paul Oakenfold, Ghostland Observatory, Twiddle,  RJD2, Lotus, Aeroplane, and many others have shared the stage as support to TDB but for me their are two that truly stand out.  Big Boi's performance in 2011 provided a departure from the normal electronic acts that usually play with bands like TDB, and was highlighted by a gaggle of girls (including many of my friends), hopping on the stage to shake what their mommas gave them.  The second is easily my favorite and I think most who have been to all of the Inferno's at Red Rocks would agree is the best non TDB set we have seen up there.  Booka Shade's 2010 performance delivered a dance party that has not been topped since.  This year Inferno will welcome back Simon Posford, a name most TDB fans are more than familiar with, and his Shpongle Live project.  I know I am not alone in being excited for the dance vibes and moth ball smell that will surely descend on Red Rocks during The Biscuits' set break.  
Dubious mention to RUSKO who as Seancho Murtinez again eloquently puts it "reminded us that we all need basic access health insurance."
7. First Love Burns Hottest
As I polled fans on social media for their favorite Bisco Inferno moments, many old school fans pointed to the very first Inferno at the Mishawaka in 2001 as their favorite.  Here are some thoughts on that epic night:
" The Whole show is redik but the 7/11>Crix>Basis>Crix>Basis!!!"
"Also 3 days is one of my all time fav songs and and Erica singing on home again are my main memories. I haven't listened in a while but I'm going to right now."  – Mike Lansing
"I had a dream they were going to play Magellan>Floes>Magellan at a mountain venue I'd never been to. Told them about it, and they did it at this show. Still have the autographed setlist" – Christian Stack
If you haven't listened to this one I highly recommend it.  2001 is arguably the band's best year and  this three-setter shows why.  Check out the setlist and click here to listen.  
Set 1: Morph Dusseldorf > Spacebirdmatingcall > Morph Dusseldorf, The Very Moon > Shelby Rose > Overture > Shelby Rose
Set 2: News From Nowhere, 7-11 > Crickets > Basis For A Day > Crickets > Basis For A Day
Set 3: Three Days, Magellan > Floes > Magellan > Pygmy Twylyte > Spy, Home Again
E: Mulberry's Dream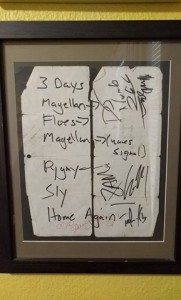 6. Set 2 6/4/16 @ Red Rocks
As I mentioned before, a lot of the band's Red Rocks performances were geared around trying to make special moments with special production or gimmicks, but last year the band focused on just being The Disco Biscuits and delivered what was, in my opinion, their best set of music at the legendary venue. What the band did coming into and going out of "Above The Waves"  is something only The Disco Biscuits can pull off and the pure, unadulterated, dance party that went on for over an hour is something that most fans have been waiting to see happen at Red Rocks for a very long time.  
For a full breakdown of the nights madness  you can read my review from the show here. 
5. Surprise Surprise: Tractorbeam 1/27/13 @ The Fox Theater
Number five comes from Winter Inferno 2013 which I am choosing to count because, well, It's my list and i feel like it.  After a ridiculous three night run capped off by the band's first performance at the 1stBank Center in Broomfield, a lightning bolt of inspiration struck and they decided three nights just wasn't enough.  Before the crew could finish celebrating with friends, text messages started coming in that the run was not over yet.  The band would perform a special "Tractorbeam" show at the Fox the following night.  While the next year's "Tractorbeam" show might be more heralded by fans, this show encapsulates the spirit behind any great Disco Biscuit performance.  With this band, even the most die hard fans will never truly know what to expect.
4. The Jam of The Hour,  The Jam of The Year?  6/3/16 @ The Ogden Theater
Number four is another new edition to the long list of fond Inferno memories, and was easily the highlight of last year's Inferno run.  "Dribble>Shem-Ra Boo" is a classic TDB segue and this version has to be mentioned among the best ever.   Many consider this to be the best jam of 2016 and, after listening back several times, I can't really argue with that thought.   Here's my review of the jam, you can read the full review here.
Unlike like the monster "House Dog Party Favor" to start the night, it was the 1st jam in "Dribble" that took things to another level.  At this point it needs to be mentioned that Lighting Director Johnny R Goode has absolutely mastered lighting up The Ogden. If the insanely trippy music oozing off the stage wasn't enough to make you question reality, the mind melting lights surely were.  At one point Goode had my brain maxed out and I am pretty sure my eyes just stopped working for a minute or two from being completely over stimulated.  When my eyes finally started to work again, two disco balls on either side of the stage added yet another level of insanity to the lights and all I could do at that point was laugh at the beauty of it all.  
After regaining my vision, and honestly my sanity, the band was still in "Dribble" and doing some seriously evil work.  It doesn't take much for one of them, usually Barber or Magner, to come up with a cool theme or melody and have the whole band latch on. This kind of thematic jamming is probably my favorite thing the band does and when they are firing on all cylinders it leads to pure magic.  About 20 or 25 minutes into the "Dribble" madness, Magner did exactly this playing on what sounded like a Rick James-esque melody that the rest of the band instantly locked into.  From there things went from Disco to "Dribble" more times than I can remember before slamming back into the song's chorus and going out into yet another huge jam.
You can watch the whole show below.  The "Dribble" starts at the 2:27 mark.  I can't recommend this one enough.  
3. Bisco Inferno 2:  Revenge at The Mishawaka
Believe it or not, there was a time before I thought The Disco Biscuits were the best live band on the planet and, when I heard my friends were driving all the way to CO to see them, I thought they were idiots.  Turns out I was the big idiot and missing these shows may have been the crown jewel of by Bisco Ignorance phase.  The Biscuits brought the heat of the Inferno back to The Mish and, in the summer of 2002, turned in two legendary performances.  From the first drop in the "Nughuffer>Helicopters" (to this day I can't remember a hotter start to a show), to the final notes of the "Helicopters>Nughuffer" to close out the weekend, the band was locked in on a level only the Biscuits can get to.  All three sets from each night are certainly worth a listen, but the monster "Spacebird" from night two is something I still regret missing to this day.
Check out the setlists below and here to listen
Set 1: Nughuffer> Helicopters1, Triumph> Svenghali1, The Tunnel> Spectacle
Set 2: Jigsaw Earth> Kitchen Mitts2> Above The Waves> Crystal Ball> Aquatic Ape3>Crystal Ball
Set 3: Story Of The World> King Of The World> And The Ladies Were The Rest Of The Night>Above The Waves4> Bazaar Escape> And The Ladies Were The Rest Of The Night> King Of The World> Story Of The World
dyslexic (ending only)

1st time played

inverted

middle section only
Set 1: Spraypaint1> Above The Waves2, Shem-Rah Boo> I Remember When,Spacebirdmatingcall3> Vassillios4> Jigsaw Earth2
Set 2: Bernstein And Chasnoff> Sound One> Bernstein And Chasnoff, Plan B, I-Man> The Tunnel2, Svenghali5> Triumph2> Whiskey River6
Encore: Frog Legs> Helicopters5> Nughuffer2
1st time played

completes 7/26 version

with 'The Thieving Magpie' tease

inverted

completes 7/26 dyslexic version

1st time played (Willie Nelson cover)
2. Love Is Suspended In The Air
One thing that has always stood out to me is the way The Disco Biscuits truly cherish their fans.  Most bands will say they love their fans, but as with so many other things, The Disco Biscuits truly take this to another level.  The vibe at TDB shows is one of family and the line between the band, their fans/friends, and crew  has always been a blurry one.  Red Rocks has been the scene of two of the moments that best encapsulate this feeling.  The first happened in 2013 as the band closed their 2nd set and prepared to take the stage for their encore.  They welcomed long time fan Rachel Rollman to the stage under the guise of her "sweet cape" before her strapping then boyfriend Sam Christman got down on one knee and proposed in front of the 7,000 people in attendance and countless more watching on the stream.  Not to be out done, at last year's show,  guitar tech and all around great guy Damon Breeland not only proposed to his pregnant then girlfriend, Silvia Lazala, but newly minted officiate Allen Aucoin married two right there on the spot.  Now you may be asking yourselves,  "what do I care about how much the band loves their fans and why is this #2 on a list of best Inferno moments? One of those shows wasn't even Bisco Inferno" and again I will say,  It's my list, I can do what I want.  
1. The Laser Snow:  Red Rocks 4/17/15
As I thought about, and polled people for their favorite Bisco Inferno moments, there was one obvious choice for the top spot.  I don't think I asked anyone that didn't at least mention it.  Shit, even the aforementioned Sam and Rachel immediately said "Laser Snow wait,  we did get engaged at Red Rocks but yeah,  Laser Snow" when I asked them for a quote.  Here is what I wrote about that magical moment back in 2015. 
"While purely musically speaking this show may not rank towards the top of the list but there was something special in the air that night. That feeling might be prevalent any time you walk up the iconic stairs into Red Rocks but between how well the band had been playing, the threat of crazy weather that only The Disco Biscuits seem to conjure up, and the fact that Bill Kreutzman and Mickey Hart would be joining in the fun that night, it was not a question of if but when the magic would happen.  After the previous night's snowstorm almost forced the show to be moved to the 1st Bank Center, the weather was certainly on everyone's mind but after a beautiful afternoon it seemed as if we would be spared the sloppiness of snow on the rocks. That was until about halfway through the 2nd set. During haunting Space Jam that came from a flawlessly executed Terrapin Station the skies opened up with a heavy, wet snow.  Instinctively, and for the first time that night, Johnny R. Goode, the band's long time LD, hit the lasers and lit up Red Rocks with a dazzling display fans have come to call  The Laser Snow.  Words can't really do it justice so here are two of my favorite shots from the night."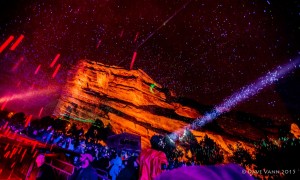 Well there you have it.  My Top 10 Bisco Inferno Moments.  Thanks to all who sent me your thoughts and inspiration for the list.  You can catch The Disco Biscuits May 31st- June 2nd at The Ogden Theater then on June 3rd at Red Rocks with Shpongle Live and Phutureprimative.  With the way the band has been playing of late there is no doubt they'll be logging a few more spots on this list so don't miss it.  See you in the Inferno!!!
The Ogden Theatre
Wednesday, Thursday, Friday
May 31st, June 1st, June 2nd
WEDNESDAY TICKETS
THURSDAY & FRIDAY SOLD-OUT
RED ROCKS AMPHITHEATRE
w/ Shpongle (Simon Posford Live)
Saturday, June 3rd
TICKETS