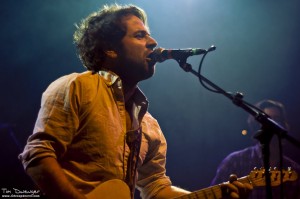 Photos By Tim Dwenger
The Scene: While many folks were comfortably home on the couch expecting another early season snowstorm, there was a healthy crowd buzzing around in front of The Fox when I walked up about 9:15.  While there were of course plenty of college students making the most of a Monday night out, there were also a fair number of older folks who had caught onto the Americana steeped Rock-n-Roll that these two bands are known for, and braved the potential weather for an early week night out.  While the room wasn't sold-out (I'm sure it would have been on a weekend night) it was close for Blitzen Trapper's set and then, in what came as a major surprise to me, about half the crowd headed for the exits during the break.  While it freed up some space to move around, this was a major error on their parts.  The buzz around Dawes has been building slowly for the last year and anyone who caught their set on Monday found out that every bit of the buzz has been earned.
Blitzen Trapper: I've been a fan of Blitzen Trapper for several years now.  While their records are strange and enchanting genre-bending romps through pastoral landscapes and mystical honky-tonks, their live show typically cranks up the energy for a more raw and powerful experience.  Monday was no different.  I missed the first couple of tunes due to a snafu with my photo-pass, but made it through the doors in time to hear them kick into a raucous rendition of "Love and Hate" from their 2010 album Destroyer Of The Void which they followed up with "Fletcher," another high energy rocker from their fantastic new album American Goldwing.  
At this point frontman Eric Avery stepped up to the mic and told us they were going to "play a little country," before laughing and saying "well I guess we are always playing a little country . . . This one's a little more country."  With that they eased us into a mellower segment of the evening that featured several gorgeous new tunes including "Love The Way You Walk Away," "Girl In A Coat," and "Taking It Easy Too Long," that proved in spades that American Goldwing has potential to be Blitzen Trapper's best record yet.   With "Black River Killer" Avery and his bandmates took us off to the land of murder ballads with a stellar example the genre before switching back to raw and blistering barroom rock with "Your Crying Eyes."
They dropped another new one on us with the title track to the new record and then played a slightly amped up version of crowd favorite "Furr," before wrapping the set up in grand fashion with agro-rocker "Street Fighting Sun" and the sing-along  "Big Black Bird" from their 2008 Black River Killer EP.  While I can't say that every note was played precisely and every harmony hit pitch perfectly, I can say that Blitzen Trapper put on an entertaining show that accurately represented them as a band.  There is something intriguing about the rawness of this band, and while I lean toward their mellower ballads, the energy they pour into the rest of their material is inspiring and pretty exciting to witness.
Dawes: Let's get one thing straight, if you left The Fox after Blitzen Trapper on Monday, you made a mistake, a big one.  That's it . . . no more chastising you.  Just read on to find out what you missed.
Taylor Goldsmith and the rest of Dawes took the stage promptly at 11 and proceeded to play one of the most impressive rock shows I have witnessed in years.  No, they didn't have the production value of Roger Waters' The Wall performance or the raw, testosterone fueled, energy of Rage Against The Machine, but what they did have was a staggering amount of musical talent.  It was simply overflowing from these four men as they put on a clinic on how to be the best band you can be.
1) Pour your soul into every second of the music you are playing. CHECK
2) Insert blistering solos that improve upon a song and leave the audience members wide-eyed and slack jawed. CHECK
3) Nail rich, silky smooth harmonies every – single – time. CHECK
4) Write songs that have the timeless quality of the best material in the Great American Songbook. CHECK
5) Execute the entire performance with the kind of passion and precision that makes your studio tracks pale in comparison. CHECK
If it seems like I'm gushing, I am.  I don't gush about concerts all that often as I go to so many, but I've already sent out several emails to friends around the country that I think would appreciate what Dawes is doing on-stage these days.  From the first notes of "The Way You Laugh" to the last notes of "Fire Away" it was clear that this is a band that at the top of their game and, if they can keep it going, destined to be mentioned in the same sentence as acts like The Band, Jackson Browne, Ryan Adams, or Crosby Stills and Nash.  Yes, it was that good.
As Goldsmith and his bandmates moved through their setlist, I was struck time and time again by how poignant and well written their songs are.  Lyrics like "if I wanted someone to cut me down, I'd have handed you the blade.  I want you to make the days move easy," from "If I Wanted Someone" and "some people were just meant to be a memory. To be called upon to remind us how we've changed," from "Coming Back To A Man," rang through so clearly and focused that they were impossible to miss.  Chills crept through my body at several points during the set, most notably during "My Way Back Home" and "So Well" when Goldsmith's resonant tenor was joined in rich full harmony by his brother Griffin (Drums) and keyboardist Tay Strathairn.  I wouldn't have believed that voices could blend so perfectly outside of a studio if I hadn't been there to witness it with my own ears.
The only cover of the night came in the form of a slightly countrified version of Paul Simon's "Kodachrome" on the heels of a sit-in from The Belle Brigade's Ryan Richter on slide guitar for the closing track of Nothing Is Wrong "A Little Bit Of Everything."  As I looked around everyone in the room seemed to be dancing and singing along with the bouncy cover, a stark contrast to the rapt attention that they were paying for the rest of the set.
As if their other songs choices hadn't been enough, Dawes closed out their set with a trio of their best, and most well known songs.  The North Hills opener "The Western Skyline" gave way to a powerful and rocking version of "When My Time Comes" that featured Goldsmith giving us the chance to sing the chorus on our own as the band dropped out entirely and the room filled with our untrained voices and they listened with ear to ear grins.  The final song of the set, the bittersweet "Time Spent In Los Angeles," seemed to wrap the set up in a perfect little bow incorporating all of the bands best attributes into one song.  Great, hook filled, songwriting that doesn't push the boundaries of cliche, soaring harmonies, and the kind of note perfect playing that can only be achieved by group of seasoned players locking their minds together to truly form a band.
My only complaint with the set was that the encore almost seemed like an afterthought.  After such a strong set, that ended on such a high note, I almost feel they would have been better off leaving us wanting more as we walked off into the still snowless night.   Don't get me wrong, "God Rest My Soul" and "Fire Away" would be strong songs in the catalog of just about any band, but after the gems that they pumped out one after another during the main set, I'm just not sure they stood up as well as they could have.  I like an encore to leave me on a high note, and on Monday it kinda eased me out of the show and back into reality.  While that's not a bad thing, I feel like Dawes should have blown me away as I got ready to head home with a tune I could have sung at the top of my lungs as I coasted down the highway.  Alas, it was not to be.  Now, I just have to count the days till the next time Dawes is playing anywhere near me 'cause you can be damn sure I'll be at that show whenever, and where ever it may be.  Until then, I'll have to settle for listening to Nothing Is Wrong and North Hills over and over again.
Setlist: The Way You Laugh, If I Wanted Someone, When You Call My Name, So Well, How Far We've Come – drummer lead, Peace In The Valley, Coming Back To A Man, My Way Back Home*, A Little Bit Of Everything*, Kodachrome, The Western Skyline, When My Time Comes, Time Spent In Los Angeles 
Encore: God Rest My Soul, Fire Away
 * – w/ Ryan Richter from The Belle Brigade 
Energy: A-
Sound: A+
Musicianship: A
Stage Presence: A
Set / Light Show: A-
Overall: A
Music has always been a part of my life. It probably all started listening to old Grateful Dead, Peter Paul & Mary, and Simon & Garfunkel records that my parents had, but it wasn't long before they were taking me to concerts like Starship, Crosby, Stills & Nash, and Huey Lewis & The News. I got the bug to write about music after reviewing an Eric Clapton concert for a creative writing project in high school but didn't really take it up seriously until 2002. Since then I have published countless articles in The Marquee Magazine and done some work for Jambase.com, SPIN Magazine, and various other outlets. I started Listen Up Denver! as a way to share the music information that is constantly spilling out of my head with people who care. Please enjoy!