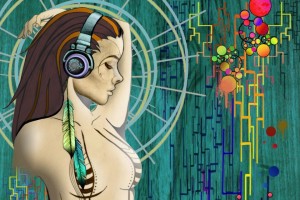 SunSquabi producer and guitarist Kevin Donahue, and bassist Andrew Clymer, have played in countless bands together over the last several years, including a recent stint performing with Bizzy Bone from Bone Thugs-n-Harmony.  "It was awesome," says Andrew, "but at the same time, we we're tired of playing other people's songs."  Looking for something new, the two decided to they wanted to try out to be Disney Cruise Ship house band.  "The singer, this guy named Sammy T, was going to do it with us.  We ended up not doing it, but we began playing music together and he had huge connections with Global Dance Festival."  That led to a main stage performance last summer, opening up for Innerpartysystem with Big Gigantic.  "That was really the catalyst.  It gave us that jump and the same thing is coming around this year.  We're hitting these festivals and as many shows as we can.  We're just constantly trying to raise the bar every show…whether it be the crowd, the stage set up, how we're getting down, the music.  We're always switching up the set and throwing in new material….fresh jams where no one knows what we're doing.  We're just really trying to expand the envelope of electronic music in a way that no one has really done from the rock-blues standpoint."
After their opening set last Saturday night for Juno What?! at Cervantes' (see our review here), we had an opportunity to sit down with Kevin and Andrew, as well as Chris Anderson, their recently acquired drummer.  Here's what else the Boulder trio had to say about their sound and their recent Waka Winter Classic win:
Listen Up Denver!:  Let's start with your sound…can you describe it in a few words?
SunSquabi:  (Andrew) Live Electronic Hydro Funk.
LUD!:  Hydro?
SunSquabi:  (Kevin) Fluid, like water.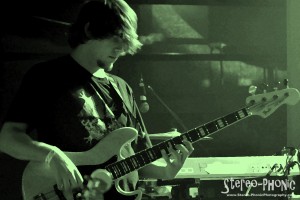 LUD!:  What would you consider as influences on your sound?
SunSquabi:  (Kevin)  So many different things.  Andrew and I come from a progressive background.  Jeff Beck and King Crimson is my kind of shit…and Yes, and Genesis and Peter Gabriel.  Then also the newer electronic stuff like STS9 for sure and Lotus. (Andrew)  All the major jam groups and then of course Justice and Daft Punk …. people that have that funky electronic edge.  We're just really trying to meld it all together and that's where the hydro comes from.  It's taking all this stuff, melding it together, and making it all fluid.
LUD!:  So you have a new EP out.  What's the title and where can our readers go to get it?
SunSquabi:  It's called Catastrophic and it's going to be live on our bandcamp site or just hit our website which is Sunquabi.com.  It's totally free, seven tracks and 40 minutes.
(Editor's Note: The EP is available now, click here to read the Listen Up Denver! album review.)
LUD!:  I was at the Waka Winter Classic a few weeks back.  Congratulations on your win!  Can you share that experience with us a little bit.
SunSquabi:  (Kevin)  We've traveled out of state for different gigs, but we've never played a major festival outside of Colorado, so it's really exciting that this moment has finally happened…I mean, it's going down, we're going, we're getting out of here…things are starting to move.  It's an indescribable feeling.  When they announced that we had won it was crazy.  We had all these kids here (at Cervantes' Other Side)…all of our friends,  and everybody erupted.  It was nuts!  (Andrew)  I kind of went into the mindset that, "we're not losing this. We have this in the bag."  We went in two days before with that mindset.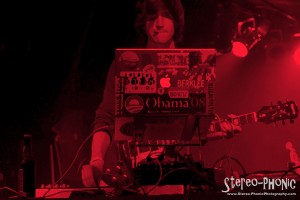 LUD!:  And you had a winning strategy too.  I saw the buses that night.  Tell us more about that.  (Fingers point to Chris).  Chris?
SunSquabi:  (Chris)  We're good friends with the people over at Bus To Show.  They're  a nonprofit organization that does party buses to and from shows.  And we just wanted to give our friends a safe way to get down (from Boulder) in the snow…there was a blizzard that night.  The party buses definitely were the reason that we won…it was great that all of our friends could come out and support us.  We really put an emphasis on this show.  I definitely  wanted this.  Wakarusa was the first music festival I ever went to (last summer) and it was probably the best experience of m y life.  Nothing makes me happier than the fact that we're playing there.
(Editor's Note: there were over 300 in attendance as the Waka Winter Classic at Cervantes' Other Side on February 2nd.  Despite the snow, folks showed up in an effort to shake off the winter blues and to warm up to a piece of this year's summer festival experience.  SunSquabi battled it out with Atomga, James and The Devil, Whiskey Tango, and The Big Motif for the chance to perform at Wakarusa 2012.  In the end SunSquabi won beating out last year's winner and the twelve-armed funktapus.)
LUD!:  So what are you looking forward to this year at Wakarusa?
SunSquabi:  (Chris) Hopefully getting to meet some of my favorite musicians, like G Love and Special Sauce.  (Kevin) Or The Devil Makes Three.   I think that we're all really just looking forward to be able to mingle and talk artistically with people to find out more about their process and how they make music.  For example, we're playing two festivals with Gramatik, he's the producer of the Pretty Lights label right now, and he's just an amazing producer, who is doing crazy stuff.  I'm looking forward to maybe meeting him and picking his brain a little bit.
LUD!:  Here's one just for fun.  I don't actually know what Wakarusa means.  If you had to guess though, what do you think it means?
SunSquabi:  (Kevin)  I think it's a very simple term for a kangaroo hunt.  "I'm going on a Wakarusa in the outback."  (Chris)  All I know is that it's a party….it's a made up word.  (Andrew)  Like SunSquabi!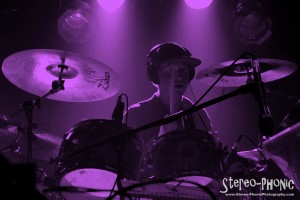 If you're headed to Snowball Festival next week, make sure to check out SunSquabi's live electronic hydro funk sounds.  They'll be playing at high noon on Saturday, so get up early!  If not, there will be plenty more local opportunities to see them before they head to the great kangaroo hunt on Mulberry Mountain, aka Wakarusa!