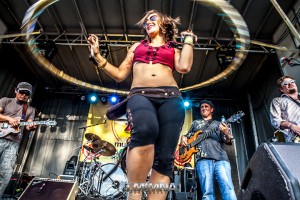 Photos by Jim Mimna
On August 4th, the LoHi Music Festival was held on 32nd Avenue in the heart of the LoHi neighborhood in Denver.  The event was a smashing success by all measures, and judging by the smiles on the faces of music lovers everywhere I looked, it was well received by all who attended.  This was the second year for the event and, wow did it grow fast!  There were people as far as the eye could see from the main stage looking west on 32nd Avenue by the time Particle hit the stage with Michael Kang of The String Cheese Incident around six thirty.
The event was well planned and the organizers made sure no need was overlooked with some of the Front Range's best breweries and food vendors on hand to keep us all well fed and lubricated all day and into the night.  To ensure that the good vibes and great sound carried to the ears of all who wanted to hear, the talented folks at Shaped Music handled production duties on the main Spring 44 Stage, and Denver's own Dave Tash did a fine job mixing the day's wide variety of bands.
With two stages set up on either side of Highland Tap and Burger, there was never a musicless moment for the 16 hour duration of the event.  The music started early when Bryan Benner took the stage at 10am for some acoustic tunes, and while The Motet wrapped things up outside at 10pm with a blistering set, the party continued inside the Highland Tap with a special VIP show that featured Family Funktion & The Sitar Jams, and a jam session featuring members of Signal Path, Michael Kang and Steve Molitz.  This year's LoHi was a very full day of entertainment, for sure.
The lineup for this year's event was comprised of mostly homegrown talent, with a few exceptions, and the flavor was diverse and engaging.   It is no surprise that our own Denver talent made up the lion's share of the performers, after all, Denver does have the best local music scene in the country.  Here is a listing of bands that played in order:
Bryan Benner
Rob Drabkin
Family Funktion & The Sitar Jams
Euforquestra
Filthy Children
Dubskin
The Heavy Pets
Garrett Sayers Trio (GS3)
Air Dubai
Particle featuring Michael Kang of SCI
Human Agency
The Motet
I truly do love Denver and the rest of Colorado too for that matter, but the longer I live here, the more my love is about the people around me and the less it is about the mountains.  The people who attended LoHi reinforced that once again, and for that I thank you all.
No matter which band got people off the couch and out of their AC to brave the hot midday sun, they all were there to dance and shake what their mamas gave them!  With this diverse lineup of music came a very diverse group of music lovers, and everyone had the unified goal of having fun and cutting loose, and the sea of smiles proved that.  Thanks again for giving me renewed faith in my fellow music lovers, and don't forget to Listen Up Denver!
Capturing life in various forms is what I do. I consider myself an archivist by nature. It is not a career choice that I consciously made, but it is something that has called me. I strive to freeze a moment in time with every frame, a moment that can retell its story with each viewing, forever. I also have a deep passion for music and have been photographing and recording live music for years. Capturing the energy and magic of a live performance in a photograph is one of my passions. In addition, I enjoy photographing in a wide variety of settings, from wildlife scenes to family portraits and everything in between. I am a lover of the earthscapes that we see all around us every day, both natural and manmade, and aim to make unique images that do justice to their beauty. Where others see darkness, I see streaks of light through long exposures. I shoot a very wide variety of subject matter including individual/family portraits, event coverage, landscapes, live concert/performance, HDR, product and commercial photography, architectural, weddings, food, and editorial photo journalism. With artistic expression, I aspire to create visual art that speaks volumes.