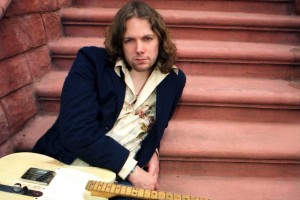 Rich Robinson's last album Paper ended with the song "It's Over" and a line about "traveling out of my safety balloon." And his newest album Through A Crooked Sun, which was released just last month, starts with the song "Gone Away" and the lyric "I fell the distance of the deepest canyon drop."
Simply put, the man has traversed some miles — figuratively and literally. The Black Crowes guitarist and songwriter seemingly had it all early in his life: wealth, a beautiful wife, a nice home — and in the blink of an eye it was all gone. A nasty divorce eliminated the wife and most of the wealth, and later on, his home was foreclosed upon. The man, who as a kid was given a record contract and multi-platinum record sales, was broke.
Robinson's been digging out of that mess for some time now. He's re-married and has one child and another on the way with his new wife, and Through A Crooked Sun serves as autobiographical chronicling of his hard times, and his dedication to leave it behind and move forward with the new riches he has had bestowed upon him.
"Over the last 20 years there's been a lot of ups and downs, of positives and negatives, of gains and losses," Robinson said in a recent interview with The Marquee. "It's part of life and one could say that the more you live, the more shit happens — positive and negative. Everything is a learning experience and if you can learn from it, it becomes a great asset."
The new album is highly personal — possibly some of the most personal material that Robinson has ever penned. One such example is the album's lead single "Hey Fear," with the poignant lyric many can relate to: "Hey there fear, you've been there for me. A familiar voice, in a raging sea."
Finish This Article Over At The Marquee Magazine Site . . .

Catch Rich Robinson Performing Live:
Twist & Shout (Free) – November 4th @ 6pm
The Soiled Dove – November 4th
The Marquee is an independent, Colorado-based, PRINT & ONLINE Free Music Magazine. The Marquee strives to be the Farmer's Almanac of the regional music scene — providing readers with facts, tid-bits, in-depth feature stories and a Calendar section that is unparalleled on Colorado's Front Range, covering every live music venue from large venues such as Red Rocks Amphitheatre to small clubs and coffee shops.